Lisa Hackner has been named Executive Vice President, Daytime and Syndicated Programming, ABC Entertainment Group, it was announced today by Paul Lee, President, ABC Entertainment Group, with whom she will report. Hackner will be responsible for first-run development and production.
Prior to joining ABC, Hackner was EVP, Creative Affairs, Telepictures, which is a division of Warner Bros.
Vicki Dummer, who has been overseeing ABC Daytime since the departure of Brian Frons in January 2012, will remain in her position as Executive Vice President, Times Square Studios, Current Series & Specials, ABC Entertainment Group.
The revival of "All My Children" and "One Life to Live" could be just the start of cancelled network shows finding new homes in other places. Not only will "Arrested Development," a popular comedy Fox cancelled in 2006, continue on Netflix starting Sunday, May 26, but ABC's recently cancelled 'Body of Proof' may get a similar second chance!
According to Deadline Hollywood, the series — which stars "Desperate Housewives'" Dana Delany — is being considered for pickup by TNT, USA and WGN America, and here's why: The show picked up 8.6 million viewers last week alone (several million more than ABC's "Nashville" and "Revenge," two shows ABC decided not to cancel).
As previously reported, ABC Entertainment Group President, Paul Lee, has called much of the networks new 2013-2014 primetime dramas "soaps," and we definitely agree with that assessment. Wondering what our readers thought of the shows, we thought we'd give you a closer look at the networks new dramatic offerings.
FALL DRAMAS
Tuesdays
8:00 PM – "Marvel's Agents of S.H.I.E.L.D."

Clark Gregg reprises his role of Agent Phil Coulson from Marvel's feature films, as he assembles a small, highly select group of Agents from the worldwide law-enforcement organization known as S.H.I.E.L.D. Together they investigate the new, the strange and the unknown around the globe, protecting the ordinary from the extraordinary. Coulson's team consists of Agent Grant Ward (Brett Dalton), highly trained in combat and espionage; Agent Melinda May (Ming-Na Wen), expert pilot and martial artist; Agent Leo Fitz (Iain De Caestecker), brilliant engineer; and Agent Jemma Simmons (Elizabeth Henstridge), genius bio-chemist. Joining them on their journey into mystery is new recruit and computer hacker Skye (Chloe Bennet).
Tuesdays
10:00 PM – "Lucky 7″

In Astoria, Queens, a group of seven gas station employees have been chipping into a lottery pool for months, never thinking they'd actually win. Money could solve problems for each of them: Matt (Matt Long) could get his girlfriend and two kids out of his mother's house; Matt's brother, Nicky (Stephen Louis Grush), an ex-con, could pay off a dangerous debt; Samira (Summer Bishil), a second-generation Pakistani immigrant, could afford to go to Juilliard; Denise (Lorraine Bruce), a plucky cashier, could focus on rebuilding her crumbling marriage; Leanne (Anastasia Phillips), a young mother, could help her daughter realize her dreams; Bob (Isiah Whitlock, Jr.), the store's manager, could finally retire; and Antonio (Luis Antonio Ramos) could give his wife and kids a whole new life.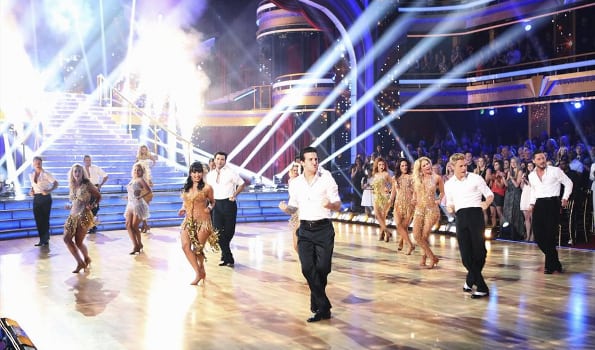 When ABC unveiled its new fall lineup this week, one thing fans couldn't help but notice was a drastic cut to "Dancing With the Stars," which will only be airing one night a week — on Mondays — come fall. The network has decided to build the results show into the new two-hour once-a-week format, and ABC Entertainment Group President Paul Lee has spilled the details on why that decision was made, as well as teased some other major changes in store for the popular reality series.
ABC formally announced its new lineup of shows on Tuesday at an upfront presentation held at New York City's Avery Fisher Hall, and Paul Lee, the ABC Entertainment Group president, called series like the network's new Steven Spielberg-produced drama, "Lucky 7," soaps! And he revealed much more about the new shows in a special press conference in which Soap Opera Network took part.
via Press Release
ANDREW T. KUBITZ NAMED EXECUTIVE VICE PRESIDENT, 
PROGRAM PLANNING & SCHEDULING, ABC ENTERTAINMENT GROUP
Andrew Kubitz, an esteemed entertainment executive with 17 years of scheduling experience, has been named executive vice president, Program Planning & Scheduling, ABC Entertainment Group, it was announced today by Paul Lee, president, ABC Entertainment Group, to whom he will report. In his new role, Kubitz will have oversight of daytime, primetime and late-night program planning and scheduling, as well as film acquisition and theatrical inventory. Kubitz will also facilitate and coordinate windowing strategies for ABC Entertainment Group programming across all platforms.
"Andy's appointment brings a fresh perspective and a strategic sensibility to our planning and scheduling efforts, joining a team that is second to none in our industry," said Lee. "Together, I'm confident they will help us take ABC to a whole new level."
Kubitz added: "I'm looking forward to joining the ABC Entertainment team. The network's amazing programming and innovative approach to storytelling is exciting for viewers, myself included. It's a thrill to participate in the creative process in an effort to better position the signature programming that so many hold near and dear to their hearts."
Kubitz was most recently senior vice president of Program Planning & Scheduling for CBS Television, since 2010. In this position he was responsible for developing long term programming and scheduling strategies for CBS and the CW's primetime, daytime and late night lineups. This included determining program schedules, episode orders, show repeat and original episode schedules, budget reviews and length of show runs. He also managed theatrical film acquisitions and theatrical inventory delivery requirements. Prior to this, Kubitz held a series of positions within CBS, having joined that company in December 1994 as a page in Los Angeles, CA.
Kubitz began his career with a diverse array of experience behind the camera, including associate producer & editor, L & L Pictures; videographer for Newline Cinema; film best boy/grip/first assistant camera operator at Visual Anthropology Productions; and videographer for ABC WAOW-TV.
Kubitz earned a Bachelor of Science from the University of Wisconsin Stevens Point and a Master of Business Administration from Pepperdine University.
via Press Release
ABC MAKES STRATEGIC SHIFT IN LATE-NIGHT STRATEGY
"Jimmy Kimmel Live" Moves to 11:35 p.m. on January 8 to Capitalize on 
Ratings Momentum, Higher Ad Demand and Greater Revenue Upside
Audiences Can Begin and End Their Day with ABC News as "Nightline" Shifts to 12:35 a.m. on 
January 9 and Adds a Primetime Hour Every Friday Night at 9:00 p.m., Beginning March 1
Tuesday, August 21, 2012 . . . Capitalizing on ratings momentum, advertising demand and increased revenue potential for entertainment programming in the 11:35 p.m. time slot, ABC today announced a strategic shift in its late-night strategy to better position the network for increased ratings and financial performance over the long term. On Tuesday, January 8, "Jimmy Kimmel Live," the only late-night broadcast talk show to increase in Total Viewers this past season, will move to 11:35 p.m., putting the show in head-to-head competition with "The Tonight Show with Jay Leno" and "Late Show with David Letterman." Proven late-night performer "Nightline" will shift to 12:35 a.m., allowing viewers to begin and end their broadcast day with news. The moves are timed to take advantage of the built-in promotional platforms provided by ABC's "Dick Clark's New Year's Rockin' Eve with Ryan Seacrest" and ESPN's Bowl Championship Series, which culminates with the National Championship Game on Monday, January 7. In addition, "Nightline" will expand its programming commitments with a move into primetime, Friday nights at 9:00 p.m. beginning March 1. Given its success and growth, the ABC News series "What Would You Do?" will also find a new home on the schedule.
In making the announcement, Anne Sweeney, co-chair, Disney Media Networks and president, Disney/ABC Television Group, said: "Given the passionate fan base 'Jimmy Kimmel Live' has built over the past decade and the show's ratings and creative momentum this season, the time is right to make this move. There is the potential for far greater upside over the long term with this shift, given increased advertiser demand for competitive entertainment programming in the time slot." She continued: "This shift also allows us to bookend our programming day with compelling news content. And the addition of a new primetime hour of 'Nightline' on Friday nights will ensure that the program has even more opportunities to continue its incredible, award-winning reporting."
For the complete 2011-12 Broadcast TV Season, "Jimmy Kimmel Live" grew its overall audience over the prior season by 3% in Total Viewers to generate its most-watched season in 5 years. In addition, "JKL" was the only late-night broadcast talk show to grow year over year in Total Viewers.
And the show's ratings momentum has continued. During the recent July sweep, ABC's "Jimmy Kimmel Live" surged year to year by 15% in Total Viewers to deliver its most-watched July sweep ever. Notably, "JKL" grew its overall audience year over year in all 4 sweeps of the 2011-12 Season. The program was also up over the year-ago sweep by 5% in Adults 18-49 to score its best July in 4 years – since 2008. In addition, "JKL" stood as the only broadcast talk show in late-night to achieve yearly growth in either Total Viewers or Adults 18-49. And on Sunday, September 23, Jimmy Kimmel will take another turn in the spotlight when he hosts the 64th Annual Primetime Emmy Awards.
The shift for "Nightline" in late-night and the addition of a new "Nightline" broadcast hour in primetime, timed to utilize the Academy Awards as a promotional platform, continues the momentum of ABC News, which has enjoyed a banner year of success and growth. From a resurgent "Good Morning America," to the groundbreaking, innovative digital deal with Yahoo that immediately catapulted ABC News to the top of digital news delivery, to the recently completed joint venture with Univision for a 24-hour culturally relevant lifestyle and news channel for U.S. Hispanics — the fastest growing demographic in the nation — ABC News has gone from strength to strength and success to success.
In commenting on the announcement, Ben Sherwood, president, ABC News, said: "'Nightline' has proven its ability to grow over three decades on the air, with the show currently enjoying some of its highest ratings and best editorial work ever. The 'Nightline' team will now bring its excellent journalism to new time periods, and we especially welcome the chance to produce an hour every Friday in primetime, where new audiences will be introduced to the program's signature storytelling, interviewing and investigations. I'm confident 'Nightline' and its dynamic anchors, correspondents and staff will enjoy many successes for years to come."
Paul Lee, president, ABC Entertainment Group, added: "The time is right for Kimmel to make this move…he's ready, and so is his audience. For the past 10 years we've built the foundation for this shift, and we'll be celebrating the New Year as only Jimmy Kimmel can… with that unique brand of humor and universal wit that has endeared him to fans of all ages."
The Disney/ABC Television Group is composed of The Walt Disney Company's (NYSE: DIS) global entertainment and news television properties, owned television stations, and radio and publishing businesses. This includes ABC Entertainment Group, ABC News, ABC Owned Television Stations Group, Disney Channels Worldwide, Radio Disney, ABC Family and SOAPnet, as well as Disney-ABC Domestic Television and Disney Media Distribution. Hyperion Publishing and the Company's equity interest in A&E Networks round out the Group's portfolio of media businesses.