On Wednesday, November 14, 2012, the world of soaps lost a true legend in Barbara Esensten, who passed at age 75. Esensten co-created "The City" along with her more than 20 year long writing partner James Harmon Brown. The duo worked together on such shows as "Dynasty," "All My Children," "Days of our Lives," "One Life to Live," "Port Charles" and "Guiding Light."
In a posting on Esensten's facebook page, former "Guiding Light" head writer Jill Lorie Hurst said, "I think you know how much I love you and one of the many reasons is how much YOU loved your wonderful family – Mike, the kids, the grandkids – that great house of yours – and your good old partner Jim Brown. You were such a good boss/girlfriend and you always smelled so good. I miss you already."
On Friday, November 23, which just happens to be the day after Thanksgiving, former "One Life to Live" star Nic Robuck takes on his dark side as the star of Lifetime Movie Network's world premiere movie "Dark Desire."
The film, which we first reported on back in August while under the title "A Dark Plan," follows Robuck in the role of Shane, who comforts the unhappily married mother of his recently deceased roommate while she mourns the loss of her son. Kelly Lynch ("Magic City") portrays the mother, who soon realizes that Shane may have been the one responsible for the death of her son.
According to a report by Deadline.com's Nellie Andreeva, CBS has canceled freshman comedy "Partners" after the program hit a new series low in the coveted Adults 18-49 demo (1.8 rating) this past Monday. The series starred Brandon Routh ("One Life to Live"), Michael Urie ("Ugly Betty"), David Krumholtz ("Numb3rs") and Sophia Bush ("One Tree Hill"). The series was based on the lives of creators David Kohan and Max Mutchnick as two life-long friends and business partners whose "bromance" is put to the test when one of them becomes engaged.
Although they weren't listed with the other "Hot" stuff in TV Guide Magazine's Annual "Hot List" issue (pages 16-35), "General Hospital" earned a spot under Michael Logan's Daytime Highlights column (page 84) with the heading "Hot Again," while NBC's "Days of our Lives" also made the cut under the heading "Hot Days, Hotter Nights" courtesy of daytime's hottest (and only) gay on screen couple, Will Horton (Chandler Massey) and Sonny Kiriakis (Freddie Smith).
Florencia Lozano will once again be reprising her role of Téa Delgado on ABC's "General Hospital," only this time she'll be popping up in Llanview.
Soap Opera Network has learned that while Lozano is back for an unknown number of episodes, the actress will once again appear on the drama series after an unexpected visitor pays her character a visit on the Friday, September 7 episode.
Lozano's return is said to coincide with a major cliffhanger the soap has planned that will help entice viewers to tune in for the Monday, September 10 episode, which is when the soap kicks things off in its new timeslot – a slot that was previously held by "One Life to Live" up until it aired its final episode nearly nine months ago to the day.
"General Hospital" moves to 2:00 PM ET/1:00 PM PT/CT beginning Monday, September 10, on ABC. The show will not experience a timeslot shift on SOAPnet.
"One Life to Live's" Matt Walton (ex-Elijah Clark/Elijah Kent) and "Passions" actress Erin Cardillo (ex-Esme Vanderheusen) have come together for a new comedy at the Pasadena Playhouse.
Beginning next month "Under My Skin," a comedy that finds New York's most eligible bachelor (Walton) and a single working mother (Cardillo) as they experience all the trials and tribulations of each others lives, hits the stage for a one month engagement (September 11 – October 7, 2012). The story tackles such hot topics as sex, love and healthcare.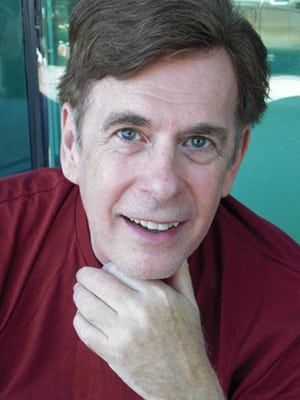 "I think it is a very good possibility! In fact, I think there is a good probability!" said newly appointed Senior Executive Director of "The 40th Annual Daytime Emmy Awards," David Michaels, in an interview with Michael Fairman, when asked about the possibility of the awards ceremony possibly being telecast on television next year. "Malachy Wienges [Chairman, National Association of Television Arts & Sceinces] is working very hard on that as we speak.  That is one of the things that is key … to always keep the Daytime Emmys on the air.  It is what a lot of people look forward to all yearlong, which is that telecast.  I never want to see it go off the air!"
In related news, per a report by Variety back in June, Wienges and NATAS are currently in discussion on ways to combine key elements of the Daytime Emmys, Sports Emmys and News & Documentary Emmys into a new, televised awards event that would "draw upon the added star power that the news and sports events provide." The site states a new awards program wouldn't come about for another three or four years. "Those shows are powerhoused with a lot of talent," said Wienges on the talent appearing at the Sports and News & Documentary telecasts.
As for the possibility of getting the Daytime Emmy broadcast on the air, Wienges said, "We are wide open. We have two networks that are interested, alphabet networks, and we have three production companies interested, and Turner's interested. … I've already engaged an attorney in Hollywood who's done probably dozens of these for different venues."
Considering it is an anniversary year for the Emmys, it would be a crying shame if no broadcast network, particularly ABC or CBS, decided to air the program. Let's just hope that the next couple of months brings about hope for a brighter future for the telecast.
Despite only four soaps remaining on the air, ABC's canceled "One Life to Live" is still eligible in all categories relating to Drama Series (Directing, Writing, Series, Hair, Makeup, etc.) due to it airing enough episodes in 2012 based on NATAS eligibility requirements.
Although "Good Afternoon America" showed some gains over the recent performance of ratings eyesore "The Revolution," those gains could only last so long. The ABC News daytime talk show hosted by "Good Morning America's" Lara Spencer and Josh Elliott has also failed to bring in an audience on par with the year-ago airings of the canceled "One Life to Live" after five weeks of ratings data (week of August 6-10, 2012).
With anticipation high for the recently introduced TNT Original Series "Major Crimes," The Huffington Post compiled a list of the 30 Best and Worst TV Spinoffs Ever. "Port Charles" was listed as one of televisions worst.
"Despite the fact that the 'General Hospital' spinoff lasted more than six years, 'Port Charles' — which took 'GH' characters Lucy Coe, Kevin Collins, Scott Baldwin and Karen Wexler — broke all the TV soap rules, and not for the better. It dropped the open-ended writing style of other daytime dramas and spent way too much time in the hospital," the Post cited as its reasoning for placing the daytime drama series on the list.
Premiering on Sunday, June 1, 1997 as a 2-hour primetime television event, "Port Charles" was the first spinoff of ABC Daytime's "General Hospital." As a daily soap opera, "PC" launched on Monday, June 2, 1997. It ended on Friday, October 3, 2003 after airing 1,633 episodes.
Shortly after its conclusion, ABC shifted Kelly Monaco (ex-Olivia "Livvie" Locke Morley) and Michael Easton (ex-Caleb Morley) to "General Hospital" and "One Life to Live," respectively. Monaco currently portrays Sam McCall, while Easton left "OLTL" (upon that soaps cancellation) and transferred his character John McBain to "GH."
To find out what other shows made the best or worst list, click here.
Ron Palillo, best known for his star turning role as Arnold Horshack on "Welcome Back, Kotter," has died, reports TMZ. The actor appeared as Gary Warren in episodes of "One Life to Live" in 1994. He died this morning of an apparent heart attack.
On Thursday, August 9, "OLTL" lost another alumnus when Al Freeman, Jr., passed at age 78. He portrayed Llanview Police Captain Ed Hall on the drama series from 1972 to 1988. He won the Daytime Emmy Award for Outstanding Lead Actor for his role on "One Life" in 1979 – the first win in that category for the soap and the first for an African American actor. Former co-star Judith Light (ex-Karen Wolek) tweeted "Al freeman Jr. amazing man,extraordinary actor,a joy 2 work with on the soap opera OLTL. He will missed. Rip dearest Al." Cause of death has not been released.