Netflix

ALL THINGS RELATED
Sunday, January 26, 2014 11:00 AM EDT
Last night marked the 66th annual Directors Guild of America Awards Dinner at the Hyatt Regency Century Plaza in Los Angeles, but none of today's daytime drama directors received a nomination. Why? Because the "Daytime Serials" category was integrated into the "Dramatic Series" category following a June 22, 2013 DGA National Board meeting that voted on rule changes, which forces daytime and primetime dramas to compete against internet distributed dramas such as "House of Cards," which essentially leaves daytime itself shut out from ever receiving a nomination as the dynamics of daytime is no where near the likes of 2013 nominees "Breaking Bad" (AMC), "Game of Thrones" (HBO), "Homeland" (Showtime), or even the aforementioned "House of Cards" (Netflix). "Bad" won the award for those wondering.
Wednesday, December 4, 2013 11:31 AM EDT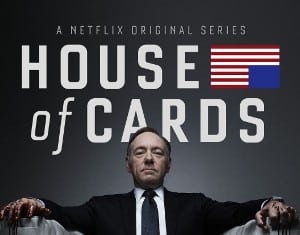 Netflix announced today that the second season of its critically acclaimed hit series, "House of Cards," will premiere on Friday, February 14, 2014. Those lovebirds looking for something special to do for the most popular date night, Valentine's Day, will be given the opportunity to tune into all 13-episodes of season two which will become available instantly in all territories where Netflix is available. Starring Academy Award® winner Kevin Spacey ("Horrible Bosses," "American Beauty," "The Usual Suspects") and Golden Globe® nominee Robin Wright ("The Girl with the Dragon Tattoo," "Forrest Gump"), who both received Emmy® nominations for their performances in the first season, "House of Cards" tells the story of greed, sex, love and corruption in modern Washington D.C. political circles.