In a message posted on her Facebook page, Lindsey Morgan has announced her departure from ABC's "General Hospital." The actress joined the cast of the series last April as the daughter of Sonny Corinthos (Maurice Benard) and Alexis Davis (Nancy Lee Grahn), although she didn't begin airing as Kristina Davis until the week of May 21, 2012.
Based on the wording of Morgan's message, one can only wonder if the soap plans on recasting the role once more. Previously, Morgan took over from actress Lexi Ainsworth.
The peer votes have been cast, and the National Academy of Television Arts and Sciences has announced the Drama Performer Pre-Nominations for the 40th Annual Daytime Entertainment Emmy Awards! Five categories have been announced, including Lead Actress and Lead Actor, Supporting Actress and Supporting Actor, as well as Younger Actress and Younger Actor. Without further adieu, here are the pre-nominees:
Outstanding Lead Actress In A Drama Series
Sharon Case as Sharon on "The Young and the Restless"
Jeanne Cooper as Katherine on "Y&R"
Susan Flannery as Stephanie on "The Bold and the Beautiful"
Finola Hughes as Anna Devane on "General Hospital"
Peggy McCay as Caroline on "Days of our Lives"
Kelly Monaco as Sam on "GH"
Melody Thomas Scott as Nikki on "Y&R"
Michelle Stafford as Phyllis on "Y&R"
Kelly Sullivan as Kate on "GH"
Heather Tom as Katie on "B&B"
Laura Wright as Carly on "GH"
The last time People Magazine offerred a collector's edition of a soap opera was in September 2011, when the mag celebrated the life and history of the then canceled "All My Children." This time the magazine is celebrating the continued life and history of "General Hospital" with a special 50th Anniversary collector's edition that finds Luke and Laura Spencer (Anthony Geary and Genie Francis), Maxie Jones (Kirsten Storms), Sonny Corinthos and Brenda Barrett (Maurice Benard and Vanessa Marcil), Duke Lavery and Anna Devane (Ian Buchanan and Finola Highes), and Jagger Cates (Antonio Sabato Jr.) gracing the cover.
On Monday, February 11, Paos Revolution, the team behind the upcoming "On Air" film starring "All My Children's" Jordi Vilasuso (Dr. Griffin Castillo) and Alicia Minshew (ex-Kendall Hart) announced the launch of their official website. "The launch of paosrevolution.com is the first step of our plan to connect fans to the soap actors and insiders they love. Founding partners Jordi Vilasuso, Dock (Jeff Dockweiler) and John Homa are committed to creating an interactive actor friendly environment," said a press release announcing the launch.
In a Twitter posting just after midnight on Tuesday, December 4 (on the east coast), Maurice Benard revealed that he signed a new contract with ABC's "General Hospital," which will keep him in the role of Sonny Corinthos for the foreseeable future. In his posting the actor said, "I just signed my contract for 'General Hospital.' It makes me feel good that I'm not leaving my family."
Co-star Nancy Lee Grahn (Alexis Davis) responded to Benard's tweet where she said jokingly, " I believe its in ur contract that u must do whatever I say (in fine print which I know u didnt read)."
On Wednesday, November 7, Kelly Monaco's professional dance partner on "Dancing with the Stars: All Stars," Val Chmerkovskiy tweeted, "On my way to @GeneralHospital and its not cause @kellymonaco1 is working… #DaytimeEmmy here I come lol #thrilled #honored." Monaco followed up his tweet when she said, "So proud of ‪@iamValC [Chmerkovskiy's Twitter handle]‬ Had his 1st day of shooting on the set of ‪@GeneralHospital‬… from ‪#DWTS‬ to ‪#GH‬
."
While it was unclear at the time when he would first air, Soap Opera Network has learned that Chmerkovskiy will air on the Monday, December 10 episode of the ABC drama series and that he'll be playing a boxer that spars with Sonny (Maurice Benard) and Shawn (Sean Blakemore).
"I wish she'd tell me what she was thinking" are the first spoken words in the teaser trailer for the upcoming  film "On Air" by Paos Revolution, a new production company formed by Jordi Vilasuso ("All My Children," "Guidiing Light") and acting coaches from "AMC" and "General Hospital." The film will tell the fictionalized story of life after a popular soap opera gets canceled and how the stars of the program are forced to move on.
In the teaser, Vilasuso is joined by former "AMC" co-star Alicia Minshew, whose character says that she "gave ten years of [her] life to that show. I still can't believe we got canceled." While the line provides an unintentional punch to soap fans still reeling from the loss of the ABC drama series as Minshew portrayed Kendall Hart on the program for nearly ten years, it does show that life does go on. While we will no longer be seeing some of our favorite stars portraying some of our all-time favorite characters, the business of soaps will continue in one form or another.
Beginning Monday, September 10 ABC's "General Hospital" moves to a new time period (2:00 PM ET/1:00 PM PT/CT) and in celebration the network is hosting a weeklong twitter chat with cast members of the drama series.
Fans of ABC's hit drama "General Hospital" will be able to submit questions (#askgh) and receive real-time responses from fan favorites who will be on Twitter during the East Coast broadcast of the show 2:00-3:00 p.m. ET/11:00 a.m.- noon PT.
Scheduled to take part in the twitter chats include the following stars (talent subject to change):
MONDAY, SEPTEMBER 10 - Sebastian Roche (Jerry Jacks) - @sebroche
TUESDAY, SEPTEMBER 11 -  Roger Howarth (Todd Manning) - @generalhospital
WEDNESDAY, SEPTEMBER 12 - Maurice Benard (Sonny Corinthos) - @MauriceBenardMB
THURSDAY, SEPTEMBER 13 – Finola Hughes (Anna Devane) - @finolahughes
FRIDAY, SEPTEMBER 14 – Kirsten Storms (Maxie Jones) - @teenystweeting
Help spread the word on social media with videos of your favorite "General Hospital" stars:
Follow your favorite "General Hospital" cast and crew on Twitter:
Bradford Anderson: @BfordAnderson
Brandon Barash: @BrandonBarash
Chad Duell: @duelly87
Dominick Zamprogna: @dom_zamprogna
Finola Hughes: @finolahughes
Frank Valentini: @valentinifrank
Ingo Rademacher: @IngoRademacher
Jason Thompson: @MyJasonThompson
Kelly Monaco: @kellymonaco1
Kelly Sullivan: @kellysullicanny
Kimberly McCullough: @whitewatercrew
Kirsten Storms: @teenystweeting
Kristen Alderson: krisalderson
Laura Wright: @ldubs
Leslie Charleson: @lesliecharleson
Lisa LoCicero: @lisalocicerogh
Maurice Benard: @MauriceBenardMB
Nancy Lee Grahn: @NancyLeeGrahn
Nathin Butler: @nathinbutler
Ron Carlivati: @carlivatiron
Scott Reeves: @reevesforreal
Sebastian Roche: @sebroche
Sonya Eddy: @TheRealSonyaEd
Steve Burton: @1SteveBurton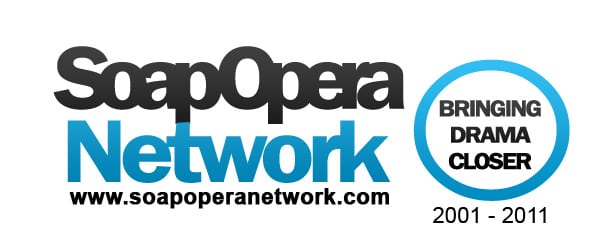 (SoapOperaNetwork.com) — October 8, 2011 marks the tenth anniversary of Soap Opera Network, an online magazine celebrating the world of soaps past, present and future.
Soap Opera Network began as an online message board on the then popular ezBoard (now called Yuki) platform by two individuals that wanted to start a more industry based discussion forum for fans of the soap opera genre with the idea that not only could one discuss the comings, the goings or the general news of the day, but have the opportunity to learn more about the names, the faces and the minds of the people that help make daily dramatic serials happen year in and year out. At launch, soap operas "All My Children, "As The World Turns," "The Bold and the Beautiful," "Days of our Lives," "General Hospital," "Guiding Light," "One Life to Live," "Passions," "Port Charles," and "The Young and the Restless" were on the schedules of television networks ABC, CBS and NBC.
In November 2002, Soap Opera Network left ezBoard and became its own .com service.
Thanks to elaborate databases such as a ratings archive (how soaps rated over the years), episode count archive (who appeared in episodes of a soap opera each and every month and year), its end credit archive (who wrote, directed or produced each episode), including a listing of episode writers and directors along with profile pieces on more than 80% of the writers, producers and directors, Soap Opera Network has cornered the market on information surrounding the inner workings of the soap opera format.
Over the course of its ten years, Soap Opera Network has interviewed a number of daytime's biggest stars and behind the scenes personnel including Susan Lucci, Erika Slezak, Melody Thomas Scott, Maurice Benard, Steve Burton, Sarah Brown, Hillary B. Smith, Robert S. Woods, Ilene Kristen, Ken Corday, Cameron Mathison, Cady McClain, Eden Riegel, Judith Light, Bradley P. Bell, Brian Frons, Maria Arena Bell, Sherri Shepherd, Daniel Goddard, Greg Meng, Marlene McPherson, Darrell Ray Thomas, Nancy Curlee, Melissa Archer, Kristen Alderson, Julie Pinson, Ron Carlivati, Frank Valentini, Linda Dano and many more.
Current Soap Opera Network staff is as follows:
Xavier Toups, Co-Founder
Errol Lewis, Editor in Chief; General Hospital Editor; Days of our Lives Editor
Angela Rosa, Managing Editor; All My Children Editor
Scotty Gore, Managing Editor; One Life to Live Editor
Venus Stone-Cutter, The Young and the Restless Editor
Gehrig Burnett Jr., The Bold and the Beautiful Editor
(SoapOperaNetwork.com) — On Thursday, July 21, ABC Soaps in Depth reported that Kelly Sullivan had been hired as a recast Kate Howard after more than a year since we last saw the character (last played by Megan Ward). Now Soap Opera Network has learned when you can catch your first glimpse of the actress.
In In Depth's posting they indicated that Kate "will be looking a bit different after all that time recently spent in Paris and Milan," but that's only half the story! Just wait until Kate comes face-to-face with Sonny Corinthos (Maurice Benard), her high school boyfriend and supposedly the loves of each other's lives, or she was until Sonny remembered Brenda Barrett (Vanessa Marcil Giovinazzo) at this point last year.
In addition to "GH," Sullivan has appeared in episodes of "As The World Turns" and "One Life to Live" along with a guest-stint in "Law & Order: Criminal Intent." She'll appear in the film "333″ co-starring with "The Young and the Restless'" Camryn Grimes (ex-Cassie Newman) which is set for release in 2012.
Sullivan's first airdate is scheduled for Monday, September 12.