Topic:
Lorraine Broderick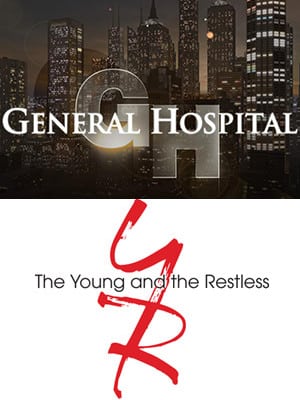 The Writers Guild of America, West (WGAW) and the Writers Guild of America, East (WGAE) announced today nominees for Outstanding Achievement in Television, New Media, News, Radio, Promotional Writing, and Graphic Animation during the 2013 season for its annual Writers Guild Awards. In the category of Daytime Drama, NBC's "Days of our Lives," ABC's "General Hospital" and CBS' "The Young and the Restless" are set to duke it out when the ceremony takes place on Saturday, February 1, 2014 at simultaneous ceremonies in Los Angeles and New York.
With the ABC version of "One Life to Live" now a thing of the past, and with it airing only 9 episodes during the 2012 eligibility year, one would think that the show would not have received any Daytime Emmy Award love. While the show only received 3 nominations for its ABC incarnation, 3 noms is just great!
When we reported that Marlene McPherson (pictured right, with former "DAYS" co-head writer Darrell Ray Thomas) had been hired on as head writer of Prospect Park's version of "All My children" back on January 23, it was unclear at the time as to whether she would be joined by a co-head writer. Soap Opera Network has since learned that it'll be a "Days of our Lives" reunion of sorts for "AMC" as McPherson will be joined by Elizabeth Snyder, who was an Associate Head Writer at "DAYS" from 2011-2012.
With Prospect Park now signing agreements with key unions SAG-AFTRA (actors), the DGA (directors),  and the WGA (writers), with an expectation to begin filming episodes of "All My Children" as soon as next month, we wondered who you wanted to see act on the soap when it moves to the web. Your choices can include past actors as well as wishful casting (recast and new characters are welcomed). We also wondered who you want to join the writing team now that thousands of writers are at Prospect Park's disposal courtesy of their agreement with the WGA, as well as who you want to direct episodes of the series. Keep in mind that Agnes Nixon, who created both "AMC" and "One Life to Live," is currently working as a consultant for Prospect Park, according to Foz McDermott, head of production for TOLN (Prospect Park's The Online Network). Also note that actors Jordi Vilasuso (Dr. Griffin Castillo), Darnell Williams (Jesse Hubbard), Debbi Morgan (Dr. Angela Hubbard), Vincent Irizarry (Dr. David Hayward) and Lindsay Hartley (Dr. Cara Castillo) are all confirmed as signing on to return to "AMC" when it moves to the web. Alicia Minshew (ex-Kendall Hart) has reported that she's been approached, while Cameron Mathison (ex-Ryan Lavery) hope's he can be involved. There's no word yet on the status of Susan Lucci (ex-Erica Kane), who was the only original cast member from the first season of "AMC" that had remained with the show without interruption from its debut on January 5, 1970 through its final ABC broadcast on September 23, 2011.
The Writers Guild of America have announced the nominations for the 2013 Writers Guild Awards.  In the Daytime Drama category, "Days Of Our Lives," "One Life To Live," and "The Young and The Restless" were nominated.  Winners will be determined on February 17, 2013.
(SoapOperaNetwork.com) – Editor's Note: The information is clearly outdated at this point, but "Days of our Lives" issued the following statement to Soap Opera Network just a short time ago announcing (what we've already previously reported) that Gary Tomlin and Christopher Whitesell are now heading up the shows writing team effective immediately with Lorraine Broderick in as a breakdown writer.
via press release

'Days of our Lives' announces new head writers Gary Tomlin and Christopher Whitesell, both of whom are Daytime Emmy award winners!

The two writers join forces immediately, working together as a team to continue to pay tribute to the show's roots both in storytelling and character development. Tomlin and Whitesell will be joined by Daytime Emmy award winning Lorraine Broderick as a member of the breakdown writing team.

Co-Executive Producer Greg Meng comments, " We are excited and look forward to the stories of romance, suspense and intrigue this new dream team plans to tell."
Related Story: 'Days of our Lives' Put on Notice by NBC?
(SoapOperaNetwork.com) – The "One Life To Live" invasion continues at "General Hospital" as the show makes more changes to its writing staff.
Christopher Van Etten and Jean Passanante are joining "GH" as breakdown writers and Katherine Schock is joining as a script writer.   All of them were part of current "GH" head writer Ron Carlivati's writing staff at "OLTL".
Exiting "GH" are scripts writers David Kreizman, Joanna Cohen, and Nathan Fissell.  Fissell is the latest long time 'GH' employee who was given the axe under the new regime.   He started as an intern in 1993 and has done various jobs over the years before finally being promoted to full time script writer last year.   Breakdown writer David Rupel, who joined a couple of months ago, is also leaving.
Over at "Days of our Lives," newly installed head writer Gary Tomlin has added Lorraine Broderick to his writing staff.
For discussion on these topics and more, join us in the Writers/Directors thread at the SON Community.
(SoapOperaNetwork.com) — With news of Gary Tomlin and Christopher Whitesell's ascension to the top of the "Days of our Lives" writing team after the NBC daytime soap let go Marlene McPherson and Darrell Ray Thomas, Jr., less than a year after the two were hired to replace Dena Higley, Soap Opera Digest in its newest issue (issue dated April 16, 2012) is reporting that Tomlin and Whitesell has added the multiple Emmy award winning talents of veteran writer Lorraine Broderick to its new regime.
Broderick, who most recently enjoyed a stint at ABC's "One Life to Live" as a breakdown writer shortly after penning the final months of "All My Children" as the soaps head writer – she was hired at "AMC" just days before the network officially announced it had decided to cancel both soaps with "Children" going off the air in September 2011 and "One Life" completing its run in January 2012 - joins "DAYS" in the same position she had at "One Life to Live" until its final episodes were written. "We are excited and look forward to the stories of romance, suspense and intrigue this new dream team plans to tell," Co-Executive Producer Greg Meng said via Digest.
Broderick's long career in daytime television as a writer began more than three decades ago when she was hired on as a script writer at "All My Children" in 1979. She held that position until 1981, when she was named Associate Head Writer. She would begin a short stint as the soaps Co-Head Writer in 1987, but would revert back to her former position as Associate Head Writer beginning in 1988 until 1991. She left "AMC" for "Guiding Light" beginning in 1992, where she was hired once again as an Associate Head Writer (1992-1993). After leaving "GL," Broderick would find herself at numerous daytime soaps in various capacities including the role of Head Writer and/or Associate Head Writer at "Another World," "As The World Turns," "One Life to Live" and "Port Charles."
Before marking her return to "DAYS" later this year, Broderick was previously credited as Head Writer of the soap for just one month (October 1999).
(SoapOperaNetwork.com) — On Monday afternoon, Vincent Irizarry received word of Jamey Giddens' (of Daytime Confidential) rather strong implication on Twitter that [Irizarry's] inability to reach an agreement with production company Prospect Park along with Agnes Nixon and Lorraine Broderick's "story projections" were a major reason Prospect Park decided to reportedly halt early production efforts to move "All My Children" to the internet. The none too pleased Daytime Emmy Award winner responded to the claim on Facebook on Monday evening.
Irizarry was provided with an unexpected birthday surprise on Saturday, November 12 when Giddens revealed that his sources had spilled that "Prospect Park's inability to make a deal [with] Irizarry is a factor in #AMC reboot stalling. Stories were to heavily involve David… [From a branding pt., Susan Lucci was their biggest casting factor, from story it was Irizzary]." When questioned on how that deduction was possible when neither an Executive Producer or Head Writer has been hired for the soap, as opposed to sister soap "One Life to Live," which has signed talent to the aforementioned positions for their 2.0 incarnation as well as thirteen actors, Giddens added "Agnes and Lorraine worked on story projections for the show."
On Monday evening, along with requesting the source of the claim that was stated to him in reduced form, Irizarry responded on his official fan page on Facebook  and emphatically stated that "the part re: me and Lorraine is absolute rubbish. We are certainly not the reason [Prospect Park] has put the show on hold." (Update: 11/16/11) This evening on Twitter, Vincent neither confirmed or denied the accuracy of Giddens sources but did state he felt Giddens comments were "terribly misquoted" to him by the original poster on his Facebook page. The posters original comment stated to Irizarry that it had been "reported that that the show was put on hold…because broderick and vincent cant decide if they want to sign."

It had been revealed as far back as October 6 that Irizarry had finally been contacted by Prospect Park to join "AMC" as it prepared to go online. This discussion had not led to a signing before the reported stall in early production; similar to the results of reported discussions with major "AMC" names including Lucci (ex-Erica Kane), Michael E. Knight (ex-Tad Martin), Rebecca Budig (ex-Greenlee Smythe), Alicia Minshew (ex-Kendall Hart) and Jacob Young (ex-JR Chandler). From the performers they reached out to, Prospect Park has only been able to secure Cameron Mathison (Ryan Lavery), Lindsay Hartley (Cara Castillo) and Darnell Williams (Jesse Hubbard).
Irizarry, who just turned a handsome 52-years old, has enjoyed a long and successful daytime carrer which began on CBS's Guiding Light in 1984 as anti-hero Brandon "Lujack" Luvanoczeck. He played the popular role until 1986. In 1987, the actor joined the cast of Santa Barbara for a two year run as Dr. Scott Clark. Irizarry returned to the soap that put him on the map in 1991 as Nick McHenry Spaulding. He remained on the soap for five more years. Irizarry landed the role of Dr. David Hayward in November 1997 and remained an integral part of the ABC soap through to the end outside of a two year break between his two stints in Pine Valley where he landed on CBS' "The Young and the Restless."
(SoapOperaNetwork.com) — As we reported yesterday, we likely have to thank our federal government for providing the funding necessary for Prospect Park to pick up "All My Children" and "One Life to Live," which were both canceled by ABC on Thursday, April 14. The announcement that ABC would be licensing the two iconic soaps to Prospect Park was made on Thursday, July 7, but according to sources the financial deal actually came together back in May, just in time for what is said to be the deadline period for the government to hand out grant money to companies looking to invest in New Media. We thought it was crazy too, but we checked and it is definitely true. What we know about this deal is that upon their completion on ABC, "All My Children" and "One Life to Live" will be migrated to an as-yet-to-be-named Hulu-esque internet video service that would allow both daily soap operas to continue their storytelling for millions of online users and "be delivered with the same quality and in the same format and length," as fans have come to expect for more than forty years, according to the joint press release issued from Disney/ABC and Prospect Park. Translation: One hour per day, five days a week, 52 weeks a year will remain within the realm of reality. What wasn't clear at the time was after both soaps complete their runs on ABC, they will also conclude on SOAPnet.
Insiders tell Soap Opera Network that even with the multi-year, multi-platform licensing deal with Prospect Park, the deal does not call for Disney/ABC to air either programs on their owned and operated networks, which includes SOAPnet, despite the channel now expected to remain on cable/satellite systems longer than originally thought due to some minor issues the Walt Disney Company had been having with the launch of its Disney Junior cable network. Additionally, when an ABC representative confirmed to Soaps in Depth back in late April that SOAPnet would "absolutely have programming" after "AMC" and "OLTL" ended their runs, they neglected to name which programming would be in place. Soap Opera Network has confirmed with the same representative that the programming in question will not include "All My Children" or "One Life to Live." In fact, after yesterday's announcement was released, the Disney/ABC Television Group made it clear that they are no longer in charge of the day-to-day operations of either of your favorite daytime soaps once their runs are completed on ABC and SOAPnet. If you want to know what's going to happen next on "All My Children" after it ends on Friday, September 23, don't call, write or email Brian Frons, President, Daytime, Disney/ABC Television Group. He is not in charge of that show and he will not be in charge of "One Life to Live" either after the series airs its final broadcast on Friday, January 20, 2012. Prospect Park, which at this time has no plans to release any further details surrounding the new venture beyond what was already reported, according to a representative, is in the early stages of what will surely be a drawn out discussion with the people that help make your favorite soaps as well as the unions these individuals belong to as neither union, the Screen Actors Guild (SAG) or the American Federation of Television and Radio Artists (AFTRA), was prepared for this new business model when they last negotiated their contracts with the Alliance of Motion Picture and Television Producers (AMPTP), which comprises The Walt Disney Company, among others. AFTRA is the primary union representing on-air talent for daytime soaps.
Now that "One Life" is continuing with a second one under Prospect Park, fans around the world are wondering how does this affect the storylines, how does this affect the cast, the crews, the writers and even the producers? Digging a little further, with last month's announcement that Ron Carlivati, who currently serves as "One Life to Live's" head writer, would be transitioning to "General Hospital" as a script writer later this year when the show completes its run on ABC, it really begs the question of what happens next? Not only for that soap, but for "All My Children" as well. "It's too early to know," said a ABC insider requesting anonymity. "The details are too fresh on everyone's minds for it to be determined who will be running these shows, or particularly writing them, after they finish their ABC runs." The same also holds true for who will be appearing on your favorite soaps as they transition to your computer screens as well, the insider informed us. In fact, according to "All My Children" star JR Martinez (Brot Monroe) in a twitter posting, "I will say this-my current contract was to terminate on August 31st. Now we must see who they want to keep & renegotiate with. Not sure…" It appears as though the termination Martinez is referring to holds true for all current contract cast members at "AMC," leaving Prospect Park to renegotiate with the cast and even the crews in order to properly transition the series to the web in the "same quality" fans have come to expect. But back to Carlivati. He along with "One Life" Executive Producer Frank Valentini signed new deals with ABC back in September of 2010. The terms of the agreements were not disclosed, but it was understood to last two years for Valentini and three years for Carlivati, so does that mean the two will remain with "One Life" under the guidance of Prospect Park? Or has ABC opted to keep the dynamic duo under its charge leaving new blood to step in and head write and produce the show with the "same quality and in the same format and length" as before? As our insider said before "It's too early to know." There is no word on what this development means for "All My Children" Executive Producer Julie Hanan Carruthers or Head Writer Lorraine Broderick.
However, one of the big questions left unanswered are where will the shows be produced? "All My Children" moved its production to the Andrita studios in Los Angeles, CA back in January of 2010 in a multi-year licensing deal. Will the show remain in that studio? It looks like it will as the cost factor would be too great for Prospect to move the series once more. However, things look a little less certain for "One Life to Live," which took over "AMC's" New York studio space housed in the ABC Television Center. With ABC no longer producing the series it is likely the series will be moved to another facility or moved to the West Coast right along with "AMC" in order for Prospect Park to better manage the daily operations of the drama series.