Beginning tonight at 7:00 PM ET/PT, SOAPnet presents a "General Hospital" marathon dubbed "Quartermania," which will provide fans with five hours of classic episodes of the ABC Daytime drama series and the crazy antics of the Quartermaine family. In attendance will be some of your favorite soap stars from "GH" past including Jacob Young as Lucky Spencer, Natalia Livingston as Emily Quartermaine, Wally Kurth as Ned Ashton, Robyn Richards as Maxie Jones and Linda Dano as Rea Cummings, with fan refreshers made available for upcoming returnees Lynn Herring as Lucy Coe and Robin Christopher as Skye Quartermaine.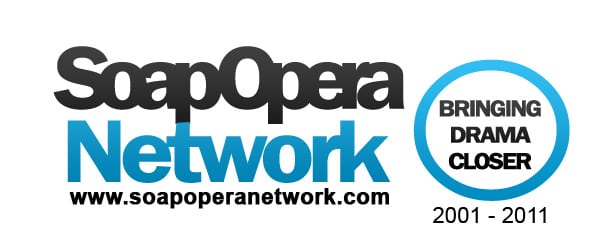 (SoapOperaNetwork.com) — October 8, 2011 marks the tenth anniversary of Soap Opera Network, an online magazine celebrating the world of soaps past, present and future.
Soap Opera Network began as an online message board on the then popular ezBoard (now called Yuki) platform by two individuals that wanted to start a more industry based discussion forum for fans of the soap opera genre with the idea that not only could one discuss the comings, the goings or the general news of the day, but have the opportunity to learn more about the names, the faces and the minds of the people that help make daily dramatic serials happen year in and year out. At launch, soap operas "All My Children, "As The World Turns," "The Bold and the Beautiful," "Days of our Lives," "General Hospital," "Guiding Light," "One Life to Live," "Passions," "Port Charles," and "The Young and the Restless" were on the schedules of television networks ABC, CBS and NBC.
In November 2002, Soap Opera Network left ezBoard and became its own .com service.
Thanks to elaborate databases such as a ratings archive (how soaps rated over the years), episode count archive (who appeared in episodes of a soap opera each and every month and year), its end credit archive (who wrote, directed or produced each episode), including a listing of episode writers and directors along with profile pieces on more than 80% of the writers, producers and directors, Soap Opera Network has cornered the market on information surrounding the inner workings of the soap opera format.
Over the course of its ten years, Soap Opera Network has interviewed a number of daytime's biggest stars and behind the scenes personnel including Susan Lucci, Erika Slezak, Melody Thomas Scott, Maurice Benard, Steve Burton, Sarah Brown, Hillary B. Smith, Robert S. Woods, Ilene Kristen, Ken Corday, Cameron Mathison, Cady McClain, Eden Riegel, Judith Light, Bradley P. Bell, Brian Frons, Maria Arena Bell, Sherri Shepherd, Daniel Goddard, Greg Meng, Marlene McPherson, Darrell Ray Thomas, Nancy Curlee, Melissa Archer, Kristen Alderson, Julie Pinson, Ron Carlivati, Frank Valentini, Linda Dano and many more.
Current Soap Opera Network staff is as follows:
Xavier Toups, Co-Founder
Errol Lewis, Editor in Chief; General Hospital Editor; Days of our Lives Editor
Angela Rosa, Managing Editor; All My Children Editor
Scotty Gore, Managing Editor; One Life to Live Editor
Venus Stone-Cutter, The Young and the Restless Editor
Gehrig Burnett Jr., The Bold and the Beautiful Editor
(SoapOperaNetwork.com) — "One Life to Live's" Robert S. Woods (Bo) will be among those honored at HeartShare Human Services of New York's Annual Spring Gala on Thursday, March 24.  Woods will be honored withThe Linda Dano Heart Award for his support of the organization, which is "dedicated to improving the lives of people in need of special services and support."
The award is named after actress Linda Dano (ex-Rae, "OLTL"), who serves on the HeartShare Board of Directors and presents the honor on an annual basis to an individual or group in the entertainment industry who "exemplifies a commitment to improving the lives of children," states a press release.  Previous recipients of the award include Cameron Mathison and Susan Lucci from "All My Children," along with the cast and crew of "As the World Turns," "One Life to Live," and "The View."
Woods will be among four individuals recognized for their support and contributions.  The others include Mark C. Healy, President and CEO of the American Stock Transfer & Trust Company, LLC., who will receive The Monsignor Thomas G. Hagerty Humanitarian Award; Vincent Theurer, Sr., President of the Approved Oil Company of Brooklyn, who is the recipient of The George A. Cincotta Community Development Award; and Lorraine M. Tazzo, President of The Genie Foundation, who will be presented with The HeartShare Genie Foundation Award.
Scheduled to attend from "One Life to Live," in addition to Woods and Dano, include Eddie Alderson (Matthew), Kristen Alderson (Starr), Farah Fath (Gigi), David Fumero (Cristian), Susan Haskell (Marty), John-Paul Lavoisier (Rex), Mark Lawson (Brody), Sean Ringgold (Shaun), and Hillary B. Smith (Nora), as well as former cast member Billy Warlock (ex-Ross), and novelist Peter Straub (who has appeared on "OLTL" several times).  Other soap stars in attendance include Julie Pinson Warlock (ex-Janet, "As the World Turns") and Thorsten Kaye (Ex-Zach, "All My Children").  For a listing of other television, radio, and entertainment personalities attending, click here.
The 2011 HeartShare Spring Gala and Auction will be held on Thursday, March 24, at the New York Marriott Marquis in New York City.  Cocktails and the silent auction begin at 5:30 pm ET, with the dinner to follow at 7:00 pm ET.  For more information, call (718) 422-3210, email [email protected], or click here.  And to learn more about HeartShare, please visit their website.