ALL ARTICLES ABOUT

Lex Medlin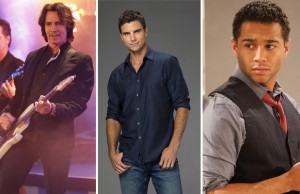 Lifetime's "Drop Dead Diva" is set to premiere its sixth and final season this March and a slew of former daytime stars have signed on to send the critically acclaimed drama series off in style.
News
on Tuesday, June 4, 2013 @ 11:32 PM
Cancelled months after leaving viewers hanging with a major cliffhanger, "Drop Dead Diva" received a reprieve from Lifetime earlier this year which has resulted in a fifth season set to debut on Sunday, June 23. Today, Lifetime has revealed the first promo of the new season, which helps shed a little light on life after Owen (Lex Medlin) caught his bride, Jane (Brooke Elliott), kissing Grayson (Jackson Hurst) moments before they were to be wed.