As we previously reported, rumors are swirling that due to the current "Days or Our Lives" storyline in which Nick (Blake Berris) physically forced himself onto Gabi (Camila Banus) and subsequently found himself clocked with a rock and thrown into a river, Berris will be leaving the "Days" canvas. But is it true? Soap Opera Network caught up with the actor himself to get the scoop on what's ahead for his alter ego, and guess what? Alison Sweeney (Sami), Lauren Koslow (Kate) and Banus also weighed in on the exciting story!
When Berris first saw the scripts in which Nick attacks Gabi and the subsequent scripts detailing the fallout from his alter ego's horrendous actions, he admits he was a bit surprised. But that doesn't mean he wasn't a fan of the challenging material he was asked to play. "As an actor, that's what you hope for," he says of the dark material. "That's one of the perks, as an actor, to be able to explore areas of our psyche that you might regard as taboo or dangerous or dark, so I think I've been really fortunate with the character of Nick, to be able to explore some really strange and dark and interesting material."
During the east coast broadcast of NBC's " Days of our Lives" on Wednesday, November 27 fans will get a chance to watch the show while tweeting live with actress Lauren Koslow (Kate ), who wants tweeters to provide her with their best and most creative idea of what her character is texting to Hope Brady (Kristian Alfonso) during the episode. The lucky person whose idea is selected will win a follow from the actress on the social network.
To tweet with Koslow, take note of her twitter handle @LaurenKoslow.
For all intents and purposes, "Days of our Lives'" Galen Gering (Rafe Hernandez) has had one of the best gigs in Los Angeles as of late. Not only was he getting paid to hang out in a bed all day while his alter ego was in a coma, he's had the recent fortune of playing the recovery part of the story, which is a physical challenge that rarely falls into an actor's lap. The result: Some standout scenes of Rafe re-learning to walk that prove Gering has some acting legs to stand on!
On Thursday, October 17, several LGBT (Lesbian, Gay, Bisexual, Transgender) organizations and individuals celebrated Spirit Day, which asks people to take a stand against bullying and show support for LGBT youth by wearing the color purple. NBC's "Days of our Lives" took a stand and showed its support as cast members donned purple shirts, jackets and even ties.
Those taking part included James Reynolds, Kate Mansi, Casey Moss, Lauren Koslow, Eric Martsolf, Chrishell Stause, Deidre Hall, Meredith Scott Lynn, Galen Gering, Greg Vaughan, Arianne Zucker, Kristian Alfonoso, Camila Banus, Freddie Smith and "DAYS" newcomer, Guy Wilson.
For more on Spirit Day and on how you can take a stand to support LGBT youth, visit glaad.org.
In a posting last week on its Facebook page, shortly after word that the Supreme Court of the United States had found the Defense of Marriage Act (DOMA) unconstitutional, the NOH8 campaign displayed a photo compilation of "Days of our Lives" cast members posing in support of the charitable organization whose mission is "to promote marriage, gender and human equality through education, advocacy, social media, and visual protest." The photo included actors Blake Berris, Eileen Davidson, Greg Vaughan, Kristian Alfonso, Bill Hayes, Lauren Koslow, Deidre Hall, Suzanne Rogers, Freddie Smith, Joseph Mascolo, Nathan Owens, Kate Mansi and Galen Gering, among others.
As noted in our recent interview with Greg Meng, co-executive producer, "Days of our Lives," the NBC Daytime soap opera is releasing "Days of our Lives Better Living: Cast Secrets for a Healthier, Balanced Life," a new book that delves into five better living topics – nutrition, exercise, style, inspiration and balance.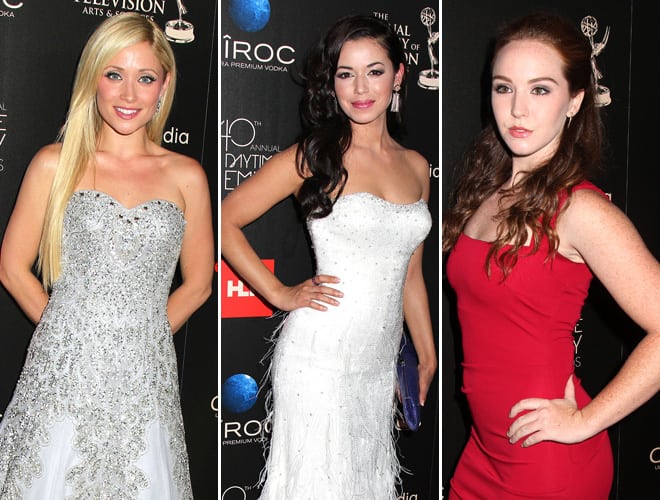 Photo Credit:
Steven Bergman Photography
If you think picking out what to wear for work in the morning is stressful, imagine what it would be like if your work was going to the 40th Annual Daytime Entertainment Emmy Awards, where swarms of reporters and photographers were going to capture your every detail! Stressful, yes. But also ridiculously fun! Soap Opera Network caught up with some of daytime's hottest stars on the red touch red carpet during the exciting event, and they spilled details on who they were wearing and why they chose the specific looks they did. So sit back, relax and hear the stories on how these bold performers got so dang beautiful!
Since the news broke that former "All My Children" star Chrishell Stause (ex-Amanda Dillon) had joined "Days of our Lives," information about her new gig has been sparse. Until now! Soap Opera Network recently chatted with the actress, and she was able to reveal a few new details regarding her latest alter ego!
Say what you will about "Days of our Lives'" Nancy Wesley, but she is definitely a character fans just love to hate. The same can't be said of her portrayer, Patrika Darbo, who is loved, loved, loved all around for her humor, candidness and ability to play one of daytime's baddest bitches!
"It is the best character to play," raves Darbo of Chloe Lane's mom, a role she originated back in 1998. "Every day, I thank goodness [for] the fact that I get to play this role that they created for me, and that they have kept her coming back."
For the past couple of years NBC's "Days of our Lives" has been holding its "A Day of Days" fan event at Universal Studios CityWalk, where fans of the drama series could meet and great some of their favorite stars and get signed autographs. Unfortunately, this year the network has decided not to continue that event, and instead opted to branch it out a little bit (similar to how ABC canceled Super Soap Weekend, which turned into the Soap Nation Tour). Earlier this year, in a posting on the soaps operas Facebook page, the network said, "Ask and you shall receive! NBC has heard your requests and we are taking our yearly fan event on the road! Instead of holding our event at Universal City in California, members of the 'Days of our Lives' cast will be traveling to a few cities around the country. Dates and cities to be announced soon!" That "soon" is now.