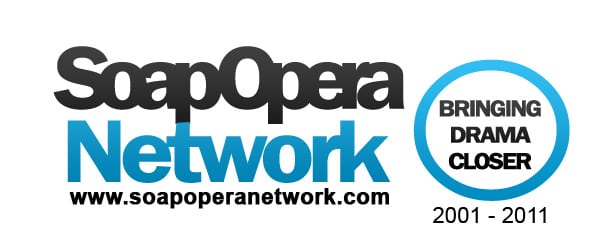 (SoapOperaNetwork.com) — October 8, 2011 marks the tenth anniversary of Soap Opera Network, an online magazine celebrating the world of soaps past, present and future.
Soap Opera Network began as an online message board on the then popular ezBoard (now called Yuki) platform by two individuals that wanted to start a more industry based discussion forum for fans of the soap opera genre with the idea that not only could one discuss the comings, the goings or the general news of the day, but have the opportunity to learn more about the names, the faces and the minds of the people that help make daily dramatic serials happen year in and year out. At launch, soap operas "All My Children, "As The World Turns," "The Bold and the Beautiful," "Days of our Lives," "General Hospital," "Guiding Light," "One Life to Live," "Passions," "Port Charles," and "The Young and the Restless" were on the schedules of television networks ABC, CBS and NBC.
In November 2002, Soap Opera Network left ezBoard and became its own .com service.
Thanks to elaborate databases such as a ratings archive (how soaps rated over the years), episode count archive (who appeared in episodes of a soap opera each and every month and year), its end credit archive (who wrote, directed or produced each episode), including a listing of episode writers and directors along with profile pieces on more than 80% of the writers, producers and directors, Soap Opera Network has cornered the market on information surrounding the inner workings of the soap opera format.
Over the course of its ten years, Soap Opera Network has interviewed a number of daytime's biggest stars and behind the scenes personnel including Susan Lucci, Erika Slezak, Melody Thomas Scott, Maurice Benard, Steve Burton, Sarah Brown, Hillary B. Smith, Robert S. Woods, Ilene Kristen, Ken Corday, Cameron Mathison, Cady McClain, Eden Riegel, Judith Light, Bradley P. Bell, Brian Frons, Maria Arena Bell, Sherri Shepherd, Daniel Goddard, Greg Meng, Marlene McPherson, Darrell Ray Thomas, Nancy Curlee, Melissa Archer, Kristen Alderson, Julie Pinson, Ron Carlivati, Frank Valentini, Linda Dano and many more.
Current Soap Opera Network staff is as follows:
Xavier Toups, Co-Founder
Errol Lewis, Editor in Chief; General Hospital Editor; Days of our Lives Editor
Angela Rosa, Managing Editor; All My Children Editor
Scotty Gore, Managing Editor; One Life to Live Editor
Venus Stone-Cutter, The Young and the Restless Editor
Gehrig Burnett Jr., The Bold and the Beautiful Editor
(SoapOperaNetwork.com) — Llanview comings and goings for the month of October.
Thought you'd seen the last of Llanview's craziest physic, but were hoping that you'd be wrong? If so, then you are in luck. Lea DeLaria reprises her role of Madame Delphina on Monday, October 10 when she encounters someone who is feeling a little guilty over something they've done as well as someone that asks her to repeat something in particular that she did for him once in the past.
Wendy Moniz is back as Llanview's new mayor Kathleen Finn on Monday, October 3, and again on  Thursday, October 20 when she shows the Llanview Police Department some tough love.
David A. Gregory (Ford) has listed his October airdates on his Facebook page as being the 5, 6, 18, 19, 25, 27, and 31. That is 7 out of 21 episodes airing during the month.
Christopher L. Graves will play a Paparazzi on Friday, October 21. Also in that episode will be Nic Robuck (James), according to IMDb.
Expect to see a little more of Barbara Rhoades (Irene Manning) as the calendar changes from September to October. But will that be the last fans will be seeing of her, or will Irene's reign of terror continue? Tune in to find out!
Don't look for Kathy Brier (Marcie) or Chris Stack (Michael) to come back to Llanview for a little while longer. Brier tells a fan on Facebook that their return won't happen until "Toward the end of October."
It's Halloween time in Llanview. Sean Ringgold (Shaun) posted this picture on his Facebook page last Friday, along with the comments "Hey Guys I'm in the Studio about to shoot some Halloween scenes . Can anyone guess what I will be ? I'm sure some people will have jokes for this question but what The heck :- )"
If your wondering about when some of your favorite (or not) recurring characters will be getting a little more airtime, no need to fear. Several actors, including Ilene Kristen (Roxy), Kim Zimmer (Echo), Nick Choksi (Vimal), Shenaz Treasury (Rama), Austin Williams (Shane), and Austin Peck (Rick) will all appear on screen at one point or another again in the coming weeks.
Are Farah Fath (Gigi) and John-Paul Lavoisier (Rex) about to leave "OLTL" behind? Fath tweeted on September 21 that "I'll study twitter slang tomorrow, i gotta go to bed now, 'OLTL' at the crack…" And, when asked about how much longer she would be in New York City (where "OLTL" is taped), she responded with "Only for 2 more months."
What fun place to work. Kristen Alderson (Starr) tweeted on Monday that she was "Working with silly folks today!"
And talk about a long day on the set. "OLTL" make-up artist Julia Davis tweeted on September 22 that "They have extended our out time. No cooking tonight. This calls for takeout," and that she was "Finally headed home after 13 hours on set. Thanks a Good Night to Llanview… In need of some zzzzz."
(SoapOperaNetwork.com) — The 25th Annual Broadway Fleamarket sponsored by Broadway Cares/Equity Fights AIDS took place today and several of daytime's biggest stars were on hand as celebrity guests including stars from "One Life to Live" such as Kristen Alderson (Starr Manning), Andrew Trischitta (Jack Manning), Gina Tognoni (ex-Kelly Cramer), Sean Ringgold (Shaun Evans), Ilene Kristen (Roxy Balsom) and even former cast member Judith Light (ex-Karen Wolek). Also in attendance was former "Guiding Light" actor Ron Raines (ex-Alan Spaulding), who is currently appearing in previews for the Broadway production of "Follies." Raines' former "Light" co-star Marj Dusay (ex-Alexandra Spaulding) was scheduled to appear but had to cancel due to illness. Also scheduled was "As The World Turns" actresses Eileen Fulton (ex-Lisa Grimaldi) and Ellen Dolan (Margo Hughes). Soap Opera Network spoke with a few of the stars and learned some interesting tidbits, one of which being that Ringgold received his offer from Prospect Park on Friday and he's since decided to continue with the show when it moves to the web in January along with "All My Children."
"You know what's funny, I was making up my mind cause I got the offer to come over on Friday [September 23] actually and I didn't give them my response, but after speaking with a couple of hierarchies, I just said 'you know what? I'll give it a year!' Why not? So I'm going to come over to Prospect Park." As for what the new version of the soap may look like and what fans can expect, Ringgold emphasizes that "There's going to be more of a free reign to do more things on the internet than you could normally do on network. It could get quite interesting. I'll leave that open for the imagination." As for the chance of new faces popping up and where they'll find their new filming digs, the actor says "I'm sure there are going to be new characters who are going to be brought on and I hope the studio goes to Brooklyn because I live in Queens. Although coming into Manhattan wouldn't be a bad thing – I'll miss Manhattan – but to just be able to wake up out of the bed and drive 10 minutes over to the studio. I'll be in heaven."
What is Ringgold looking forward to most for his character as the soap transitions from ABC to Prospect Park? "As long as Shaun is there for Destiny, and being supportive of his sister with her decision, whichever way we'll see how that turns out to be… just to be there for [my] sister and to make sure she's good and also my mom. They're going to bring my pops back and it'll be great if Greg [Terrell Tilford] popped up as well." Speaking of Destiny, particularly her portrayer Shennell Edmonds, can we expect to hear news of her continuing as well? While Ringgold couldn't confirm it as fact, he does hope it turns out to be the case.
Lastly with "One Life to Live" being canceled in April by ABC only to be picked up in July by Prospect Park, what happens to the planned series finale that was scheduled to air in January? "I'm sure they are changing the story a little bit because we're going to continue on with Prospect Park."
(SoapOperaNetwork.com) — "One Life to Live" issues casting calls for a pair of new minor characters.
The first script is for the recurring role of Dr. Fascinella. The script is a recycled version of the script for Dr. Pryor, which was released back in March. As you may recall, that script revolved around Bo (Robert S. Woods) and Nora (Hillary B. Smith)Buchanan finding out that their son Matthew (Eddie Alderson) was suffering from severe brain trauma. So who do you think is in need of medical assistance this time around?
The second script is for the dayplayer role of a Receptionist. The scene opens with "Ted" tells a receptionist at an office in Brazil that he has been called in to take care of a bed bug infestation. Horrified and disgusted, the woman tells him that he must be mistaken. However Ted, who claims to be from Winnipeg, tells her that he received a complaint from a woman who encountered the pests while staying at the facility recently. When he asks to speak with the doctor in charge, she tells him that Dr. Fascinella is unavailable because he is with a patient. Ted says that is okay, because the bed bug infestation was confined mainly to the reception area. As the woman screams and runs off, Ted steals some files from his desk. As the scene ends, he states that the infestation must have been a false alarm. Remember that "OLTL" often tries to throw viewers off by changing character names in these scripts.
In other news…
David A. Gregory (Ford) responded to a fan on his Facebook page asking him when "OLTL's" last television tape date was, saying "we don't know yet." He also answers a question about why everyone in Llanview refers to his character only by his last name, commenting "When I first came on the show in 2009, the character was known only as Ford. When they brought the character back at the end of the year, they gave him a first name. Most people in Llandview know him as Ford. His family knows him as Robert/Bobby. My theory is he hates Bobby because it reminds him of his bad childhood and it sounds like a little kid's name. 'Ford' is more mysterious, adult, and masculine." And he previews Wednesday's (September 21) episode of "One Life," teasing that "Wed. on OLTL: All 3 Ford boys are back at one of their favorite places…"
Farah Fath (Gigi) tweeted Monday that it was "Back to OLTL tomorrow..cant wait for JP [John-Paul Lavoisier] to get here Wed."
And Kristen Alderson (Starr) tweeted on Monday "SO MUCH FUN at work today!!! Hahaha" And then later with, "Can't stop thinking about how fun my "job"was today.Thank u all for your support! I wouldn't be able to do what I LOVE if it weren't for u."
(SoapOperaNetwork.com) — The latest cast changes and other odds and ends for "One Life to Live."
Is Tonja Walker on her back to Llanview as Alex Olanov. While it has yet to be confirmed if she is referencing "OLTL," the actress posted the following message on her Facebook fan club page "I am coming baaaackkkk! I don't know anything else!" Walker last appeared as Alex back in April.
Steph Garcia next airs as a Diner Waitress on Thursday, November 3.
Paul Hickert will play Kentucky Cop #2 on Monday, October 17.
According to IMDb, one of Nic Robuck's (James Ford) October airdates will be the 21st.
For those of you wondering the name of the actress who played Victor's (Trevor St. John) secretary Tracy recently, here is your answer. The young lady was Alyssa Rose, daughter of New York Mets announcer Howie Rose. She also appeared on the show back on July 6 as a "patient representative," which marked her debut as a television actress.
Although first airdates remain unknown for Kathy Brier (Marcie) and Chris Stack (Michael), Brier tweeted on August 30 that she was "@ OLTL in the Hair & Make-up Room…I will be going back for a bit…and yes I am really preggers!," along with this picture of herself in the make-up chair. Look for both Brier and Stack to return to Llanview with Marcie and Michael's little son Gabriel Thomas. Also, ABC SID reports that Brier's pregnancy will be written into the show.
The magazine also reports that Tina (Andrea Evans) and Cord (John Loprieno) will stick around Llanview for awhile when they return on September 26 and 28, respectively. In fact, Head Writer Ron Carlivati tells the mag. that he has a big fall storyline planned involving the two of them.
Look for some more dayplayer characters in the coming weeks, including a lawyer and a mystery man.
Christopher Stadulis played an Agent on Monday, August 22.
Get ready for a music video to go along with Starr's (Kristen Alderson) new single. Alderson tweeted earlier this week that "A new song & a music video to go along w/it for the show! Are u dying w/excitement yet?l ol that's all I can say with out getting in trouble. Such a blast in the recording studio with @oltlmusic today. I can't wait for you guys to hear the new Starr/Baz [Barret Helms] song!"
On a related note, "OLTL" Music Director Paul S. Glass tweets that "Mixing right now Kristen….sounds incredible! Definitely a blast!! Thanks!" He also said on September 5 that "the Viki/Dorian [Erika Slezak/Robin Strasser] montage was 'Moments' by Josh Auer. We had Josh do special version but the original is available on iTunes." And he responds to fan who asks the name of a song Jessica sang while on the run way back when Erin Torpey was still in the role by tweeting "Wow..that goes way back! That song is 'I Will Be the Flame' by a singer/songwriter Sarah Symons." Check out Glass' Twitter page for more comments and thoughts on Starr and Baz's single.
David A. Gregory (Ford) tries to clear up some confusion surrounding "One Life's" transition to Prospect Park by posting a message on his Facebook page: "Hey everyone. Just wanted to let you know that, as of now, I have no new news about who else is heading to the online show, when the online production begins, where it films etc. Not sure when our last tape date for TV is, although I'm told it's just before Thanksgiving. Hope this helps. Sorry I cannot answer all questions."
Is Andrew Trischitta (Jack) making the moving with "OLTL" to online-only distribution? On September 8, the actor responded to a fan who asked if he was interesting in continuing with the show after it leaves ABC by tweeting "I would love to do so."
And Robin Strasser (ex-Dorian) also chimed in, tweeting on September 5 that "NO, haven't been asked to participate in prospective Prospect Park 'OLTL.' NOR in 'OLTL's' last final months. Diss-appointing? yes-Surprising-no." And then earlier this evening, after learning that "OLTL" Executive Producer Frank Valentini would be continuing on with the show after it moves to Prospect Park, Strasser added "NO WAY! JUST HEARD: Frank Valentini signed EP Prospect Park 'OLTL?' Smart move that, wonder if there's a chance they'LL call me? prolly SLIM 2 none : ("
(SoapOperaNetwork.com) — With the Prospect Park era about to begin for "One Life to Live," the show appears to be in better shape than its sister soap "All My Children."
"OLTL" fans have reason to be optimistic about the show's future after it leaves the ABC Daytime line-up in January. Ratings for the show continue to be solid and holding steady above "AMC" and "General Hospital." Casting wise, the soap is an upswing. Hot on the heels of Roger Howarth's return to Llanview, comes word that several others, including Andrea Evans (Tina), John Loprieno (Cord), Kathy Brier (Marcie), Chris Stack (Michael), and possibly Tonja Walker (Alex) are on their way back as well. Rumors are flying that Prospect Park may be focusing more on "OLTL" than "AMC," something which "One Life" never really experienced under ABC. And four of the show's leading stars, including grand dame Erika Slezak (Viki), have already agreed to remain with the show when it transitions to the online distribution company in a few months (the others being Kassie DePaiva [Blair], Ted King [Tomas], and Michael Easton [John]).
Meanwhile, "All My Children's" future seems less certain. Aside from strained negotiations between Prospect Park and "AMC" leading lady Susan Lucci (Erica Kane), there have thus far been no confirmed reports of any members of the show's cast either being in serious talks with the company or signing on the dotted line to continue with the show. Furthermore, it appears increasingly more apparent that "AMC" may get the same treatment from Prospect Park that "OLTL" has gotten for years now from ABC.
Speculation on the matter was fueled last week by two separate incidents. First, Deadline Hollywood's Nellie Andreeva reported that "I hear that Prospect Park may reevaluate its short-term strategy for the two soaps and put its muscle behind the higher-rated 'OLTL,' while moving 'AMC' to the back burner." That was followed up by a Soaps.com interview with "All My Children's" Vincent Irizarry (David) who commented that "As far as I know, no, there hasn't been. I've spoken to numerous actors from the show over the last few days and nobody from our show has been in contact with them. Except for Susan [Lucci, Erica], which we all assumed that awhile ago. So, that's basically it. They're moving [forward] with 'One Life to Live' right now and that's certainly their right. That's what they're doing and for whatever reason that's how it happened."
Furthermore, unlike "One Life to Live," "All My Children" will have a nearly four month gap between the airing of its last episode on ABC and its first episode of Prospect Park. "One Life" on the other hand, is said to be debuting on Prospect Park the Monday after its airs its final ABC episode on Friday, January 13, therefore maintaining the status quo for "OLTL," while leaving "All My Children" fans in suspense and impatiently waiting for weeks for their show to return.
Personally, I find all of this extremely interesting, especially since there seems to have been a complete role reversal between the two shows. "One Life to Live" has always reminded me of "The Little Engine That Could," endlessly trying to make its way up the hill to the top of the mountain (i.e. ratings), while all the more powerful engines (or in this case, the better known soap operas) just keep passing them by until one day when the little engine finally made it to the top after years of chanting "I think I can." In a sense, it is uncharted waters for many "One Life" fans who aren't used to their show doing so well. It makes me proud of the soap I have grown up watching for more than two decades now.
However, its one thing to get to the top, but it is quite another thing to stay there. And with the show's writing, production, and directing crews under Prospect Park still up in the air, it leaves me feeling somewhat concerned, especially given the fact that current head writer Ron Carlivati still seems on track to join the writing staff of "General Hospital" once "OLTL" up production of its TV run in November. Granted, Carlivati isn't exactly daytime's best scribe considering "OLTL's" overabundance of useless characters in idiotic storylines (e.g. the Nate/Deanna/Rick porn plot), and treatment of women characters, but he must be doing something right for the show to be climbing in the ratings as it has been. But like him or not, he does bring stability to the show and often draws upon the soap's rather rich history (even if he usually twists it to fit his own agenda) when penning tales. Throwing in someone new, especially if they are not very familiar with the show could cause problems. The same can be said for Executive Producer Frank Valentini. For several years now, he has managed to keep "OLTL" under budget while running a tight ship. Finding a suitable replacement may prove difficult.
That being said, I think the show is in good hands with Prospect Park, and believe that it will continue to do rather well. Even so, I am well aware of the potential risks involved in moving an established 43-year-old soap opera from a television slot it has held for more than 30 years to the uncharted waters of online-only distribution. If it works, then wonderful, soaps will have found a new way to live on. If it fails, then at least soap fans can say they tried, and "OLTL" and "AMC" will be remembered for going where no other soaps have gone. Either way, it gives new hope for the daytime serial genre, proving that there may still be some life in the old "stories" yet.
Moving on, congratulations to "CBRVA83," who correctly guessed the answers to my trivia questions from last time. In case you missed the clues, here they are, along with the answers:  1. What current "OLTL" cast member was the youngest soap star ever placed on contract with a daytime drama back in 2001? Answer: Kristen Alderson. 2. In college, what subject did Ted King get his undergraduate degree in and from what school? Answer: Business from UC-Santa Barbara. 3. What foreign language did Erika Slezak grow up speaking before learning English at five-years-old? Answer: German.
Now it's time to shake things up a bit and do some more trivia. See if you know the answers to these questions about some of the current and former cast members of "One Life to Live." 1. Kassie DePaiva (Blair) appeared on what game show before joining "OLTL" and who was the daytime celebrity (and future co-star) was she paired up with? 2. What two wars did the late Phil Carey (Asa) serve in? 3. What is John-Paul Lavoisier's (Rex) real last name? I'll have the answers in the September 30 edition of My View of Llanview.
Now, before I wrap up this column, I'm going to look into my crystal ball and give you a quick sneak peek at a few things coming up a few weeks down the road. Someone turns up dead. One man risks his life to save others. An unlikely person is put in jail. And one sister makes a shocking discovery about her sibling.
Well that's concludes yet another column. Have a great week everyone! Stay safe!
Take care, and until next time remember, we only have "One Life to Live"…
(SoapOperaNetwork.com) — With his character murdered only weeks after finding out he was really Todd Manning's (Roger Howarth) twin brother Victor Lord, Jr. and not the reformed rapist himself, Trevor St. John taped his final scenes on "One Life to Live" on July 22 after eight years on the show. Now that he has already left the canvas, aside from some possible flashbacks scenes, his former "One Life" co-stars take a few moments to wish him well and recall what they learned from him over the years.
Kristen Alderson (Starr), Kassie Depaiva (Blair), Kelley Missal (Dani), and Andrew Trischitta (Jack) all took part in the video send-off for St. John, wishing him well and recalling what they have learned from him over the years.
You can watch the video below:

(SoapOperaNetwork.com) — If you watched yesterday's (August 30) episode of "One Life to Live" you likely heard Kristen Alderson's (Starr) singing during the montage at the end of the episode where Victor Lord, Jr. (Trevor St. John) was gunned down by an unknown assailant. And if you liked the song you are in luck, it will soon be available for fans to download.
The catchy tune, which includes the show's name as part of the lyrics, was recently recorded at the "OLTL" studios by Alderson on August 4, after it was "written" by her character Starr and her soon-to-be former co-star Barret Helms (Baz).
Alderson thanked her fans for their support following the episode, tweeting, "I'm so glad everyone liked Starr's 'One Life To Live' song that aired today! All of your compliments mean the world. <3″ She went on to say that the show's Music Director Paul S. Glass "is working on getting the song available for download for you guys asap. xoxoxo"
The actress also complimented Glass on the song, tweeting "Thank you @oltlmusic !! You and Dave are the BEST. The song fit so perfectly with the episode. =)" Glass responded in kind saying "Thanks! I loved how it worked out and so glad at the response! You were awesome!"
This was not the first time music from "One Life to Live" has been made commercially available for fans.  Back on Valentine's Day, "The Sound of a Kiss" is the third "OLTL" album to be released on iTunes, and featured songs performed by Alderson and several of her "OLTL" co-stars. The show released "Prom Night: The Musical" in 2007 and "Starr X'd Lovers: The Musical" in 2010. "One Life to Live" also released the CD "One Life, Many Voices" to help with Hurricane Katrina and Rita clean-up efforts in 2006. And different songs by various artists featured in past episodes have also been made available by "OLTL" on iTunes.
In case you missed the part of Tuesday's episode featuring the song, you can watch it here starting at the six minute mark.
(SoapOperaNetwork.com) — The "One Life to Live" revolving door will stay busy during the month of September as several new and familiar faces make their presence known in Llanview.
As we previously reported, "Guiding Light" alum Wendy Moniz has been tapped to take over as Llanview's new mayor following the resignation of Dorian Lord (Robin Strasser), who left town after being appointed a U.S. Senator. On Friday, September 16, look for the former deputy mayor to start exercising her newfound authority around town.
With visions of Gigi (Farah Fath) still fresh on Rex's (John-Paul Lavoisier) mind, Lea DeLaria again reprises her role as Llanview's favorite physic Madame Delphina beginning Wednesday, September 14, when she tries to help Rex make sense of what he has been seeing. However, Rex isn't the only Balsom Delphina will come into contact with.
Apparently porn doesn't pay the bills. As the calendar turns to September look for X-rated film producer Rick Powers (Austin Peck) to resurface following his attempt to make a name for himself by substituting the film "VickerMan" with his own creation "Hold the Diploma" in late July. Only this time it isn't smut that he's peddling. As Rick branches out career-wise, expect him to get tangled up in another storyline playing out on the canvas.
After going MIA since saving his Aunt Dorian while dressed as a pint-sized Spiderman, the youngest Manning child Sam (Patrick Gibbons, Jr.) returns again this month. But how will the recent developments in his family affect the little guy?
Barbara Rhoades will continue to air as Irene Manning through the month of September.
It appears as if Mandy Evans, who made her debut as "Uncanny Annie," a pole dancer at the Spotted Pony strip club in Kentucky on August 19, may be making another appearance on the show. Evans, who taped her first scenes on July 11, posted the following on her website on August 8: "Recurring Under 5 as Uncanny Annie on One Life To Live."
Paul Rolfes returns as Dr. Jay Gangemi on Wednesday, August 31, along with a few dayplayer nurses, EMTS, and cops. In the same episode, Helmar Augustus Cooper is back as homeless man Louie, who interacts with several Llanview residents. And on the same date, Frankie Faison also airs again as Destiny's grandad Richard Evans.
Rumors continue to swirl that Terrell Tilford will be returning to Llanview as Destiny's (Shenell Edmonds) dad and Shaun (Sean Ringgold) brother Greg Evans this fall. Tilford himself has added to the speculation with this video message to his former "OLTL" fans on his Facebook fan page, teasing about a possible return to the show. However, while it remains to be seen if the actor is actually returning or not, Greg's name will be mentioned more than once by his loved ones in the coming weeks.
Edmonds tweeted on August 24 that it was a "Good day at #OLTL, one day break and back again to close out the week." Also be sure to check out her Twitter page to read her earlier tweets from some of Destiny's scenes from the August 5 episode.
Check out this tweet from Hillary B. Smith from earlier this month: "I would love to do 'Dancing with the Stars.' But ABC doesn't promote us on 'OLTL.'" She also responds to a fan who asked her on August 22, "Yet, you all are the number one rated soap on their schedule! Word!," with "we sure are!!! Not their plan! But aren't we grand!!!" Earlier in the month she commented on slap Phylicia gave Nora recently, saying "The slap was acted. I don't think my head would have stayed attached if Tonye [Phylicia Evans] connected. She was awesome!"
Robin Strasser  tweeted on August 30 that "GROUND TURKEY E COLI RECALL? didn't know- ate turkey burgers with gusto. SICK unto death-gotta get better help.Thank you for prayers." On August 26 she tweeted that "Yes, I was able to watch the 'last show". I LUV Erika Slezak, Kassie DePaiva, Kristen Alderson, Gina Tognoni. I'll miss working with them. Soap Central really cheered me UP. I'm in hospital- 2nd time in 2 weeks for a blood infection (wuh?) Hoping for meds I'm not allergic to."
A fan commented to Kristen Alderson on Twitter on August 30, saying "LOVED when Starr said Brown Chicken Brown Cow today!tweeting"I added that in cause Kassie always says it hahah."
And speaking of Shaun, fans can expect to see more of him in September, along with a few of Llanview's other infrequently used supporting characters like Nigel (Peter Bartlett), Shane (Austin Williams), Echo (Kim Zimmer), Phylicia (Tonye Patano), Roxy (Ilene Kristen), and a certain prized possession of the eccentric hairdresser.
(SoapOperaNetwork.com) — You've likely heard of the big September returns like Erin Torpey, Andrea Evans and John Loprieno, but they aren't the only familiar faces coming back to "One Life to Live" in the coming weeks. A few other minor, but noteworthy characters will also be making appearances as summer turns into fall.
Radio personality Carolina Bermudez turns up again as Llanview's investigative reporter Blanca Morales on Thursday, September 1, when she looks for a scoop from a Llanview resident regarding a crime.
With the "Tale of Two Todd's" storyline reaching a thrilling climax soon, you might have thought you saw the the last of Irene Manning (Barbara Rhoades), but you'd be wrong. Look for the mother with a warped sense of reality to try to make a deal with one of her sons on Monday, August 29. Rhoades made her "One Life" debut in the role on Tuesday, August 9.
The Buchanan/Evans drama continues into the month of September as Phylicia Evans (Tonye Patano) and Nora Buchanan (Hillary B. Smith) remain at odds.
Patrick Allen Cole taped scenes for his next appearance as Jeff (also know known as Adam), the Rodi's bartender and manager on August 2, which will air sometime in September.
Brittany Angley will play a waitress on Thursday and Friday, September 1 and 2.
"One Life to Live" has released a new audition script for the role of "Reny," which appears to be a minor part.
Alicia Henry played Colleen, the stripper who hit on Rex (John-Paul Lavoisier) on Friday, August 19.
Did the woman in scenes with David (Tuc Watkins) playing his agent Bev Altman look familiar? That was actress Brooke Dillman (sporting a blonde wig), who is a childhood friend of Watkins and has appeared with him on HBO's "Six Feet Under" and the 2009 online "Funny or Die" video "The Sentimentalist." Dillman's other credits include "Nip/Tuck, "The Office," "Blue Collar TV," "The Bill Engvall Show," and "Good Luck Charlie," as well as the film "Larry the Cable Guy: Health Inspector."
Robin Strasser (Dorian) had a little medical crisis earlier this week. On August 15, the actress tweeted that she had been "Hospitalized Monday-blood infection-I can't spell e coli, how'd I get it?
I'm home, gonna rest and be grateful. Sorry for disappearing."
She may have already left the show, but Nafessa Williams (ex-Deanna) posted this picture of herself and how excited she was the day she landed her "OLTL" role.
It has been rumored that an update to the opening is in the works and that a few actors, including Andrew Trischitta (Jack) and Ted King (Tomas) have taped new shots for it.
In case you missed it, get ready for some more Starr (Kristen Alderson) in the coming weeks. On August 1, Alderson tweeted that "Why does Starr have to be a medical wiz all of a sudden? lol I've had so many tough lines to say lately!!" She later added that "I have a late call into work tomorrow.. Can you say SLEEPING IN!? I can. Haha," and "Seriously Starr…quit saying words like this," along with this close-up of a big medical term from her script. Later she said "Successful day at work! yay! I had lots of lines but it all went very well. Lots of Starr stuff coming up for ya ; ).  Lovely day in Llanview." She also thanked fans for liking her scenes with Roger Howarth (Todd), tweeting "Thanks for all of the positive feedback on my scenes with Roger that aired today. They were surreal to film."
"OLTL" Music Director Paul S. Glass tweeted this picture of Alderson in the studio recently recording a single with co-star Barret Helms (Baz). And  check out this funny one of her dog Pooka at the recording session.
And Kassie DePaiva (Blair) commented earlier this month that "I'm glad so many of you caught today's show!!! Awesome huh? I loved it too… It's great to have Roger back. We watched in the makeup room."