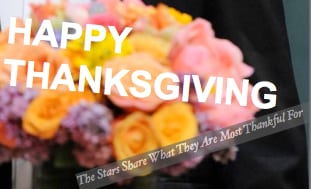 The rest of the country may have been preparing for Thanksgiving by sending out dinner invites, planning menus, buying turkeys, selecting table settings and betting on the day's big game, but Soap Opera Network has been getting ready for the celebratory day in a different way: Reaching out to several of your favorite "Days of our Lives" stars and getting the scoop on what they're most thankful for! Read on for their answers and then join in on the fun by leaving a comment below telling us what you're most grateful for this holiday season!
When Ted Corday and Betty Corday watched "Days of our Lives'" NBC debut on November 8, 1965, they couldn't have known that the soap opera they created would garner so much success. Now, 48 years later, the show not only is coming off of an Outstanding Drama Series win from the National Academy of Television Arts and Sciences, it's comprised of a talented and close-knit cast who all have very special memories regarding their time with the popular show. Soap Opera Network spoke with a few said castmembers, and in celebration of the show's 48th anniversary, they were all too happy to share some of their favorite moments from the early days and beyond!
Deidre Hall (Marlena Evans)
"Oh my god, Wayne Northrop [ex- Alex North, Roman Brady] and I [used to pull pranks on each other all of the time]. It was merciless! Merciless! Nothing was sacred. At one point, he was sleeping in my foster child's bed, so before my take, I said to my prop man, 'Give me a bucket of warm water.' And before he had to jump into bed, I poured it all over like the kid who wet the bed. He jumped into bed, and I had finished my part of the scene, and I began to run. He didn't even finish the take! He hit that bed, came off that bed and came after me. The race was on, and I got thrown in the shower! I mean, it was crazy, crazy, crazy. But it's a show filled with moments, and that's what you remember with daytime. It's been really wonderful, being a part of so many magical moments."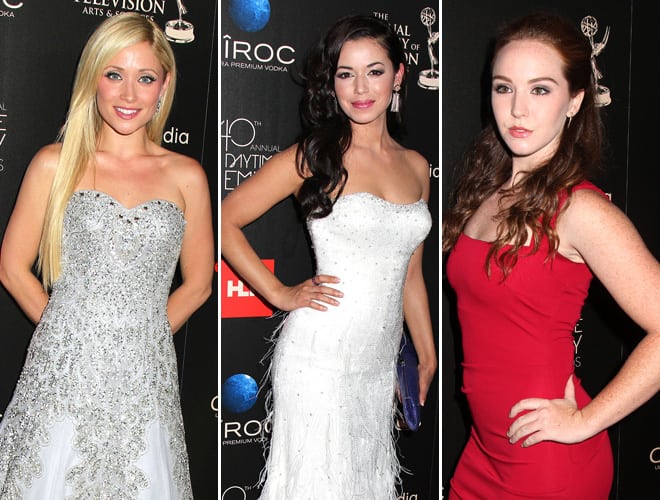 Photo Credit:
Steven Bergman Photography
If you think picking out what to wear for work in the morning is stressful, imagine what it would be like if your work was going to the 40th Annual Daytime Entertainment Emmy Awards, where swarms of reporters and photographers were going to capture your every detail! Stressful, yes. But also ridiculously fun! Soap Opera Network caught up with some of daytime's hottest stars on the red touch red carpet during the exciting event, and they spilled details on who they were wearing and why they chose the specific looks they did. So sit back, relax and hear the stories on how these bold performers got so dang beautiful!
Five years after being taken off contract and placed on recurring status, Jacklyn Zeman (ex-Bobbie Spencer, "General Hospital") has opened up to Soap Opera Digest in its newest issue about the circumstances surrounding her unexpected departure from the ABC daytime drama series.
"It was like a grieving process when I left the show because it was such a part of my life for so many years. I mean, I played Bobbie for over 30 years, pretty much five days a week. So when Jill Phelps [former executive producer, now EP of 'Y&R'] decided to get rid of the character, I was one totally unprepared and two, totally shocked, because I just assumed that Bobbie would always be there. I had this commitment to the network and I felt that the commitment worked both ways," reveals Zeman.
via Press Release
BELOVED SOAP STARS OF PAST AND PRESENT HOST NEW DAYTIME PROGRAMMING BLOCK ON INVESTIGATION DISCOVERY: DAYS OF OUR KNIVES

– Daytime Block Launches Monday, August 20 from 1-4 PM E/P –

– Includes First Look at DEADLY AFFAIRS with Susan Lucci, Airing September 3 at 1 PM E/P in the Original All My Children Timeslot –

(Beverly Hills, CA) – Walking in on your beau bedding your best friend… Halting your wedding because your evil twin stole your spot at the altar… Discovering that your mortal enemy is really your long-lost sibling. These may seem like the plotlines of a delicious daytime soap, but sensational stories are anything but fiction on Investigation Discovery. Dishing out the drama of blindsided betrayals, mistaken identities, and deadly deceptions, ID is staking its claim on real-life soap operas with the launch of daytime programming block DAYS OF OUR KNIVES on Monday, August 20 from 1-4 PM E/P. By enlisting adored soap stars to host themed programming each weekday, ID will provide a new alternative to devoted soap fans searching for new "stories" to turn to. Hosting the block each day will be talent hailing from the drama that started it all, Guiding Light¸ to the now-longest running soap currently in production, General Hospital.

"Investigation Discovery is already the home of guilty pleasure programming, but perhaps there is no more popular example of a classic guilty pleasure than the soap opera," said Henry Schleiff, president and general manager of Investigation Discovery. "With ID being the #4 network in daytime for Women 25-54*, we realized that soap fans already love The Young and the Restless so let's give it to them ID-style: the young and the reckless!"