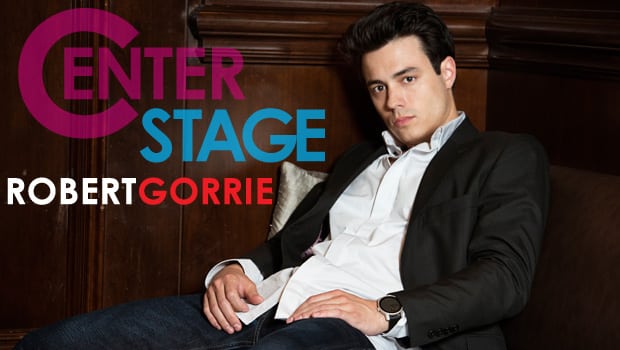 Photo Credit: King PDT/Kimatherapy.com
On Thursday, June 20, Prospect Park announced that they had come to a resolution to the dispute between it and the I.A.T.S.E. (International Alliance of Theatrical and Stage Employees) New York Production Locals 52, 161, 600, 700, 764, 798 and USA829, the union representing stage workers for the soaps, which alleged that Prospect Park had violated the labor agreement with the union. Prior to the resolution, Soap Opera Network spoke with "One Life to Live" star Robert Gorrie (Matthew Buchanan) about the early hiatus as a result of the dispute, his upcoming storyline with Amber Skye Noyes' Michelle, being a leading man on a soap opera and how his show is helping him grow.
In a new video released today via Yahoo! TV, The OnLine Network honors the men of Llanview, Pennsylvania ("One Life to Live") which includes shedding new light on David Vickers (as played by Tuc Watkins), introductions to Jeffrey King (Corbin Bleu), and the evolution of Bo and Clint Buchanan (Robert S. Woods and Jerry verDorn), respectively. Of course, there's some insight into Cutter Wentworth (Josh Kelly) as well.
When "One Life to Live" went off the air just over a year ago it was my favorite daily drama and it had been for quite some time. So, while the show's ratings were rising, it was quite a shock to learn it had been canceled in 2011. I would be lying if I said I wasn't nervous with the series coming back, but this time without executive producer Frank Valentini and head writer Ron Carlivati.
As evidenced by the first episode of "One Life to Live," life in Llanview has continued long after the soap ended its ABC run in January 2012. No, we don't mean that the soap has jumped ahead five years as sister soap "All My Children" has done in order to progress its storylines, we mean characters didn't just walk upstairs to the attic and kept silent and still while the millions of fans mourned their reported last breaths. Scheduled to re-launch on Monday, April 29 via Hulu, Hulu Plus and iTunes, the soap is about to take things higher with the opening of Blair's new night club, Shelter, as the backdrop to getting things moving once more.
On April 14, 2011, ABC sent shockwaves throughout the daytime industry when it announced it had decided to cancel both "All My Children" and "One Life to Live" after 41 and 43 years on the air, respectively. Now two years to the day since that announcement, both soaps are in the process of not only returning to television but also to the world wide web courtesy of Prospect Park's The OnLine Network. With just two weeks to go before launch, we hope you're ready for a new kind of soap and a new way to watch soaps.
With the characters of Matthew Buchanan and Destiny Evans already recast with Robert Gorrie and Laura Harrier, it was only a matter of time before their on-screen love child Drew was recast as well. On Wednesday, Gorrie tweeted a picture of he and his reel-life baby momma holding twin infants Elijah and Isaiah Ford, who are taking over the role on "One Life to Live."
The babies take over the role from baby Ezra Giovanni-Scott, who played Drew in "OLTL's" final episodes on ABC.
'One Life' On Set
The Story
Ok, all you Roger Howarth (Todd Manning) fans: There may be a lot of brouhaha surrounding the beloved soap star's status with "General Hospital" at the moment, but you can breath a sigh of relief when it comes to "One Life to Live": He's definitely making an appearance in Llanview, and here are the new photos to prove it!
OLTL: BEHIND THE SCENES TOUR
The Story
On Monday, March 18, "One Life to Live" begins filming for the first time in more than a year. Returning star Jerry verDorn (Clint Buchanan) posted pictures from the set, which shows construction underway (the soap was reportedly building sets last week) along with a look into what "All My Children's" sets are expected to look like as well as some key sets (namely the hospital and coffee shop) will be shared by both series (with alterations). It's understood that crew members will help transition certain sets from one show to another depending on which soap is currently in production.
The OnLine Network (TOLN) has confirmed the following stars who have joined the cast of "One Life to Live."
As previously reported, "All My Children" and "One Life to Live" began production on Monday, February 25 in Stamford, CT for new episodes scheduled to release later this spring on Hulu and iTunes. Today, The OnLine Network (TOLN) announced the following contract cast for the reboot of "OLTL":
Prospect Park first announced plans to move "All My Children" and "One Life to Live" to the web back in July 2011 after striking a license holding deal with Disney/ABC Domestic Television. Sadly, plans fell through by November 2011 after apparent financing and union discussions fell through. Since that dreadful time period, Prospect Park has resumed work on returning the soaps to your [computer] screens, only this time with financing said to be in place and union deals already signed with the DGA (directors), SAG-AFTRA (actors) and the WGA (writers). With more than a year gone by since "One Life to Live" last aired, we thought it would be a great opportunity to see which stars have (so far) signed on to return to "AMC" and "OLTL" compared to the list circling back in 2011.