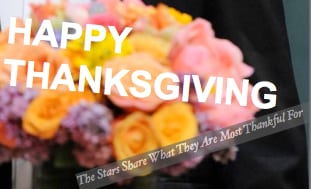 The rest of the country may have been preparing for Thanksgiving by sending out dinner invites, planning menus, buying turkeys, selecting table settings and betting on the day's big game, but Soap Opera Network has been getting ready for the celebratory day in a different way: Reaching out to several of your favorite "Days of our Lives" stars and getting the scoop on what they're most thankful for! Read on for their answers and then join in on the fun by leaving a comment below telling us what you're most grateful for this holiday season!
When Ted Corday and Betty Corday watched "Days of our Lives'" NBC debut on November 8, 1965, they couldn't have known that the soap opera they created would garner so much success. Now, 48 years later, the show not only is coming off of an Outstanding Drama Series win from the National Academy of Television Arts and Sciences, it's comprised of a talented and close-knit cast who all have very special memories regarding their time with the popular show. Soap Opera Network spoke with a few said castmembers, and in celebration of the show's 48th anniversary, they were all too happy to share some of their favorite moments from the early days and beyond!
Deidre Hall (Marlena Evans)
"Oh my god, Wayne Northrop [ex- Alex North, Roman Brady] and I [used to pull pranks on each other all of the time]. It was merciless! Merciless! Nothing was sacred. At one point, he was sleeping in my foster child's bed, so before my take, I said to my prop man, 'Give me a bucket of warm water.' And before he had to jump into bed, I poured it all over like the kid who wet the bed. He jumped into bed, and I had finished my part of the scene, and I began to run. He didn't even finish the take! He hit that bed, came off that bed and came after me. The race was on, and I got thrown in the shower! I mean, it was crazy, crazy, crazy. But it's a show filled with moments, and that's what you remember with daytime. It's been really wonderful, being a part of so many magical moments."
On Thursday, October 17, several LGBT (Lesbian, Gay, Bisexual, Transgender) organizations and individuals celebrated Spirit Day, which asks people to take a stand against bullying and show support for LGBT youth by wearing the color purple. NBC's "Days of our Lives" took a stand and showed its support as cast members donned purple shirts, jackets and even ties.
Those taking part included James Reynolds, Kate Mansi, Casey Moss, Lauren Koslow, Eric Martsolf, Chrishell Stause, Deidre Hall, Meredith Scott Lynn, Galen Gering, Greg Vaughan, Arianne Zucker, Kristian Alfonoso, Camila Banus, Freddie Smith and "DAYS" newcomer, Guy Wilson.
For more on Spirit Day and on how you can take a stand to support LGBT youth, visit glaad.org.
"Days of our Lives" star James Reynolds (Abe Carver), and his wife Lissa, need your help. Now through Wednesday, June 26, the duo are asking for donations to help the Fremont Centre Theatre get to the 2013 National Black Theatre Festival. "Our critically acclaimed production of "Holding On~ Letting Go" has been chosen to be a Main Stage show at the prestigious National Black Theatre Festival, and we need your help to get there!" reads a message from the duo promoting the Kickstarter endeavor.
Less than $300 separates the Fremont Centre Theatre from reaching their goal of $14,500. Currently 189 backers have stepped forward for a total of $14,290 pledged.
The peer votes have been cast, and the National Academy of Television Arts and Sciences has announced the Drama Performer Pre-Nominations for the 40th Annual Daytime Entertainment Emmy Awards! Five categories have been announced, including Lead Actress and Lead Actor, Supporting Actress and Supporting Actor, as well as Younger Actress and Younger Actor. Without further adieu, here are the pre-nominees:
Outstanding Lead Actress In A Drama Series
Sharon Case as Sharon on "The Young and the Restless"
Jeanne Cooper as Katherine on "Y&R"
Susan Flannery as Stephanie on "The Bold and the Beautiful"
Finola Hughes as Anna Devane on "General Hospital"
Peggy McCay as Caroline on "Days of our Lives"
Kelly Monaco as Sam on "GH"
Melody Thomas Scott as Nikki on "Y&R"
Michelle Stafford as Phyllis on "Y&R"
Kelly Sullivan as Kate on "GH"
Heather Tom as Katie on "B&B"
Laura Wright as Carly on "GH"
For the past couple of years NBC's "Days of our Lives" has been holding its "A Day of Days" fan event at Universal Studios CityWalk, where fans of the drama series could meet and great some of their favorite stars and get signed autographs. Unfortunately, this year the network has decided not to continue that event, and instead opted to branch it out a little bit (similar to how ABC canceled Super Soap Weekend, which turned into the Soap Nation Tour). Earlier this year, in a posting on the soaps operas Facebook page, the network said, "Ask and you shall receive! NBC has heard your requests and we are taking our yearly fan event on the road! Instead of holding our event at Universal City in California, members of the 'Days of our Lives' cast will be traveling to a few cities around the country. Dates and cities to be announced soon!" That "soon" is now.
Renee Jones has made one of the most daring decisions of her life. The "Days of our Lives" actress has decided to quit acting and leave the NBC daytime soap after a 20-year career that has spawned one of the longest and most successful pairings in daytime with her character Lexi Carver and James Reynolds' Abe Carver.