HBO leads the Prime Emmy pack with 108 nominations, the most of any network this year. "Game of Thrones," which completed its third season earlier this year with record ratings, powers the network with 16 nominations. "Behind The Candelabra" received 15 nominations, "Phil Spector" received 11 nominations and "Boardwalk Empire" received 10 Nominations.
HBO has renewed its hit drama series "True Blood" for a seventh season, the network announced earlier this week. The new season premieres in summer 2014 with executive producer Brian Buckner returning as showrunner.
"'True Blood' remains a signature show for HBO, and a true phenomenon with our viewers," noted Michael Lombardo, president, HBO Programming. "Thanks to Brian Buckner and his talented team, the show continues to be a thrill ride like nothing else on TV."
Last week HBO released a sneak peek teaser trailer giving viewers a glimpse of what they can expect during season 2 of "The Newsroom," and now the premium cable network has released a full on trailer giving away noteworthy beats as the storylines progress.
The new season of "The Newsroom" kicks off on Sunday, July 14 at 10:00 PM ET/PT (right after "True Blood") and to get things started, HBO has released a brand new trailer giving fans a glimpse at what they can expect from the buzzworthy series.
(SoapOperaNetwork.com) — According to ABC Soaps in Depth, "General Hospital" has cast actor and model Christian Monzon in the recurring role of Eddie Cabrera – the onscreen husband of Delores Padilla (portrayed by Rebeka Montoya). While the character had been discussed on numerous occasions for several months, it wasn't clear if he would ever be seen. A first airdate is set for the week of April 16.
Before joining "GH," Monzon appeared in episodes of several television series including "Law & Order: Special Victims Unit," "CSI: Miami" and "CSI: NY," "The Closer," HBO's" Entourage" and most recently Showtime's "Shameless." In 2010, he appeared in the series finale of "Dollhouse." He can also be seen in episodes of the 2008 online series "Hot Hot Los Angeles," which can currently be viewed  for free on Hulu.com. The actor is also known for his appearances in Dolce & Gabbana ad campaigns.
As part of Wyndotte Street, a production company that provides original online music and comedy, Monzon has starred in several shorts that he either wrote or helped produce such as "Naked Man," a comedy series where he portrays a naked superhero (no worries, they blur out everything below the waste), and "Wyndotte Presents: (I'm At Work)," a sketch comedy following life within the walls of an office building.
Trailer of "Naked Man"
UPDATE: Wednesday, October 5, 2011 at 2:33 PM ET
Since we originally went to press early this morning, a "General Hospital" representative has since stated that Butler's first appearance on the soap will be "sometime later this fall…," although not necessarily contradicting our earlier report of October 24.
Stay tuned to Soap Opera Network as more  information on Butler's "GH" role comes in.
PREVIOUS: Wednesday, October 5, 2011 at 2:58 AM ET
(SoapOperaNetwork.com) — On Wednesday, September 21, daytime newcomer Nathin Art Butler tweeted to his followers (@nathinbutler) "I was welcomed into the family of 'GH' today. 1st day on set felt like 1st day of high school. Feel so blessed." For those wondering what exactly he was talking about, on that day the actor revealed to the soap world that he had been hired to portray the contract role of Dr. Ewen Keenan, also known as "the mad Aussie therapist" on ABC's "General Hospital. Soap Opera Network has since learned when you can expect to first see the actor, musician and digital photographer on screen.
According to sources, beginning with the Monday, October 24 episode of "GH," look for Butler to begin interacting with Rebecca Herbst's Elizabeth Webber when the character finds herself encountering a mystery man (Butler's Dr. Keenan). After describing his first day on set, the actor followed up that tweet with information on what his second week was like when pressed by a fan of the ABC drama series. "Started last week. Felt pretty special! Moonlit beach scenes this week. Dreamy character intro."
Tweets to Stardom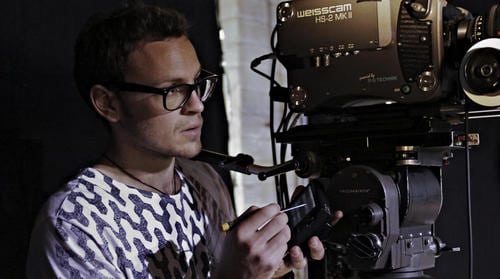 Butler began his professional acting career in 2007 courtesy of the TV movie "Rain Shadow," a mini-series in which he portrayed the role of Shane Maguire. The actor subsequently appeared in the 2010 HBO mini-series "The Pacific" as a Young Private. In addition to acting in a number of films since then, Butler is also an avid film buff as he's performed a number of behind the scenes jobs including performing duties as a Camera Operator, Cinematographer, and as an Associate Producer. On the beat.productions website, you can view a number of projects that Butler had some role in helping develop (both in front of and behind the camera) via video trailers and/or B-Roll.
(SoapOperaNetwork.com) — On Tuesday, May 17, the ABC Television Network presented its 2011-2012 primetime schedule in front of advertisers, affiliates and the press. Two months earlier I received intel on a new series called "Once Upon a Time" that the network had in development where fairy tales and the modern-day collide in the town of Storybooke.
From the moment I read up on the potential program, I knew I wanted to see how it would turn out. I'm happy to report that ABC has picked up the program to series and it will air on Sundays at 8:00 PM beginning this fall.
Based the clip I just received, I have to say that even though I knew this was going to be a program geared towards families, it does look a little darker than I ever expected while still remaining just light enough that the kiddies can stay up and watch.
About Once Upon a Time

Welcome to a world where fairytales are real. Anna Swan is like any other 28 year old, until she discovers she's a lost princess destined to save her world from darkness. Experience the passion project of executive producers/creators Edward Kitsis and Adam Horowitz ("Lost," "Tron"). "Once Upon A Time" is a thrilling twist of our most beloved stories.
"Once Upon a Time" stars Ginnifer Goodwin ("Big Love") as Snow White/Sister Mary Margaret, Jennifer Morrison ("House MD") as Emma Swan, Robert Carlyle ("The Full Monty," "Trainspotting," "SGU Stargate Universe") as Rumplestiltskin/Mr. Gold, Lana Parrilla as Evil Queen/Regina, Jamie Dornan as Sheriff Graham, Jared Gilmore ("Mad Men") as Henry, Josh Dallas as Prince Charming/John Doe and Raphael Sbarge as Jiminy Cricket/Archie.
What do you think? Tell us your thoughts below.
(SoapOperaNetwork.com) — Sherri Saum is getting the last laugh after being let go from ABC's new dramedy "The Deep End" last fall.
Created by "How I Met Your Mother" Co-Executive Producer David Hemingson, "Deep End" premiered to low ratings on Thursday, January 21 drawing just 7.07 million viewers and a 1.8/5 in Adults 18-49, placing the series 3rd in viewers and 4th in the all important demo. By comparison, the series only beat The CW's "Vampire Diaries" by  a mere 12.5% (1.8 vs 1.6) in Adults 18-49. "Deep End" was down 25% from what "FlashForward" had averaged in the same time period this season.
In September, it was announced that Saum would be replaced by "Soul Food" actress Nicole Ari Parker in the role of Susan, the "sexy, smart, steely lioness of the firm's litigation department whose husband, Clifford Huddle (Billy Zane), is the firm's new managing partner."
The series stars Matt Long ("Jack & Bobby") as Dylan Hewitt, a young attorney who starts working for the prestigious Los Angeles law firm Sterling, Huddle, Oppenheim & Craft. Former "Desperate Housewives" heart-throb Mehcad Brooks also stars.
Despite its poor debut numbers, "Deep End is still scheduled to air on Thursday, January 28 at 8/7c on ABC.
From 2001-2003, Saum portrayed Keri Reynolds on ABC's "One Life to Live" and Vanessa Hart from 1997-1999 on NBC's "Sunset Beach." The actress has had numerous starring roles in such series as Showtime's "Beggars and Choosers," HBO's "In Treatment" and the FX drama "Rescue Me."