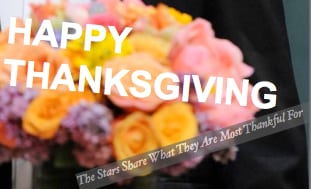 The rest of the country may have been preparing for Thanksgiving by sending out dinner invites, planning menus, buying turkeys, selecting table settings and betting on the day's big game, but Soap Opera Network has been getting ready for the celebratory day in a different way: Reaching out to several of your favorite "Days of our Lives" stars and getting the scoop on what they're most thankful for! Read on for their answers and then join in on the fun by leaving a comment below telling us what you're most grateful for this holiday season!
Longtime viewers of "Days of our Lives" have seen Brady Black (Eric Martsolf) live up to his last name on more than one occasion. The recovering addict has experienced a lot of misery in his life — both of others' doing, as well as his own — which has led him down some pretty dark paths in recent years. But when Soap Opera Network caught up with Martsolf to discuss his alter ego's weeks ahead, the Pennsylvania native revealed that Kristen's betrayal has sent Brady reeling — and this time, the CEO's dark descent into addiction, depression and self-destruction might take him so far down, he won't be able to get back up!
On Thursday, October 17, several LGBT (Lesbian, Gay, Bisexual, Transgender) organizations and individuals celebrated Spirit Day, which asks people to take a stand against bullying and show support for LGBT youth by wearing the color purple. NBC's "Days of our Lives" took a stand and showed its support as cast members donned purple shirts, jackets and even ties.
Those taking part included James Reynolds, Kate Mansi, Casey Moss, Lauren Koslow, Eric Martsolf, Chrishell Stause, Deidre Hall, Meredith Scott Lynn, Galen Gering, Greg Vaughan, Arianne Zucker, Kristian Alfonoso, Camila Banus, Freddie Smith and "DAYS" newcomer, Guy Wilson.
For more on Spirit Day and on how you can take a stand to support LGBT youth, visit glaad.org.
"Days of our Lives" stars Eric Martsolf, Jen Lilley, Kate Mansi, Greg Vaughan, Shawn Christian and Arianne Zucker attended the grand opening celebration of Le Jolie Medi Spa in Studio City, CA on Thursday, July 18.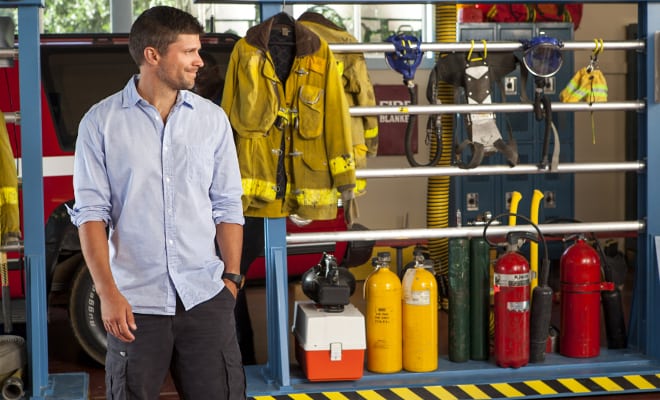 As previously reported, "Days of our Lives" stars Alison Sweeney (Sami Brady) and Greg Vaughan (Eric Brady) are starring in the Hallmark Channel original movie, "Second Chances." The network recently released the first promo for the film, which premieres on Saturday, July 27.
In a posting last week on its Facebook page, shortly after word that the Supreme Court of the United States had found the Defense of Marriage Act (DOMA) unconstitutional, the NOH8 campaign displayed a photo compilation of "Days of our Lives" cast members posing in support of the charitable organization whose mission is "to promote marriage, gender and human equality through education, advocacy, social media, and visual protest." The photo included actors Blake Berris, Eileen Davidson, Greg Vaughan, Kristian Alfonso, Bill Hayes, Lauren Koslow, Deidre Hall, Suzanne Rogers, Freddie Smith, Joseph Mascolo, Nathan Owens, Kate Mansi and Galen Gering, among others.
Photo Credit:
Tracey Morris/Crown Media Holdings, Inc.
They portray twins on NBC's "Days of our Lives," although Alison Sweeney (Sami Brady) and Greg Vaughan (Eric Brady) are anything but that in Hallmark Channel's "Second Chances." Premiering Saturday, July 27, the TV movie tells the story of 911 operator Jenny McLean (Sweeney), who along with her two kids, Luke (Benjamin Stockham) and Elsie (Charlotte Labadie), take in firefighter Jeff Sinclair (Vaughan) after he is injured on the job and the family is in desperate need of extra income as a result of Jenny's work hours having been recently cut. As Jeff and Jenny find themselves drawn together due to circumstances beyond their control, they begin to wonder where their mutual attraction will take them.
Tongues started wagging when "Days of our Lives" star Greg Vaughan (Eric Brady) tweeted that Jen Lilley (ex-Maxie Jones, "General Hospital") was the newest castmember to join the iconic show, and while the actor's tweet was quickly pulled, the rumor spread like wildfire anyway. And it turns out, the news is true!
The peer votes have been cast, and the National Academy of Television Arts and Sciences has announced the Drama Performer Pre-Nominations for the 40th Annual Daytime Entertainment Emmy Awards! Five categories have been announced, including Lead Actress and Lead Actor, Supporting Actress and Supporting Actor, as well as Younger Actress and Younger Actor. Without further adieu, here are the pre-nominees:
Outstanding Lead Actress In A Drama Series
Sharon Case as Sharon on "The Young and the Restless"
Jeanne Cooper as Katherine on "Y&R"
Susan Flannery as Stephanie on "The Bold and the Beautiful"
Finola Hughes as Anna Devane on "General Hospital"
Peggy McCay as Caroline on "Days of our Lives"
Kelly Monaco as Sam on "GH"
Melody Thomas Scott as Nikki on "Y&R"
Michelle Stafford as Phyllis on "Y&R"
Kelly Sullivan as Kate on "GH"
Heather Tom as Katie on "B&B"
Laura Wright as Carly on "GH"
Unless you've been living under a rock lately, you're likely already aware that Greg Vaughan (ex-Lucky Spencer, "General Hospital") is joining "Days of our Lives" as a recast Eric Brady. What you didn't know was his first airdate, or his characters new holy profession. Say what?
On Friday, August 10, via Entertainment Weekly, a representative of "DAYS" confirmed that Vaughan had been hired to portray the twin brother of Sami Brady (Alison Sweeney), who was last seen in Salem in July 2000 and was the first love interest of Nicole Walker (Arianne Zucker), which was the basis of Sami's long standing feud with Nicole. The role was previously portrayed by "Supernatural" star Jensen Ackles.