As playwright Oscar Wilde once said, true friends stab you in the front. And so begins the inevitable downward spiral between "The Young and the Restless" besties Chloe (Elizabeth Hendrickson) and Chelsea (Melissa Claire Egan), two female characters who've become a daytime rarity — true best friends — and whose recent storyline is setting the pair up to potentially take a serious fall. Will the recent death of Chloe's daughter, Delia, followed by the heart wrenching transplant of the little girl's corneas to Chelsea's infant son, Conner, followed by the possible news that Conner's father, Adam (Michael Muhney) is responsible for Delia's death end up tearing the best friends apart? Soap Opera Network spoke with both Egan and Hendrickson for the scoop!
Hot on the heels of the Supreme Court's decision to rule that married same-sex couples are entitled to Federal benefits and that same-sex marriages are now legal in California, "The Young and the Restless'" Greg Rikaart (Kevin Fisher) sent out a tweet and photo to fans that officially confirms he's gay.
As previously reported, CBS' "The Young and the Restless" is moving to TVGN (née TV Guide Network) beginning Monday, July 1, after spending just over 7 years on SOAPnet. The soap will continue airing same-day episodes Monday through Friday at 7:00 PM ET/PT. In the just released new promo, "Y&R" fans will see Kristoff St. John's Neil Winters and Angell Conwell's Leslie Michaelson having a heated convo that turns to passion. In addition to the promo, TVGN has also released the full episode of "The Young and the Restless On Set: InFanity," the special hosted by St. John that provided viewers with a behind the scenes look at the creation of Genoa City, on YouTube.
In an age of multi-tasking, it's always nice to be able to do two great things in the time it takes to do one. And guess what? "The Young and the Restless'" Greg Rikaart is offering fans the chance to do just that!
The actor has teamed up with Charitybuzz to auction off the chance to see the set of "Y&R," with him acting as your personal tour guide! The proceeds from the auction will benefit the True Colors Fund, which works to inspire and engage people to become active participants in the advancement of equality for all as well as to raise awareness about and bring an end to gay, lesbian, bisexual and transgender youth homelessness.
So what are you waiting for? Now through Thursday, June 27, you can help the True Colors Fund as well as possibly win a visit to Genoa City. Visit charitybuzz.com for more details, and good luck!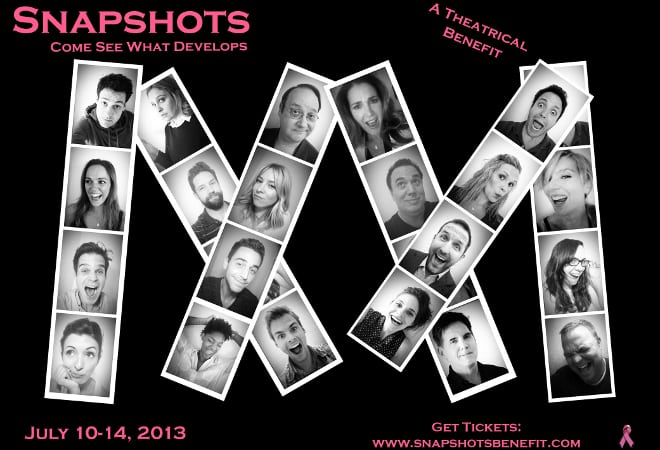 For five days only, fans of Greg Rikaart (Kevin Fisher, "The Young and the Restless") can see the actor take part in "Snapshots," a theatrical benefit that looks to raise funds for the Susan G. Komen 3-Day for the Cure event. Rikaart will be starring in a one-act at benefit, which is scheduled to run from Wednesday, July 10 through Sunday, July 14 at the Stella Adler Theater in Hollywood, CA.
In addition to Rikaart, additional one-acts are written and/or performed by a number of other talented artists including: Robert Sudduth, Marc Cherry, Tim Bagley, Peri Gilpin, Sally Pressman, Erin Cahill, India de Beaufort, Tommy Dewey, Todd Grinnell, Jolie Jenkins, Gloria Calderón Kellett, Yaani King, Lindsey Kraft, Jay Lacopo, Andrew Leeds, Joanna Leeds, Drew Powell, David Scales, Rhea Seehorn Marc Valera, Sara Israel, Gloria Calderón Kellett, Lindsey Kraft, and Kelly Younger.
The summer is looking good for "The Young and the Restless," especially with this latest news: Fan favorite Michael Graziadei (Daniel Romalotti) is returning to the sudser for four episodes!
During all the commotion surrounding the 40th Annual Daytime Entertainment Emmy Awards on Sunday, June 16, came word from "All My Children" actress Eden Riegel (Bianca Montgomery; ex-Heather Stevens, "The Young and the Restless") that she is again with child!
In addition to the previously noted on air promo touting the launch of "The Young and the Restless'" same day airings on TVGN beginning Monday, July 1 at 7:00 PM ET/PT, the network has also announced special programming that will surely help provide ample tune in.
On Monday, June 17 at 9:00 PM ET/PT, Kristoff St. John (Neil Winters) will host a one-hour special entitled "The Young and the Restless On-Set: inFANity," which will provide viewers with a behind the scenes look at the creation of Genoa City. The special will also include interviews with cast members Eric Braeden (Victor Newman), Peter Bergman (Jack Abbott), Michelle Stafford (Phyllis Summers Newman), Joshua Morrow (Nicholas Newman), Sharon Case (Sharon Newman), Christian LeBlanc (Michael Baldwin), Tracey Bregman (Lauren Fenmore), Jess Walton (Jill Abbott), Greg Rikaart (Kevin Fisher), Elizabeth Hendrickson (Chloe Mitchell), Christel Khalil (Lily Winters), Steve Burton (Dylan McAvoy) and Melissa Claire Egan (Chelsea Newman). In addition to hosting duties, TVGN indicates that St. John will also be part of the featured interviews.
The peer votes have been cast, and the National Academy of Television Arts and Sciences has announced the Drama Performer Pre-Nominations for the 40th Annual Daytime Entertainment Emmy Awards! Five categories have been announced, including Lead Actress and Lead Actor, Supporting Actress and Supporting Actor, as well as Younger Actress and Younger Actor. Without further adieu, here are the pre-nominees:
Outstanding Lead Actress In A Drama Series
Sharon Case as Sharon on "The Young and the Restless"
Jeanne Cooper as Katherine on "Y&R"
Susan Flannery as Stephanie on "The Bold and the Beautiful"
Finola Hughes as Anna Devane on "General Hospital"
Peggy McCay as Caroline on "Days of our Lives"
Kelly Monaco as Sam on "GH"
Melody Thomas Scott as Nikki on "Y&R"
Michelle Stafford as Phyllis on "Y&R"
Kelly Sullivan as Kate on "GH"
Heather Tom as Katie on "B&B"
Laura Wright as Carly on "GH"
On Wednesday, August 15, Crystal Chappell (Danielle, "The Bold and the Beautiful") published a new blog post on the "Venice: The Series" website. Her post was in regards to a tweet by former "Days of our Lives" co-star Melissa Reeves (Jennifer Horton) that caused controversy within the daytime community.
"Chick-fil-a today!!!! Loved every bite of it;)!! Land of the free and home of the brave. Love that we all appreciate free speech, right?" said Reeves in her tweet to her followers on Tuesday, August 1.
In response to Reeves, Nancy Lee Grahn (Alexis Davis, "General Hospital") said on Twitter, "I'm all for 1st Am rights, but when you buy Chick Fil A, your $$ are going to fund hate groups that are actively attacking gay rights."
Greg Rikaart (Kevin Fisher, "The Young and the Restless") got personal via a posting on the Huffington Post. "I posted a tweet airing my disappointment in Melissa Reeves (another member of the daytime community) for aligning herself with this company [Chic-fil-A] that financially supports the furthering of hatred and bigotry. I did so because I have aligned myself with organizations like GLSEN (the Gay Lesbian Straight Education Network) and the HRC (Human Rights Campaign) and I have read too many stories of alienated LGBT kids taking their lives after relentless persecution," Rikaart said. "Whether grown up bullies like Dan Cathy and Melissa Reeves realize it or not, they are directly or indirectly telling these vulnerable kids that there is something wrong with them, or they are somehow less than. Nothing could be further from the truth. I'm certain of it," he continued.
Since the controversy began, Reeves has not publicly spoken on the issue. According to Chappell, however, the actress has told mutual fiends that the implication of her tweet was "not what she intended." Chappell added, "She said she saw half a tweet about Cluck Filet and thought she was supporting Free Speech. Nothing more. I thought…OK. Um….twitter fuck up? I've stepped into twitter convoys without really knowing what was being talked about and made a mess for myself unintentionally. Realizing after I stepped into it that I don't at all support the person's words I stood up for. OK….it happens. And then I asked our gay and married friends…well, why not just say that to the folks in twitter land? Was someone telling her not to? Is it work related? Ostrich in the sand syndrome? If I don't see it, it doesn't exist kind of thing? Blonde moment? The more time went by the more frustrated I and my friends became. It started to hurt. We all know Missy has very strong religious beliefs but the person we know and love….is NOT a bigot."
Chappell stated that she has personally reached out to Reeves regarding the issue, and that Reeves has "decided to not speak out and hope that the people who know her will trust that she didn't intend to support an anti-gay corporation." The creator of "Venice" and new series "The Grove: The Series" also says, "I firmly believe she should speak…not only for the fans but for her friends."
Responding to Rikaart's Huffington Post article, Chappell says, "I thought it was eloquent and spot on…with the exception of calling Melissa Reeves a bully."
To read Chappell's full blog post on the matter, click here.