(SoapOperaNetwork.com) — "General Hospital" Episode Recap – Wednesday, October 5, 2011.
IT HAPPENED TODAY…
Pissed, Carly makes no effort to hide information from Sonny and Michael, to Shawn's chagrin. Sonny makes a decision. Unhappy with his father's behavior, Johnny puts Anthony in his place. Meanwhile, Ronnie and Delores question Abby about Michael and the warehouse. Later, Abby tips off Johnny.
Lulu distraught, asks Olivia "do you ever regret Dante became a police officer?" Later, Lulu has a secret and later cries.
Luke tries to spar with Tracy like old times – but a lot has changed since he left.
On the Next General Hospital…
Michael refuses to give up despite Abby's pleas.
Lucky opens Siobhan's letter… what will he find?
Maxie commemorates BJ's birthday.
UPDATE: Wednesday, October 5, 2011 at 2:33 PM ET
Since we originally went to press early this morning, a "General Hospital" representative has since stated that Butler's first appearance on the soap will be "sometime later this fall…," although not necessarily contradicting our earlier report of October 24.
Stay tuned to Soap Opera Network as more  information on Butler's "GH" role comes in.
PREVIOUS: Wednesday, October 5, 2011 at 2:58 AM ET
(SoapOperaNetwork.com) — On Wednesday, September 21, daytime newcomer Nathin Art Butler tweeted to his followers (@nathinbutler) "I was welcomed into the family of 'GH' today. 1st day on set felt like 1st day of high school. Feel so blessed." For those wondering what exactly he was talking about, on that day the actor revealed to the soap world that he had been hired to portray the contract role of Dr. Ewen Keenan, also known as "the mad Aussie therapist" on ABC's "General Hospital. Soap Opera Network has since learned when you can expect to first see the actor, musician and digital photographer on screen.
According to sources, beginning with the Monday, October 24 episode of "GH," look for Butler to begin interacting with Rebecca Herbst's Elizabeth Webber when the character finds herself encountering a mystery man (Butler's Dr. Keenan). After describing his first day on set, the actor followed up that tweet with information on what his second week was like when pressed by a fan of the ABC drama series. "Started last week. Felt pretty special! Moonlit beach scenes this week. Dreamy character intro."
Tweets to Stardom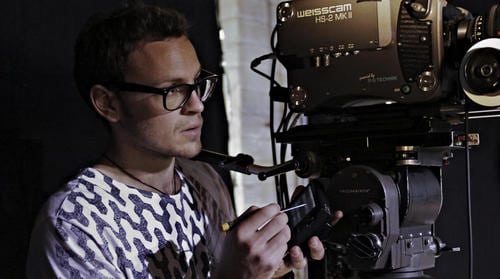 Butler began his professional acting career in 2007 courtesy of the TV movie "Rain Shadow," a mini-series in which he portrayed the role of Shane Maguire. The actor subsequently appeared in the 2010 HBO mini-series "The Pacific" as a Young Private. In addition to acting in a number of films since then, Butler is also an avid film buff as he's performed a number of behind the scenes jobs including performing duties as a Camera Operator, Cinematographer, and as an Associate Producer. On the beat.productions website, you can view a number of projects that Butler had some role in helping develop (both in front of and behind the camera) via video trailers and/or B-Roll.
Nelson Branco, best known as the writer of the popular Suds Report column for website TV Guide Canada and for his contributions to magazine Hello! Canada is back! This time he's Uncensored.
With Soap Opera: Uncensored, fans of Branco will notice the same writing style from his Suds Report, which includes an interview, translated comments on daytime moves, a breakdown of what's happening on each soap and his uber-popular Blind Items.
For just $1.99 per issue, readers will receive 60 pages of news, notes and even an interview from "Venice: The Series" star Crystal Chappell where she explains why her online web soap is recasting roles played by Gina Tognoni (ex-Kelly Cramer, "One Life to Live") and Wes Ramsey (ex-Sam Spencer, "Guiding Light").
Snippet from Chappell Interview…
Despite winning an Emmy for Venice, Chappell still has to deal with the cruel realities of show business. But hey, what's a soap without cast changes? My boyfriend Eric Martsolf has joined the Sapphic web serial as a recast. The 'DAYS' hunk will be replacing Wes Ramsey, who is currently in New York City shooting 'The Playboy Club.' "Eric's wonderful in this," compliments Chappell. "Eric's always been supportive of the show. I had to shoot this character with or without Wes, so I sent the script to Eric, and luckily he agreed to do it. It was so much fun to see actors I love and respect in different parts. And you can talk to Eric about this — but this was a part he was born to play!" Also, don't expect Gina Tognoni back as Sami. "She can't do it," sighs Chappell. "So I have to recast the role. I have someone in mind, but I can't say who."
Soap Opera: Uncernsored:
Inside the Issue
INSIDE: Crystal Chappell Exclusive – Life After DAYS! Also: Why Venice is recasting Gina Tognoni and Wes Ramsey! Plus: Molly Burnett and Christian LeBlanc join Gina and Company!
Exclusive: Major Daytime Emmy Award changes!
Melody Thomas Scott VS. Sony: What really happened!
Is James Scott leaving DAYS?
Alleged Stalker Shocker Involving — Wait For It — John Driscoll!
Andrea Evans's Cancer Victory!
Inside Dirty Soap! Is Eden Riegel AMC-bound?
The truth behind Megan Ward's GH firing!
Drama at THE CHEW!
Y&R's Christel Khalil divorce drama!
More turmoil at THE TALK?
Four Decades Later: DAYS Chief Ken Corday finally gets a clue!
Last week's Soap Reviews; Next Week's Preview Cheat Sheet! And every week: Blind Items!
If that wasn't enough to get you interested, here are this weeks blind items from Soap Opera: Uncensored (as written by Nelson Branco):
—Which boring character is headed back to his old stomping grounds?
—Which super villainess is returning to her old show with a new-ish face?
—Expect some major firings very soon!
—Which despised star is cleaning up his or her a-hole act? But co-stars are dubious.
–Which soap actress in major trouble physically, mentally, and professionally?
—–Which new actor is as "gay as a handbag," says one co-star, but the acting novice thinks he's fooling people into thinking he's straight?
To order your copy of the first edition of Soap Opera: Uncensored, click here.
(SoapOperaNetwork.com) — "General Hospital" Episode Recap – Tuesday, October 4, 2011.
IT HAPPENED TODAY…
Delores questions Dante about what happened at the warehouse. Sonny quashes any possibility of Michael getting involved in his mess. Angry at being cut out, Michael tells important news to Sonny.
Lulu visits Dante with Olivia's urging.
Tracy gets three surprise visitors.
Matt reveals news about his research paper and soon he learns Patrick once again jumped him in surgery rotation.
Maxie plans Robin's upcoming birthday party. Meanwhile, Spinelli continues to suffer cyber-amnesia.
On the Next General Hospital…
Sonny makes a decision.
Lulu's upset.
Johnny puts Anthony in his place.
(SoapOperaNetwork.com) — A quick peek into what's happening in Port Charles this October.
GENERAL HOSPITAL: OCTOBER PREVIEW
Olivia begins to realize something or someone is standing between her and Steve.
Kate plants a kiss on a surprising Port Charles resident.
The Zacchara men find themselves in over their heads as hell begins to break lose.
It's just like old times for Spinelli and Maxie - in both the negative and the positive ways.
Elizabeth faces some tough truths about her past and her future.
Can Sam and Carly learn to peacefully co-exist in Jason's life?
(SoapOperaNetwork.com) — "General Hospital" Episode Recap – Monday, October 3, 2011.
IT HAPPENED TODAY…
Jason and Sam happily enjoy their honeymoon in Hawaii. Franco chooses a special wedding gift for them.
Sexual tension rising in the panic room, Carly needles Shawn, who refuses to open up about his past. Michael sees Carly and Shawn emerge – hot and sweaty.
Sonny breaks down about Dante when Kate tries to comfort him despite herself. Sonny and Olivia go to visit Dante, leaving Kate an outsider.
Michael and Abby argue over his desire to protect his father, and later, Michael tells Max he is in charge of what happens next with the warehouse.
Lulu goes to see Dante. Later, she returns home and she takes a drink.
On the Next General Hospital…
Lulu visits Dante.
Michael tells Sonny something important.
Tracy gets three surprise visitors.
(SoapOperaNetwork.com) — "General Hospital" Teasers for the Week of October 3, 2011.
GENERAL HOSPITAL: TEASERS
Monday (Episode #12403): Shawn refuses to open up to Carly about his past. Will Jason and Sam have a happy honeymoon? Kate is there for Sonny. (Rated: TVPG L, S, V)
Tuesday (Episode #12404): Lulu goes to see Dante. Michael shares some important news with Sonny. Tracy has some unexpected visitors. (Rated: TVPG L, S, V)
Wednesday (Episode #12405): Sonny
arrives at a conclusion. Lulu is beside herself. Johnny puts Anthony in his place. (Rated: TVPG L)
Thursday (Episode #12406): Maxie remembers B.J.'s birthday. Michael decides to focus on the future. Lucky reads over Siobhan's letter. (Rated: TVPG L, S)
Friday (Episode #12407): There's trouble in paradise. Carly receives Josslyn's present. Michael overhears a conversation between Carly and Shawn. (Rated: TVPG L, S)
(SoapOperaNetwork.com) — The final meeting of the year for the National Board of Directors of the American Federation of Television and Radio Artists (AFTRA) took place today via video conferences in New York and Los Angeles and one of the key topics of discussion effects Prospect Park and television network contracts including those surrounding daytime soaps.
For a complete understanding of what took place and how it affects daytime programming, read the press release below (highlights in bold):
LOS ANGELES AND NEW YORK (Oct. 1, 2011) — The National Board of Directors of the American Federation of Television and Radio Artists, AFL-CIO – a national union of more than 70,000 recording artists, broadcasters and actors – met today by videoconference plenary in Los Angeles and New York, and unanimously voted to authorize the AFTRA Sound Recordings Negotiating Committee to take all actions necessary, up to and including proceeding to a strike authorization vote if needed, to secure an agreement with the major record labels.

Negotiations between AFTRA and representatives from Sony, UMG, Warner, EMI, Disney and most of their subsidiary labels for a successor agreement to the AFTRA National Code of Fair Practice for Sound Recordings, the Union's second largest national contract, commenced in New York on Aug. 15, with an additional round of bargaining held in Los Angeles the week of Sept. 12-16. An additional bargaining date has been set for Oct. 5 in an effort to resolve outstanding issues. AFTRA National Executive Director Kim Roberts Hedgpeth serves as Chief Negotiator for the Union.

The Sound Recordings Code covers singers, royalty and non-royalty artists, as well as announcers, actors, comedians, narrators and sound effects artists who work on recordings in all new and traditional media and all music formats, in addition to audiobooks, comedy albums and cast albums. The Code generates more than $140 million annually in AFTRA-covered earnings and benefits for both major artists and session singers around the country.

Board members also unanimously approved the appointment of the 2011 AFTRA Network Television Code Negotiating Committee. AFTRA National President Roberta Reardon will chair the 25-member committee and Hedgpeth will serve as Chief Negotiator for the Union. Negotiations with representatives for the four major television broadcast networks (ABC, CBS, NBC and Fox) and other producers are scheduled to commence on Nov. 7 in Los Angeles.

The AFTRA Network Television Code is the Union's largest national collective bargaining agreement, and generates more than $300 million a year in member earnings. The Network Code covers programming in all television day parts, except for primetime dramatic programs on the networks and the CW. This includes dramas in first-run syndication, morning news shows, talk shows, serials (soap operas), variety, reality, contest and sports. Current programs covered by this contract include: "Good Morning America," "The View," "The Price is Right," "General Hospital," "Saturday Night Live," "Dancing with the Stars," "The Voice," "Survivor," "20/20," "Deal or No Deal," "Late Show with David Letterman," among many others.

"The Sound Recordings and Network Television Codes are AFTRA's two largest and most mature contracts, and for more than 50 years, they have each provided thousands of AFTRA members with strong wages and important benefits," said Hedgpeth. "But the traditional music, news and entertainment industries are changing rapidly, and the current and upcoming negotiations will provide a critical glimpse into the significant challenges that lie ahead in the 21st century and beyond.

"In order to prevail," Hedgpeth continued, "professional union talent must stand together and organize themselves through their Union so that together they can secure strong contracts."

Other business discussed at the Board's final meeting of the year included a report on the One Union process, and a report on current negotiations with Prospect Park regarding the on-line productions of "One Life to Live" and "All My Children," slated to commence in late 2011/early 2012.

National Treasurer and Los Angeles member Matthew Kimbrough told the Board that AFTRA has increased its budget for One Union-related expenses by another $115,000 to more than $1.5 million.

In her President's Report, AFTRA National President Roberta Reardon updated Board members on the progress of One Union discussions with Screen Actors Guild. She observed: "The Labor Movement is facing tremendous challenges all across the country. Union density is declining in both the public and private sectors, and in mature and emerging industries alike. Performers and professionals who work in the entertainment and media industries are not immune from these challenges.

"This is why our work with Screen Actors Guild to build one new union for all of our members is so timely and so important," continued Reardon. "We are building a bigger, stronger and more expansive union, both in terms of numbers and jurisdiction. The universe of work we cover has changed fundamentally, so this project is not just about our H&R benefits, and not just about two sets of dues. It's about the industry and the future of the industry and how we stay unionized in the future."

Phil Denniston, AFTRA National Director of Organizing, advised the Board that the new Organizing Incentive Fund Program, announced at the previous Board meeting in July, is now active and ready to receive applications from Locals. Denniston developed the program to provide AFTRA Locals additional support to continue building organizing programs to increase union density and job opportunities in local markets. A key feature of the program is an annual "matching fund" of $500,000 from the dedicated organizing revenue raised by the 2009 initiation fee increase. The Board today approved an oversight committee of members who will receive, review and approve all applications for matching funds.

Shelby Scott, Union Chair of the Trustees of the AFTRA Health & Retirement Funds and AFTRA National Vice President, reported on the status of the AFTRA H&R Funds. The AFTRA H&R Trustees are next scheduled to meet in New York City next week.

Reardon was unanimously elected by the Board to serve as a Union representative on the AFTRA H&R Board of Trustees. Reardon replaces Kansas City actor Dean Vivian, who was elected as a Trustee at the May 14 meeting of the Board, but who subsequently had to step down due to work conflicts.

Longtime National Board member Mitchell McGuire has resigned from Board service after more than 20 years of service to AFTRA as New York Local and National Treasurer, and on many committees throughout the union. His resignation was accepted by the members of the National Board with expressions of gratitude for his years of dedicated and exemplary service to AFTRA members.

The National Board convened its meeting in the memory of more than 26 members who died since July, including New York recording artist Nick Ashford, newsperson Eleanor Mondale from the Twin Cities Local, Ernie Johnson, a sportscaster from Atlanta, actress Frances Bay from Los Angeles and actor Cliff Robertson from New York.

The AFTRA National Board will next meet by videoconference plenary in Los Angeles and New York on Jan. 21.

About AFTRA

The American Federation of Television and Radio Artists, AFL-CIO, are the people who entertain and inform America. In 32 Locals across the country, AFTRA members work as actors, broadcasters, singers, dancers, announcers, hosts, comedians, disc jockeys and other performers across the media industries including television, radio, cable, sound recordings, music videos, commercials, audio books, non-broadcast industrials, interactive games, the Internet and other digital media. The 70,000 professional performers, broadcasters and recording artists of AFTRA are working together to protect and improve their jobs, lives and communities in the 21st century. From new art forms to new technology, AFTRA members embrace change in their work and craft to enhance American culture and society. Visit AFTRA online at www.aftra.com.
(SoapOperaNetwork.com) — In a statement released via Soap Opera Digest, "One Life to Live" head writer Ron Carlivati says, "I am both excited and honored to remain with 'One Life to Live' as Head Writer and Consulting Producer when the show moves online. My heartfelt thanks to Executive Producer Frank Valentini, as well as to Rich Frank and Jeff Kwatinetz of Prospect Park for this incredible opportunity."
"I would also like to express my very sincere gratitude to everyone at ABC Daytime, especially Jill Phelps at 'General Hospital,' for supporting me in this decision."
Back in June it was announced that Carlivati was expected to report to "GH" as a script writer after the conclusion of "One Life to Live" on ABC. In July it was announced that his canceled soap would live on via Prospect Park's licensing deal with the Disney/ABC Television Group. It was announced earlier today that the writer would join several of his cast as the soap transitions to the web in January 2012.
(SoapOperaNetwork.com) — "General Hospital" Episode Recap – Friday, September 30, 2011.
IT HAPPENED TODAY…
Sonny shakes Johnny's hand – but mobsters don't do peace. Abby finds a vulnerable Michael crying alone. Lulu attacks her brother when Lucky reveals he should have been with Dante at the warehouse but couldn't because of his drug addiction.
Lucky discovers an envelope Siobhan left for him, and Luke Spencer returns to the Haunted Star.
Carly helps Shawn defuse a sticky situation.
Ethan follows an open passageway door: is someone else there?
On the Next General Hospital…
Honeymoon bliss for Jason and Sam?
Shawn refuses to divulge his past to Carly.
Kate comforts Sonny.