ALL ARTICLES ABOUT

General Hospital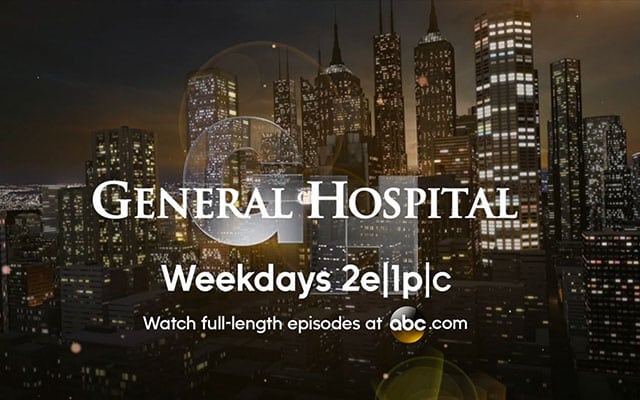 News
on Wednesday, August 13, 2014 @ 11:11 PM
With the new television season kicking off in just a few weeks, ABC stations that signed up to air the no longer in production daytime talker "Katie" in 2012, following ABC's decision to secede the 3:00 PM ET/2:00 PM PT network time slot to their affiliates in hopes that most of them would choose to pick up the talk show, has resulted in some of those stations deciding to move the network's "General Hospital" back to where it aired for more than 25 of its 51+ year run, it was confirmed today by ABC.
News
on Wednesday, August 13, 2014 @ 4:38 PM
Some major news is in the works regarding ABC's sudser, "General Hospital:" The soap opera is switching time slots!
Engagement
on Wednesday, August 13, 2014 @ 1:29 PM
Last week was a good one for "All My Children" alum Levin Rambin (ex-Lily Montgomery): She and boyfriend Jim Parrack got engaged!
News
on Sunday, August 10, 2014 @ 3:57 PM
Ratings Report for the Week of July 28 - August 1, 2014
It looks like "General Hospital" fans are going to have to get used to a new face: The role of Danny has reportedly been recast!
UP2LATELY
on Thursday, August 7, 2014 @ 3:42 PM
It wasn't that long ago that Minae Noji was starring as "General Hospital's" Dr. Kelly Lee, and now — BAM! — she's portraying the fierce ninja warrior Karai in the newest installment of the Teenage Mutant Ninja Turtles film franchise. Soap Opera Network caught up with the busy actress, who spilled details regarding the film, what Megan Fox is really like in the role of April O'Neil, and how her "GH" experience ultimately led her to sharing the screen and red carpet with the likes of Whoopi Goldberg, William Fichtner and Will Arnett.
News
on Wednesday, August 6, 2014 @ 4:34 PM
What do Marilyn Manson, Courtney Love, Lea Michele and "All My Children/General Hospital" alum Mathew St. Patrick (ex-Adrian Sword, "AMC;" ex-Marcus Taggert, "GH") have in common? They're all confirmed to join "Sons of Anarchy's" seventh and final season!
News
on Thursday, July 31, 2014 @ 3:15 PM
Ratings Report for the Week of July 21-25, 20
News
on Monday, July 28, 2014 @ 3:30 PM
Congratulations are in order for former "General Hospital" star Stephen Kay (ex-Reginald Jennings), who married actress Piper Perabo over the weekend!The couple, who work together on USA's "Covert Affairs" (she in front of the camera, he behind), tied the knot on Saturday, July 26 at the Merchant House Museum in New York City.Congratulations to the happy couple!
Fall TV
on Monday, July 28, 2014 @ 3:01 PM
Antonio Sabato Jr. may be known for his roles as Jagger Cates on "General Hospital," Dante Damiano on "The Bold and the Beautiful" and Jack Parezi on "Melrose Place," but he's more than just a gorgeous soap star — which he's proving as the host of the new design show "Fix It and Finish It!"
News
on Monday, July 28, 2014 @ 1:59 PM
It's a far cry from Port Charles, but "General Hospital's" Vanessa Marcil (ex-Brenda Barrett) will soon be seen in Puerto Rico — via Hallmark Channel's new film, "Stranded in Paradise!"
News
on Thursday, July 24, 2014 @ 5:48 PM
Ratings Report for the Week of July 14-18, 2014
News
on Tuesday, July 22, 2014 @ 4:19 PM
Most of the population seems to love former "General Hospital" star John Stamos (Ex-Blackie), but perhaps not quite as much as "The Talk's" co-host Sheryl Underwood. The actor, who's also known as Uncle Jesse from the 1980s sitcom "Full House," will be appearing on the Friday, July 25 episode of the talk show, and co-host Julie Chen surprised Underwood with the news during a recent taping of a promo shot. Check out her hilarious reaction here, and don't forget to catch Stamos' appearance this Friday!