UPDATE 10:01 PM ET: Carnes just tweeted, "Ah, Port Charles, it is!"
While hints of a possible return to "General Hospital" began on his Twitter page last week, where he referred to numerous Ports in the world (Portlandia, Port Hueneme, Port of Los Angeles, Port of Long Beach), an ABC representative confirms to Soap Opera Network that actor Ryan Carnes will be reprising his role as Lucas Jones, the adopted son of Bobbie (Jacklyn Zeman) and Tony Jones (Brad Maule), on the ABC Daytime drama series. "Like a ship lost in the night at sea, wondering where my next port will be…," Carnes tweeted on Wednesday, December 4.

Gabi (Camila Banus) sure can't help herself when it comes to discussing her part, along with Sami (Alison Sweeney) and Kate (Lauren Koslow), in the murder of Nick (Blake Berris). This week, Sonny (Freddie Smith) overhears more than he expected when Gabi reveals all on NBC's "Days of our Lives." Will he turn Will's (Chandler Massey) baby mama in? You"ll have to tune in to find out!

As we've previously reported, "Days of our Lives" Shawn Christian (Daniel Jonas) and Freddie Smith (Sonny Kiriakis) teamed up with Jack Briggs and Nate Hartley to create "Addicts Anonymous," a single-camera mockumentary, and the comedy series is now available for viewing via the web!
Originally planned for primetime television, the series — which stars Molly Burnett (ex-Melanie Jonas, "DAYS"), Lori Loughlin ("Summerland," "Full House"), Matt Walsh ("Veep," "Ted"), Jerry Lambert ("Shameless," "Family Guy"), Christian, Smith and more — is now being offering via the show's official website. Episode one ("Admitting") and episode two ("Support Buddy") are available now. Subsequent episodes will be released as follows:
Tuesday, December 10: "Mistakes"
Tuesday, December 17: "Boot Camp"
Tuesday, December 24: "Pride"
Tuesday, December 31: "Choices"
"We've all written the scripts together, which is really fantastic," says Christian, who also serves as the executive producer for the series. "We all filmed it together, and it's so funny. It really is just fantastic."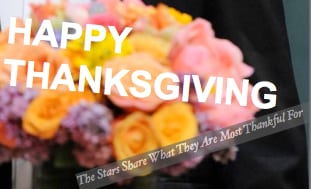 The rest of the country may have been preparing for Thanksgiving by sending out dinner invites, planning menus, buying turkeys, selecting table settings and betting on the day's big game, but Soap Opera Network has been getting ready for the celebratory day in a different way: Reaching out to several of your favorite "Days of our Lives" stars and getting the scoop on what they're most thankful for! Read on for their answers and then join in on the fun by leaving a comment below telling us what you're most grateful for this holiday season!
When Ted Corday and Betty Corday watched "Days of our Lives'" NBC debut on November 8, 1965, they couldn't have known that the soap opera they created would garner so much success. Now, 48 years later, the show not only is coming off of an Outstanding Drama Series win from the National Academy of Television Arts and Sciences, it's comprised of a talented and close-knit cast who all have very special memories regarding their time with the popular show. Soap Opera Network spoke with a few said castmembers, and in celebration of the show's 48th anniversary, they were all too happy to share some of their favorite moments from the early days and beyond!
Deidre Hall (Marlena Evans)
"Oh my god, Wayne Northrop [ex- Alex North, Roman Brady] and I [used to pull pranks on each other all of the time]. It was merciless! Merciless! Nothing was sacred. At one point, he was sleeping in my foster child's bed, so before my take, I said to my prop man, 'Give me a bucket of warm water.' And before he had to jump into bed, I poured it all over like the kid who wet the bed. He jumped into bed, and I had finished my part of the scene, and I began to run. He didn't even finish the take! He hit that bed, came off that bed and came after me. The race was on, and I got thrown in the shower! I mean, it was crazy, crazy, crazy. But it's a show filled with moments, and that's what you remember with daytime. It's been really wonderful, being a part of so many magical moments."

As we previously reported, "Days of our Lives'" Freddie Smith (Sonny Kiriakis) revealed to Soap Opera Network that Guy Wilson will replace Chandler Massey onscreen in the role of Will Horton beginning in January 2014. And now, we have the details of the transition, including Smith's thoughts on the controversial super-quick recast and how Wilson is fitting into the role.
"I'm the middle man who keeps getting asked about it," Smith says with a laugh over being slightly hounded by the media to comment on Massey's departure and Wilson's start in the role. "But basically, what's most important is that the storyline continues on, because it's a wonderful story. I've had so much positive feedback, and it's really been life changing for some people. And to think our work can do that? It's really cool. It's helped people come out of the closet and tell their parents, and it's great. I miss Chandler. We started this journey together. But I also love working with Guy. He's an incredible person."

In the coming weeks a storyline involving the characters of Nick Fallon and Gabi Hernandez gets physically violent and rumors are now swirling about the possibility that as a result of the storyline, Nick's portrayer, Blake Berris, may be leaving the "Days of our Lives" canvas.
When asked by Soap Opera Network during today's "A Day of DAYS" fan event at Universal CityWalk Hollywood about his status with the show Berris was unable to comment, but on the storyline itself he did say that Nick is just reminding Gabi (Camila Banus) of the passion between them.


During today's "A Day of Days" fan event at Universal CityWalk Hollywood, actor Freddie Smith shared with Soap Opera Network that Guy Wilson will replace Chandler Massey in the role of Will Horton beginning in January 2014. The actor noted that the transition from one actor to the next will be seamless as the character of Will is not leaving town only to return portrayed by a different actor.
Word of Wilson replacing Massey came to light in early September, when "DAYS" actress Jen Lilley (Theresa Donovan) let slip Wilson's name as Massey's replacement during an interview .
A more specific last airdate for Massey and first airdate for Wilson are unknown at this time.

Recasting pivotal roles always comes with a rollercoaster of equal parts praise and equal parts critique, but "Days of our Lives'" decision to recast the role of Will in what seemed like mere moments after the announcement that Chandler Massey was departing the role has seen rumblings closer to an earthquake than a mere thrill ride. Viewers have questioned whether the show's decision to bring Guy Wilson in was a way to stick it to Massey for leaving the role he'd made popular over the last three years, and some even questioned why Massey was leaving the show in the first place. The Backlot, an online publication that calls itself the corner of Hollywood and gay, managed to snag an interview with "DAYS" co-executive producer, Greg Meng, to get the inside scoop!
Deep down in the basement of NBC's The Burbank Studios in Los Angeles, beneath the busy and hectic world of "Days of our Lives'" Salem, lies a cozy dressing room that offers a warm and comfortable respite from cameras, producers, directors, publicists, wardrobe and all of the other distractions of a daytime television set. The lighting is low, candles flicker, and there's a plush, body-hugging beanbag that just begs any visitor to sit back, sink in and possibly take one of the best naps of all time. We at Soap Opera Network could have fallen into the beckoning trap, but the dressing room's owner, Shawn Christian (Daniel Jonas), was way too excited to discuss his current storyline and his new television project, "Addicts Anonymous," to allow any snoozing to happen. And as soon as the passionate actor launched into conversation, there was no desire for napping on our part, either! Read on for the exciting details Christian shared. But be warned: You'll be on the edge of your seats (or, if you're lucky, your beanbags).