Actor Jeffrey James Lippold will appear on the Monday, March 4 episode of ABC's "General Hospital" as a Sergeant working at the Port Charles Police Department. The actor will appear in scenes with Finola Hughes as her character, Anna Devane, deals with the aftermath left behind by Caleb Morley. Look for Anna to make a tough decision about her future as the head of the PCPD.
According to his Twitter page, Lippold is an "Actor, Stunt Man, Sambo Champion, All Around Martial Arts Wizard, MMA Champion Sparring, Former NAVY Amphibious MEF RECON Corpsman/Bushmaster, & Anti-Bully!" The actor tweeted a picture of himself in uniform.
Lippold starred in the films "Samurai Avenger: The Blind Wolf" and "XII."
The peer votes have been cast, and the National Academy of Television Arts and Sciences has announced the Drama Performer Pre-Nominations for the 40th Annual Daytime Entertainment Emmy Awards! Five categories have been announced, including Lead Actress and Lead Actor, Supporting Actress and Supporting Actor, as well as Younger Actress and Younger Actor. Without further adieu, here are the pre-nominees:
Outstanding Lead Actress In A Drama Series
Sharon Case as Sharon on "The Young and the Restless"
Jeanne Cooper as Katherine on "Y&R"
Susan Flannery as Stephanie on "The Bold and the Beautiful"
Finola Hughes as Anna Devane on "General Hospital"
Peggy McCay as Caroline on "Days of our Lives"
Kelly Monaco as Sam on "GH"
Melody Thomas Scott as Nikki on "Y&R"
Michelle Stafford as Phyllis on "Y&R"
Kelly Sullivan as Kate on "GH"
Heather Tom as Katie on "B&B"
Laura Wright as Carly on "GH"
The last time People Magazine offerred a collector's edition of a soap opera was in September 2011, when the mag celebrated the life and history of the then canceled "All My Children." This time the magazine is celebrating the continued life and history of "General Hospital" with a special 50th Anniversary collector's edition that finds Luke and Laura Spencer (Anthony Geary and Genie Francis), Maxie Jones (Kirsten Storms), Sonny Corinthos and Brenda Barrett (Maurice Benard and Vanessa Marcil), Duke Lavery and Anna Devane (Ian Buchanan and Finola Highes), and Jagger Cates (Antonio Sabato Jr.) gracing the cover.
Beginning Monday, September 10 ABC's "General Hospital" moves to a new time period (2:00 PM ET/1:00 PM PT/CT) and in celebration the network is hosting a weeklong twitter chat with cast members of the drama series.
Fans of ABC's hit drama "General Hospital" will be able to submit questions (#askgh) and receive real-time responses from fan favorites who will be on Twitter during the East Coast broadcast of the show 2:00-3:00 p.m. ET/11:00 a.m.- noon PT.
Scheduled to take part in the twitter chats include the following stars (talent subject to change):
MONDAY, SEPTEMBER 10 - Sebastian Roche (Jerry Jacks) - @sebroche
TUESDAY, SEPTEMBER 11 -  Roger Howarth (Todd Manning) - @generalhospital
WEDNESDAY, SEPTEMBER 12 - Maurice Benard (Sonny Corinthos) - @MauriceBenardMB
THURSDAY, SEPTEMBER 13 – Finola Hughes (Anna Devane) - @finolahughes
FRIDAY, SEPTEMBER 14 – Kirsten Storms (Maxie Jones) - @teenystweeting
Help spread the word on social media with videos of your favorite "General Hospital" stars:
Follow your favorite "General Hospital" cast and crew on Twitter:
Bradford Anderson: @BfordAnderson
Brandon Barash: @BrandonBarash
Chad Duell: @duelly87
Dominick Zamprogna: @dom_zamprogna
Finola Hughes: @finolahughes
Frank Valentini: @valentinifrank
Ingo Rademacher: @IngoRademacher
Jason Thompson: @MyJasonThompson
Kelly Monaco: @kellymonaco1
Kelly Sullivan: @kellysullicanny
Kimberly McCullough: @whitewatercrew
Kirsten Storms: @teenystweeting
Kristen Alderson: krisalderson
Laura Wright: @ldubs
Leslie Charleson: @lesliecharleson
Lisa LoCicero: @lisalocicerogh
Maurice Benard: @MauriceBenardMB
Nancy Lee Grahn: @NancyLeeGrahn
Nathin Butler: @nathinbutler
Ron Carlivati: @carlivatiron
Scott Reeves: @reevesforreal
Sebastian Roche: @sebroche
Sonya Eddy: @TheRealSonyaEd
Steve Burton: @1SteveBurton
UPDATE, 4:40 PM ET: Ian Buchanan is in fact portraying Duke Lavery. In an interview report with TV Guide's Michael Logan, Valentini says, "We will eventually find out that the Duke Lavery we saw die all those many years ago was an impostor. This is the real Duke." So yes, we're in for one of those storylines, folks.
"In the interim, Luke and Anna will find themselves in a new place with their romance and they will be very surprised by the intensity of it," said Valentini to Logan. "Anna will, of course, be shocked and conflicted, she'll run the whole gamut of emotions when she finally comes face-to-face with Duke. She's going to want a lot of answers and Duke is really going to have to prove himself."
Buchanan will not be seen on the show again for at least another next five weeks, according to TV Guide.
PREVIOUS, 4:22 PM ET: After promising that today's episode of "General Hospital" was "not to be missed" as the series has "been keeping a huge surprise under wraps," executive producer Frank Valentini got some good news today as the big reveal began trending worldwide (see images below) just a short time ago.
While live tweeting along with thousands of others, fans of the daytime drama series learned that actor Ian Buchanan had returned to the ABC soap after a 23-year absence. Of course, Soap Opera Network broke the story on Thursday, August 23.
When we last saw Buchanan on the drama series, it was 1989. His character, Duke Lavery, the love of Anna Devane's (Finola Hughes) life faked his death and entered the witness protection program only to return to the series with a new face as portrayed by actor Greg Beecroft within the same year. The character was killed off in 1990.
A "General Hospital" representative was unavailable for comment at press time. It is currently unclear as to whether Buchanan is in fact portraying a once again alive Duke Lavery. If he is, does that mean Duke faked his death again? If not, who really died? The Tale of Two Duke's indeed!
Buchanan had just completed his run on NBC's "Days of our Lives" on Wednesday, August 22 as Ian McAllister, although the series films three months ahead of airdate, which enabled "GH" to snap the actor up quickly for this "secretive" plot twist.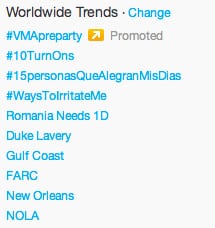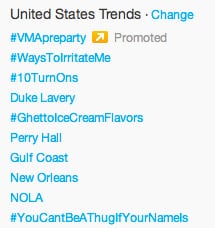 Frank Valentini (Executive Producer, "General Hospital") is promising that the Monday, August 27 episode of the drama series is "not to be missed" as the series has "been keeping a huge surprise under wraps." The producer tweeted the message to his 12,000 followers earlier today.
From what we know about Monday's episode Anna (Finola Hughes) learns the identify of a mystery patient, Jerry makes his demands clear to the people of Port Charles. Joe Jr. promises to protect Tracy and John questions Alexis about what she can remember about the night she was injected.
In possibly related news, Vanessa Marcil (ex-Brenda Barrett) just tweeted a picture to her followers that said "Got Brenda?" Also, "All My Children's" Rebecca Budig (ex-Greenlee Smythe) was the first one to respond to Valentini's above mentioned tweet. The actress said "I'll be watching!"
The things that make you go hmmm…
"General Hospital" moves to a new time period beginning Monday, September 10 (2:00 PM ET/1:00 PM PT/CT). The network promises to thrill audiences in the days leading up to the timeslot switch with lives hanging in the balance and shocking revelations hitting Port Charles. Who survives and who thrives? You'll just have to tune in to find out!
UPDATE 12:23 PM ET on 4/10/12: A "General Hospital" representative tells Soap Opera Network that Lozano will first air the week of May 7, 2012 as Téa Delgado from "One Life to Live."
PREVIOUS: After weeks of speculation, Soap Opera Network can now report that actress Florencia Lozano will be reprising her role as Téa Delgado from "One Life to Live" on ABC's "General Hospital" in the coming weeks. The news was broken by website We Love Soaps.
It was on Friday, March 23, 2012, when executive producer Frank Valentini revealed on Twitter that there was "Exciting #GH casting news coming… stay tuned!" Soon afterward, Soap Opera Digest reported that the news would be announced as soon as Monday, March 26, 2012. Since then there had not been a word uttered from Valentini or a show spokesperson in regards to the producers tweet. Although, on Friday, April 6, 2012, Valentini did post the following on Twitter:
As for the #GH casting news, thanks for waiting… I am so excited to announce the lovely @finolahughes is now on contract!

— Frank Valentini (@valentinifrank) April 6, 2012
The industry was abuzz after learning of Hughes' status upgrade at "GH," but there were those, including myself, who didn't believe she was the casting news Valentini had been alluding to all along:
@ggmarie1234 That wasn't the news. The news still hasn't come out.

— Soaps In Depth ABC (@soapsindepthabc) April 6, 2012
Well the news is now out and Lozano begins filming this week at "GH," according to WLS. A first airdate is uknown at this time.
Due to the holiday weekend, a show spokesman was unavailable for comment.
(SoapOperaNetwork.com) – Finola Hughes, who has portrayed Anna Devane on "All My Children," "General Hospital" and its spin-off "General Hospital: Night Shift" over the course of nearly thirty years, has been bumped to contract status at "GH" according to executive producer Frank Valentini, who made the announcement via Twitter.
"I am so excited to announce the lovely @finolahughes is now on contract!" Valentini said. Hughes followed up the producers tweet shortly afterward when she said "@valentinifrank And I am so happy to be there xxxx."
Hughes returned to the ABC daytime soap in early 2012 and has appeared in numerous television programs in between her appearances as Ms. Devane including roles on such series as NBC's "Blossom," FOX' "Pacific Palisades," The WB's "Charmed," and NBC daytime's "Sunset Beach." In addition to television, Hughes has provided voice talents to the films "Pocahontas II: Journey to a New World" and "Scooby-Doo! Legend of the Phantosaur."
In 1991, Hughes appeared in a faux Daytime Emmy reel for the fictionalized soap opera "All My Trials" as part of the film "Soapdish" starring Sally Field as Celeste Talbert – a spoof character of Susan Lucci's Erica Kane from "All My Children." From 1999-2003, Hughes transplanted Anna Devane and her twin sister Alex Devane Marick to "All My Children" in one of ABC's first attempts to provide cross-over character appeal to its daytime soaps.
In 1984, the legendary star received two Razzie Awards nominations for her role in "Staying Alive, the sequel to John Travolta's "Saturday Night Fever." She won for Outstanding Lead Actress in a Drama Series at "The 18th Annual Daytime Emmy Awards" for her role on "GH."
On the heels of a cancellation announcement and a failed online venture, it was announced that successful former Executive Producer, Frank Valentini, and former Head Writer, Ron Carlivati, of "One Life to Live" were hired for the same positions at a struggling "General Hospital." Rattling many "GH" fans in recent days has been the announcement that at least several major "OLTL" stars will be showing up in Port Charles as their Llanview alter egos. Carlivati insists to insiders that "GH" fans need not worry as he has no intention of turning their soap into "OLTL." To that end, the show-runners have also announced the return of three of "GH's" most legendary performers and characters – Finola Hughes, Tristan Rogers and Emma Samms as Anna, Robert and Holly – for extended runs on the last-standing ABC daytime drama.