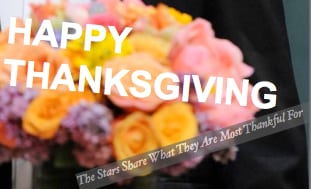 The rest of the country may have been preparing for Thanksgiving by sending out dinner invites, planning menus, buying turkeys, selecting table settings and betting on the day's big game, but Soap Opera Network has been getting ready for the celebratory day in a different way: Reaching out to several of your favorite "Days of our Lives" stars and getting the scoop on what they're most thankful for! Read on for their answers and then join in on the fun by leaving a comment below telling us what you're most grateful for this holiday season!
When Ted Corday and Betty Corday watched "Days of our Lives'" NBC debut on November 8, 1965, they couldn't have known that the soap opera they created would garner so much success. Now, 48 years later, the show not only is coming off of an Outstanding Drama Series win from the National Academy of Television Arts and Sciences, it's comprised of a talented and close-knit cast who all have very special memories regarding their time with the popular show. Soap Opera Network spoke with a few said castmembers, and in celebration of the show's 48th anniversary, they were all too happy to share some of their favorite moments from the early days and beyond!
Deidre Hall (Marlena Evans)
"Oh my god, Wayne Northrop [ex- Alex North, Roman Brady] and I [used to pull pranks on each other all of the time]. It was merciless! Merciless! Nothing was sacred. At one point, he was sleeping in my foster child's bed, so before my take, I said to my prop man, 'Give me a bucket of warm water.' And before he had to jump into bed, I poured it all over like the kid who wet the bed. He jumped into bed, and I had finished my part of the scene, and I began to run. He didn't even finish the take! He hit that bed, came off that bed and came after me. The race was on, and I got thrown in the shower! I mean, it was crazy, crazy, crazy. But it's a show filled with moments, and that's what you remember with daytime. It's been really wonderful, being a part of so many magical moments."
During a recent "Days of our Lives" fan event, actor Drake Hogestyn (John Black) told Soap Opera Network that he'd signed a new contract with the sudser, but that's not all the actor revealed! He's got a pretty good idea of upcoming story for his alter ego, and he assured us that loyal viewers just might get exactly what they wish for when it comes to the popular pairing of John and Marlena (Deidre Hall).
First thing's first: Hogestyn admits that it's sometimes tough to justify the actions his character takes — like John's choice to break apart Brady (Eric Martsolf) and Kristen (Eileen Davidson) by convincing people that Kristen wanted him for herself — but he says his job isn't to justify them at all. "You are called talent, and you don't write the show. Your responsibility is to pick up a script and to the best of your ability, you bring [the writers'] vision onto the screen, regardless of what your interpretation is," he explains. "You can't change plot logic or character shading. Even if you develop a character for 25, 28 years, your job as talent is to look at the story and take that story and move it forward in the vision of the writers. And that is the respect that every actor has to have. Once you start blurring that line or changing plot logic, character shading, it just muddies the water and nobody wins."
Longtime viewers of "Days of our Lives" have seen Brady Black (Eric Martsolf) live up to his last name on more than one occasion. The recovering addict has experienced a lot of misery in his life — both of others' doing, as well as his own — which has led him down some pretty dark paths in recent years. But when Soap Opera Network caught up with Martsolf to discuss his alter ego's weeks ahead, the Pennsylvania native revealed that Kristen's betrayal has sent Brady reeling — and this time, the CEO's dark descent into addiction, depression and self-destruction might take him so far down, he won't be able to get back up!
Eric Martsolf (Brady Black, "Days of our Lives") is scheduled to take part in the 33rd annual "WPXI Presents: My Macy's Holiday Parade" (previously "Celebrate the Season Parade"), the NBC affiliate announced last week.
Scheduled to take place on Saturday, November 30 from 9:00 to 11:00 AM, the annual parade will kick off the holiday season in Pittsburgh, Pennsylvania beginning at the Liberty Technology Center, 2200 Liberty Ave., Strip, and proceeding to Grant Street, right onto Fifth Avenue, left onto Liberty Avenue, and then left onto Stanwix Street.
For more information, click here.


Get ready to scream in fright (or perhaps delight), because Soap Opera Network managed to get our hands on some deliciously devilish Halloween pictures from a few of your favorite "Days of Our Lives" and "The Young and the Restless" stars! From a pretty princess to a sinister slicer, these actors really know how to dress the part! But do you dare read on to find out witch was witch? If so, be warned: It's hair-raising, spirit-satisfying fun!
On Thursday, October 17, several LGBT (Lesbian, Gay, Bisexual, Transgender) organizations and individuals celebrated Spirit Day, which asks people to take a stand against bullying and show support for LGBT youth by wearing the color purple. NBC's "Days of our Lives" took a stand and showed its support as cast members donned purple shirts, jackets and even ties.
Those taking part included James Reynolds, Kate Mansi, Casey Moss, Lauren Koslow, Eric Martsolf, Chrishell Stause, Deidre Hall, Meredith Scott Lynn, Galen Gering, Greg Vaughan, Arianne Zucker, Kristian Alfonoso, Camila Banus, Freddie Smith and "DAYS" newcomer, Guy Wilson.
For more on Spirit Day and on how you can take a stand to support LGBT youth, visit glaad.org.
When "Days of our Lives" executive producer, Ken Corday, let the cat out of the bag via Soap Opera Digest that Eileen Davidson would be departing the daytime drama series in the coming months, the actress was forced to speak out on Twitter, then Facebook and now TV Guide to clear up any doubts about her future as Kristen DiMera on "DAYS" and the possibility of a return to "The Young and the Restless."
"Days of our Lives" stars Eric Martsolf, Jen Lilley, Kate Mansi, Greg Vaughan, Shawn Christian and Arianne Zucker attended the grand opening celebration of Le Jolie Medi Spa in Studio City, CA on Thursday, July 18.
Get ready to party, because this year's Rick Springfield and Friends Cruise, hosted by the rocker (Dr. Noah Drake, "General Hospital") himself, has added two special guests to the event: recent Emmy winner, Doug Davidson (Paul Williams, "The Young and the Restless"), and "Days of our Lives'" Eric Martsolf (Brady Black).