"All My Children" makes its online debut this spring, and Prospect Park is pulling out all the stops to make sure it's a success. Several actors have already tweeted that the new writing for the show is outstanding, and fans were happy to hear that some of their favorites — Eden Riegel (Bianca Montgomery), Alicia Minshew (Kendall Hart Slater) and Cady McClain (Dixie Cooney) — were headed back to the show. But could Josh Duhamel (Leo DuPres) be another familiar face headed back to Pine Valley this spring?
Viewers keeping up with the latest "All My Children" comings and goings news know that Daytime Emmy Award nominated actress Alicia Minshew has been in discussions to return to the internet revival of the soap opera, which she starred on from 2002 to 2011. TVLine broke the news on Thursday afternoon that the return of the eldest child of Erica Kane (Susan Lucci), Kendall Hart, as portrayed by Minshew is now a done deal. Minshew will make her return sooner than expected; she tapes scenes opposite Eden Riegel, who plays Kendall's little sister Bianca Montgomery, later today as "AMC" wraps up its first round of taping. Seconds before TVLine put up the news bulletin, Minshew took to Twitter to exclaim to fans her impending plans: "Guess who is popping into Pine Valley for the day?…um me! Excited to see the gang tomorrow! Gonna wear Kendall's sassy shoes!!"
Prospect Park has asked "All My Children" cast members to keep a lid on details regarding the new Pine Valley — but did you really think they'd be able to keep quiet about everything for long? Heck no! There's plenty of behind-the-scenes buzz flying around Facebook and Twitter, and from what we can tell, "AMC 2.0″ is going to rock your world!
UPDATE: EXCLUSIVE! Jordan Lane Price NOT Miranda Montgomery; Soap Casts Denyse Tontz in Role
PREVIOUS: With news that Eden Riegel would be reprising her role of Bianca Montgomery on TOLN's "All My Children," for what Deadline calls a "cameo guest arc," the actress has taken to Twitter to thank fans for their kind words and to welcome her "daughter" to the show.
"Thank you all for the outpouring of support today. I am thrilled to be returning as Bianca!" said Riegel. She later added, "So I guess I better follow my… ahem… daughter: @JordanLanePrice Gabby, you're still to young for twitter. I hope."
Deadline is reporting that Eden Riegel is returning to TOLN's "All My Children" to once again portray Bianca Montgomery for a cameo guest arc. Riegel last appeared on "AMC" in January 2010. The role was later played by actress Christina Bennett Lind, who is currently appearing in John W. Engeman Theater Production of "Wait Until Dark."
As previously reported, Jordan Lane Price has been cast in the contract role of Miranda Montgomery, Bianca's now high school aged daughter.
Kamar de los Reyes left ABC's "One Life to Live" in 2009 after portraying the uber popular role of Antonio Vega off and on for nearly 14 years. When he joined the soap in 1995, the character was introduced as a former gang member recently released from prison after serving time for killing a man. As the eldest son of Carlotta Vega, Antonio was able to prove the crime was in fact an act of self defense with help from Nora Buchanan. In "Call of Duty: Black Ops II," which was released in November 2012, de los Reyes portrays Raul Menendez the terrorist behind a new world at war that is set in the year 2025. The game, also starring some of Hollywood's biggest stars including Sam Worthington, Michelle Rodriguez and Michael Keaton with appearances by former soap stars Eden Riegel ("All My Children") and Brianna Brown ("General Hospital"), grossed over $500 million on its first day of release. The team at Treyarch Invention made the game so real-life like that de los Reyes is now immortalized as a very recognizable video game character, despite the evil things the character induces.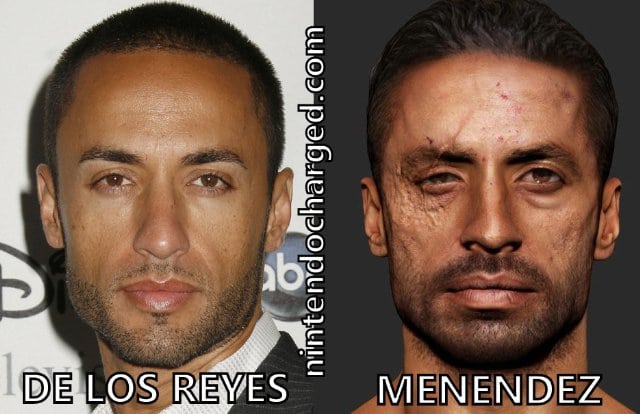 (SoapOperaNetwork.com) — It was recently announced that Darnell Williams would be joining the cast of "The Young and the Restless" in 2012. The two-time Daytime Emmy Award winner becomes the forth "All My Children" actor to land on the high rated CBS daytime dramas since the 41-year old ABC soap went off the air in September 2011. He joins Jacob Young who returned to "The Bold and the Beautiful" last September, and past and future co-stars Debbi Morgan and Melissa Claire Egan.  
Williams long-time co-star, Morgan, currently plays Harmony on "Y&R," the long-time absent mother of Devon (Bryton McClure) on the CBS soap. Paired with Morgan, Williams contributed to forming daytime's first super couple of color on "AMC." Jesse and Angie Hubbard remain, arguably, the most enduring and famous couple of color created on daytime television. This marks the forth soap that Williams and Morgan have appeared on together, ultimately paired with each other each time. Along with the aforementioned soaps, the actors have appeared on "Loving" and 'The City" at the same time. Williams started his daytime career on "AMC" in 1981.
In recent years the number one soap in the nation has taken to hiring – and then in several cases firing – former "AMC" actors at a very high rate. Since 2005, "Y&R" has hired Amelia Heinle (Victoria; ex-Mia, "AMC"), Vincent Irizarry (ex-David, "AMC" and "Y&R"), Elizabeth Hendrickson (Chloe; ex-Maggie, "AMC"), Stacy Haiduk (Patty; ex-Hannah, "AMC"), Eden Riegel (ex-Heather, "Y&R"; ex-Bianca, "AMC"), Billy Miller (Billy; ex-Richie, "AMC"), Jeff Branson (Ronan; ex-Jonathan, "AMC"), Egan (Chelsea ;ex-Annie, "AMC"), Morgan and Williams fresh off their Pine Valley runs.  Fittingly, "Y&R" jumped at the chance to hire "AMC's" long-time casting director, Judy Blye Wilson, this past fall.
There are currently no details available on whom Williams will be playing on "Y&R" or when he will debut in his new role. Stay tuned.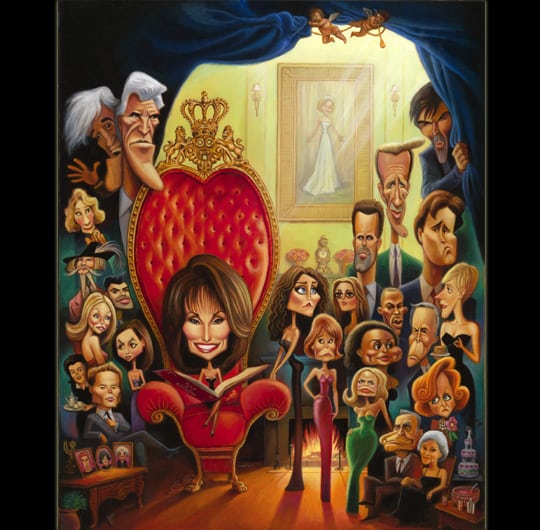 Photo: David O'Keefe Studios
(SoapOperaNetwork.com) — "All My Children" ended its television run on Friday, September 23, 2011, but pop-culture artist David O'Keefe has captured the essence of what made the soap opera special to millions of viewers for more than 41-years courtesy of his new painting "A Tribute to 'All My Children' – Pine Valley," which took two months from concept to fruition.
"'All My Children' has been a part of my family's life for so many years, I feel a real connection to all these people. I want to capture those precious memories by creating this tribute piece to honor the impact the show has had on our culture," said O'Keefe of the painting.
"This is a very historical and personal piece for David," said Wayne Curtiss, Managing Director of O'Keefe Studios. "We look forward to viewer feedback on the painting."
"David is one of the best kept secrets in the art world," said Craig A. Fleming CEO/President of Tired Walls Inc., based in Orlando Florida. "His transformative style not only brings new life to the images he paints but also reminds you of the pure genius in his work."
Ranging in price from $30 (plus $15 shipping) to $599 ($38 for shipping), "A Tribute to 'All My Children' – Pine Valley" details 41 elements for each of the soaps 41-years on television. Of course highlighted in the center of the painting is series star Susan Lucci, who portrayed icon Erica Kane for all 41-years of the ABC soap opera. Soap Opera Network has your exclusive breakdown of who's in it and what each point means.
41 ELEMENTS FOR 41 YEARS
1 Erica Kane
2 Agnes Nixon – the show's creator
3 Adam Chandler
4 Stuart Chandler
5 Marian Colby Chandler
6 Billy Clyde Tuggle
7 Mateo Santos
8 Hayley Chandler Santos
9 Bianca Montgomery
10 Naomi the maid (cameo by Rosie O'Donnell)
11 JR Chandler (reaching for the bottle)
12 Susan Lucci's illusive Daytime Emmy
13 Myrtle Fargate
14 Phoebe Tyler Wallingford
15 Mona Kane
16 gun (murders and shootings)
17 rope – symbolizing kidnapping
18 knife (stabbings)
19 AMC Photo Album
20 Kendall Hart
21 Brooke English
22 Liza Colby
23 Dr. Joe Martin
24 Ruth Martin
25 punch bowl and flask
26 wedding cake
27 Opal Gardner Cortlandt
28 Angie Baxter Hubbard
29 Greenlee Smythe
30 Jessie Hubbard
31 Palmer Cortland
32 poison pancakes that did Dixie in
33 Dixie Cooney Cortlandt Martin
34 1:00pm – Make sure the VCR is set
35 Ryan Lavery
36 Tad Martin
37Jack Montgomery
38 Dr. David Hayward
39 Cherubs- a staple of O'Keefe's paintings (inspired by Peter Paul Rubens)
40 "Janice" -O'Keefe has been hiding his wife's name in his works for 27 years. She also happens to be a longtime fan of AMC.
41 Queen's Throne – for Susan Lucci as Queen of the daytime soaps
Facts: Bianca Montgomery as portrayed in element #9 is Eden Riegel's version of the character. More element facts to come.
To purchase your very own copy of the painting, head on over to O'Keefe's website. If you have any questions or concerns about your order, you can call (813) 254-5056 Monday through Friday.
David O'Keffe Retrospect and Inspiration
David O'Keefe discusses his Tribute to Pine Valley and what it means to him.
A Tribute to Pine Valley: A Step by Step Detailing
David O'Keefe's creation, A Tribute to Pine Valley. This video not only takes you through David's inspiration, but also lets see the behind the scenes looks at the creation of this masterpiece. A must see for any fan of All My Children.
About David O'Keefe and David O'Keefe Studios
David O'Keefe was raised on Hollywood, sports and rock and roll music. David has an acute awareness for the images and personalities that have colored the lives of his generation. He just sees things differently – more intensely, edgier, somewhat more perspicuous than the average spectator. The pop culture icons that we idolize, glamorize and glorify, O'Keefe visualizes for us in all their humanness as well as their stardom.
His sardonic caricatures and humorous illustrations have appeared on the covers of Sports Illustrated, Sports Illustrated for Kids, Mad Magazine, The Village Voice and within the pages of TIME. His advertising clients include Coca-Cola, Waffle House, Fuji and SunCom Communications.
O'Keefe has won numerous awards from such organizations as The Society of Illustrators (NY and LA), American Illustration, Communication Arts, National Headliner Awards, Dimensional Illustrators and the Society of News Design.
Recent image releases include tribute to: Godfather I & II, Caddyshack, Animal House, Seinfeld, I Love Lucy and the Beatles.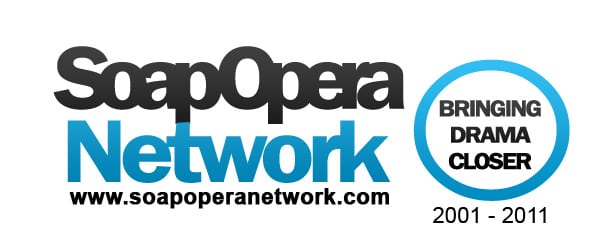 (SoapOperaNetwork.com) — October 8, 2011 marks the tenth anniversary of Soap Opera Network, an online magazine celebrating the world of soaps past, present and future.
Soap Opera Network began as an online message board on the then popular ezBoard (now called Yuki) platform by two individuals that wanted to start a more industry based discussion forum for fans of the soap opera genre with the idea that not only could one discuss the comings, the goings or the general news of the day, but have the opportunity to learn more about the names, the faces and the minds of the people that help make daily dramatic serials happen year in and year out. At launch, soap operas "All My Children, "As The World Turns," "The Bold and the Beautiful," "Days of our Lives," "General Hospital," "Guiding Light," "One Life to Live," "Passions," "Port Charles," and "The Young and the Restless" were on the schedules of television networks ABC, CBS and NBC.
In November 2002, Soap Opera Network left ezBoard and became its own .com service.
Thanks to elaborate databases such as a ratings archive (how soaps rated over the years), episode count archive (who appeared in episodes of a soap opera each and every month and year), its end credit archive (who wrote, directed or produced each episode), including a listing of episode writers and directors along with profile pieces on more than 80% of the writers, producers and directors, Soap Opera Network has cornered the market on information surrounding the inner workings of the soap opera format.
Over the course of its ten years, Soap Opera Network has interviewed a number of daytime's biggest stars and behind the scenes personnel including Susan Lucci, Erika Slezak, Melody Thomas Scott, Maurice Benard, Steve Burton, Sarah Brown, Hillary B. Smith, Robert S. Woods, Ilene Kristen, Ken Corday, Cameron Mathison, Cady McClain, Eden Riegel, Judith Light, Bradley P. Bell, Brian Frons, Maria Arena Bell, Sherri Shepherd, Daniel Goddard, Greg Meng, Marlene McPherson, Darrell Ray Thomas, Nancy Curlee, Melissa Archer, Kristen Alderson, Julie Pinson, Ron Carlivati, Frank Valentini, Linda Dano and many more.
Current Soap Opera Network staff is as follows:
Xavier Toups, Co-Founder
Errol Lewis, Editor in Chief; General Hospital Editor; Days of our Lives Editor
Angela Rosa, Managing Editor; All My Children Editor
Scotty Gore, Managing Editor; One Life to Live Editor
Venus Stone-Cutter, The Young and the Restless Editor
Gehrig Burnett Jr., The Bold and the Beautiful Editor
(SoapOperaNetwork.com) — Early this afternoon, Entertainment Weekly broke the news that daytime's number one drama, "The Young and the Restless," has put another former "All My Children" star on contract to join Genoa City's ranks. This happens just several weeks after wooing the ABC Daytime drama's acclaimed and long-time casting director, Judy Blye Wilson. The CBS drama and Wilson have snatched up one of Wilson's most popular Pine Valley finds, Melissa Claire Egan. Beginning on November 11, Egan will debut in the contract role of mystery woman Chelsea.
Egan debuted in the role of Annie McDermott on "AMC" in July 2006. This 30-year old actress would earn a Daytime Emmy nomination for Supporting Actress in 2009 as Annie turned from an all around good girl to Pine Valley's most psychotic femme fatale. The character was responsible for killing her brother, Richie (Billy Miller), her future lover's aunt, Di Henry (initially played by Kelly Giddish), and the attempted murders of Erica Kane (Susan Lucci) and Greenlee Smyth (Rebecca Budig). At the end of her initial four-year contract in 2010, the actress agreed to a 6-month extension at "AMC's" request and stopped airing regularly on the soap by February 2011. Egan returned for a short stint during the summer to help say goodbye to the network run of the soap that gave her her big break.
Before hiring Wilson and Egan, "Y&R" had already built up a long history of picking up former "AMC" actors fresh off their Pine Valley stints including Peter Bergman (Jack), Stacy Haiduk (ex-Patty), Amelia Heinle (Victoria) and Debbi Morgan who debuted as Devon's (Bryton McClure) biological mother, Harmony, earlier today. The cast currently boasts three Blye finds including Miller (Billy), Jeff Branson (Ronan) and the recently fired Eden Riegel (Heather).
Look for Chelsea to play into Billy's storyline reuniting former co-stars and good pals Egan and Miller.