Topic:
Dancing with the Stars
Fans of "All My Children's" Aiden Turner (ex-Aidan Devane) would agree that he was pretty perfect onscreen, but his off screen perfection has now been shattered. According to TMZ, the Hertfordshire-born actor was arrested for felony domestic violence after he allegedly threw a remote control at his girlfriend's face!
Reports say that the former "Dancing With the Stars" contestant got into a fight with his gal at their Hollywood apartment — and the tiff ended with him throwing the remote and her suffering a black eye due to the violent shenanigans.
A law enforcement official told TMZ that because the injury was rather mild, Turner will most likely avoid felony charges and instead will face a misdemeanor charge.
Yikes!
On Thursday, November 28 from 7:00 PM ET/PT through 1:00 AM ET/PT, SOAPnet will present a six hour "General Hospital" Nurses Ball marathon comprising all six episodes dedicated to the 50th anniversary of the ABC Daytime drama series, which aired earlier this year on both ABC and SOAPnet. The episodes include the return of Ingo Rademacher as Jasper "Jax" Jacks, Vanessa Marcil as Brenda Barrett, Richard Simmons as a caricature of himself, Rick Springfield's Noah Drake singing "Jessie's Girl," Magic Milo (Drew Cheetwood) and the gang, which includes "Dancing with the Stars'" Maksim Chmerkovskiy, doing a strip tease. Sabrina Santago (Teresa Castillo) and Patrick Drake (Jason Thompson) closed out the ball as they sang "You're Not Alone" to Emma Scorpio-Drake (Brooklyn Rae Silzer) as Port Charles' finest gathered around the stage.
Get ready to hit the dance floor — or rather the dance path — with "The Young and the Restless'" Melissa Ordway (Abby Newman),Angell Conwell (Leslie Michaelson), Max Ehrich (Fenmore Baldwin), Hunter King (Summer Newman) and Ignacio Serricchio (Alex Chavez), because all five have signed up to participate in the 1st annual The Beat MS Dance Walk, honoring director/producer/choreographer Adam Shankman.
With a resume that includes "High School Musical" and several other dancing performances, it's no secret that "One Life to Live's" Corbin Bleu (Jeffrey King) knows how to get down and boogie. But the actor went the extra mile on last night's episode of "Dancing with the Stars," performing a contemporary number with partner Karina Smirnoff that impressed America — and the judges!
The anticipation leading up to the announcement of the 65th Primetime Emmy awards has been building for weeks, and "Breaking Bad's" Aaron Paul and "How I Met Your Mother's" three-time Emmy winner Neil Patrick Harris (who's also hosting the ceremony this year) finally made the official list public this morning.
Watch the video below, or read on for the full list from Soap Opera Network detailing who's in the running for the coveted golden statues!
As if things weren't crazy enough on "Baby Daddy," an ABC Family sitcom about a guy who becomes a surprise dad when his ex-girlfriend leaves a baby on his doorstep, Matt Dallas ("Kyle XY") is dropping in again to up the ante!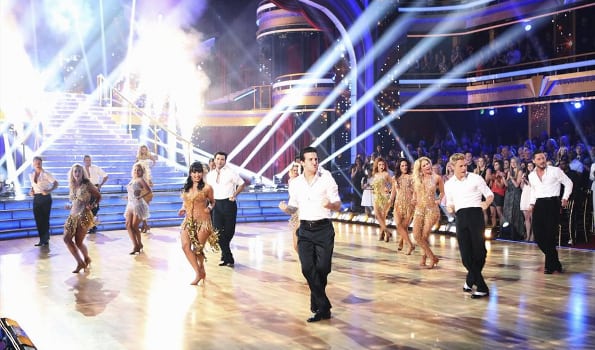 When ABC unveiled its new fall lineup this week, one thing fans couldn't help but notice was a drastic cut to "Dancing With the Stars," which will only be airing one night a week — on Mondays — come fall. The network has decided to build the results show into the new two-hour once-a-week format, and ABC Entertainment Group President Paul Lee has spilled the details on why that decision was made, as well as teased some other major changes in store for the popular reality series.
"General Hospital's" Ingo Rademacher (ex-Jasper 'Jax' Jacks) shook it like nobody's business as a contestant on ABC's popular reality series, "Dancing With the Stars," but unfortunately, he and professional partner Kym Johnson were eliminated from the competition last night during the semi-final round, meaning the actor is hanging up his dancing shoes — at least for now.
ABC has announced its new fall primetime schedule which includes the trimming of "Dancing with the Stars" from two nights to just one (now only on Mondays) with "Castle" remaining in its slot for the fifth year running. Tuesday nights finds the introduction of "Marvel's Agents of S.H.I.E.L.D," a spin-off series from the "Avengers" film franchise, followed by new comedies "The Goldbergs" and "Trophy Wife." New drama "Lucky 7″ replaces "Body of Proof," which was canceled.
On the Thursday, April 4 edition of "Dr. Phil," former "All My Children" star J.R. Martinez (Brot Monroe) opens up about the day that changed his life forever – the day the Iraq war hero-turned actor and "Dancing with the Stars" champion suffered smoke inhalation and severe burns to 34 percent of his body after a roadside bomb hit the front tire of his Humvee in the city of Karbala.
In addition to discussion on Iraq, look for Martinez's message for Jasmine, a victim shot in the leg in the Aurora, Colorado movie theater tragedy last summer.