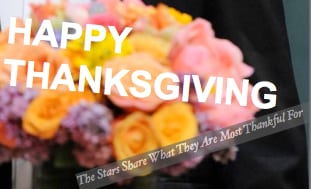 The rest of the country may have been preparing for Thanksgiving by sending out dinner invites, planning menus, buying turkeys, selecting table settings and betting on the day's big game, but Soap Opera Network has been getting ready for the celebratory day in a different way: Reaching out to several of your favorite "Days of our Lives" stars and getting the scoop on what they're most thankful for! Read on for their answers and then join in on the fun by leaving a comment below telling us what you're most grateful for this holiday season!
When Ted Corday and Betty Corday watched "Days of our Lives'" NBC debut on November 8, 1965, they couldn't have known that the soap opera they created would garner so much success. Now, 48 years later, the show not only is coming off of an Outstanding Drama Series win from the National Academy of Television Arts and Sciences, it's comprised of a talented and close-knit cast who all have very special memories regarding their time with the popular show. Soap Opera Network spoke with a few said castmembers, and in celebration of the show's 48th anniversary, they were all too happy to share some of their favorite moments from the early days and beyond!
Deidre Hall (Marlena Evans)
"Oh my god, Wayne Northrop [ex- Alex North, Roman Brady] and I [used to pull pranks on each other all of the time]. It was merciless! Merciless! Nothing was sacred. At one point, he was sleeping in my foster child's bed, so before my take, I said to my prop man, 'Give me a bucket of warm water.' And before he had to jump into bed, I poured it all over like the kid who wet the bed. He jumped into bed, and I had finished my part of the scene, and I began to run. He didn't even finish the take! He hit that bed, came off that bed and came after me. The race was on, and I got thrown in the shower! I mean, it was crazy, crazy, crazy. But it's a show filled with moments, and that's what you remember with daytime. It's been really wonderful, being a part of so many magical moments."
The peer votes have been cast, and the National Academy of Television Arts and Sciences has announced the Drama Performer Pre-Nominations for the 40th Annual Daytime Entertainment Emmy Awards! Five categories have been announced, including Lead Actress and Lead Actor, Supporting Actress and Supporting Actor, as well as Younger Actress and Younger Actor. Without further adieu, here are the pre-nominees:
Outstanding Lead Actress In A Drama Series
Sharon Case as Sharon on "The Young and the Restless"
Jeanne Cooper as Katherine on "Y&R"
Susan Flannery as Stephanie on "The Bold and the Beautiful"
Finola Hughes as Anna Devane on "General Hospital"
Peggy McCay as Caroline on "Days of our Lives"
Kelly Monaco as Sam on "GH"
Melody Thomas Scott as Nikki on "Y&R"
Michelle Stafford as Phyllis on "Y&R"
Kelly Sullivan as Kate on "GH"
Heather Tom as Katie on "B&B"
Laura Wright as Carly on "GH"
(SoapOperaNetwork.com) — When rumors began swirling back in June over the possible returns of Deidre Hall, Drake Hogestyn, Christie Clark and even Patrick Muldoon to NBC's "Days of our Lives," there was one other name on the list that unfortunately didn't make it from rumorville to the confirmation stage weeks later. That name was Bryan Dattilo.
Two months after the rumors first surfaced, fans have taken to Twitter to question "DAYS" cast members, writers and even soap opera publications, including Soap Opera Network, about their favorite actor and whether or not there are plans to return Dattilo's character, Lucas Horton, to Salem now that some of Salem's other popular characters and actors have returned.
A "DAYS" representative has finally set the record straight by stating that although the show is aware of fan interest in the actor and character and that "everyone wants him back", there are "as of now no plans" to return the character or actor to the canvas.
After weeks of reported firings, hirings and rumors, NBC's "Days of our Lives" is breaking its silence. In a press release issued to Soap Opera Network, the program has outlined a series of changes that will be reflected on screen beginning in September that includes highlighting romance and the faces of beloved characters once more. Behind the scenes changes include the hiring of "Passions" scribes Marlene McPherson and Darrell Ray Thomas and naming Noel Maxam and Greg Meng as Co-Executive Producers. The duo replace Gary Tomlin, who was fired last week. The behind the scenes changes are effective immediately.
"It's time to make a more positive, romantic, and intriguing show driven by the power of heroic love. I'm very excited about the new adventure we are about to take which is based on the show that my parents created 45 years ago," said Ken Corday, Executive Producer and owner of the daytime drama series.
"'Days of our Lives'" initiated a strong direction of change by appointing a new head writing team consisting of Marlene McPherson and Darrell Ray Thomas. The successful writing duo plan to change the direction of the show as they tell contemporary stories based on the solid foundation of the 'DAYS' history of family, romance, and intrigue," the press release stated. According to McPherson and Thomas, "New fans will find many reasons to stay, and longtime fans will find many reasons to return."
The big changes taking place this fall begins with a grand event, which was expected as McPherson recently tweeted "The excitement is building! Huge party with many surprises the week of 9/26! You are all invited! We promise you won't be disappointed!"
"The new writing team has already generated much excitement with the compelling stories they have written, and we plan to translate those stories to the screen with a refreshed look," said Meng, who for over ten years has served as Executive in Charge of Production for the drama series. Before joining "DAYS," Maxam for his part had a long and successful run at CBS' "The Young and the Restless." He began his daytime career with the drama series in 1997 as an Associate Director. He served in this position until 2002, but directed a number of episodes since 1999 until his departure in September 2007 to join "DAYS." He was named Supervising Producer in late 2008. Both "Y&R" and "DAYS" are co-produced by Sony Pictures Television.
"I am confident these changes will bring back excitement and anticipation to our family of fans as they tune in each day to see what happens," Corday promised. "You won't want to miss a single episode of the new 'DAYS' ahead!
As previously reported, actors Crystal Chappell (Carly Manning), Louise Sorel (Vivian Alamain), Bren Foster (Quinn Hudson), Nadia Bjorlin (Chloe Lane), Tamara Braun (Taylor Walker), and Francisco San Martin (Dario Hernandez), head writer Dena Higley and co-executive producer Gary Tomlin are OUT!  It has been reported that Deidre Hall (Marlena Evans), Drake Hogestyn (John Black) and Matthew Ashford (Jack Deveraux) are IN! Rumored to be joining them in the coming months are Mark Hapka (Nathan Horton), Bryan Datillo (Lucas Horton), Christie Clark (Carrie Brady Reed) and Patrick Muldoon (Austin Reed). Reps for Datillo and Muldoon issued a "no comment."
It has been three weeks since Ken Corday, Executive Producer and owner of NBC's "Days of our Lives," made his first move to save the soap from near oblivion with the firing of Head Writer Dena Higley and replacing her with former "Passions" scribes Marlene McPherson and Darrell Ray Thomas. In the weeks that followed, soap stars Crystal Chappell (Carly Manning), Louise Sorel (Vivian Alamain), Bren Foster (Quinn Hudson), Nadia Bjorlin (Chloe Lane), Tamara Braun (Taylor Walker), and Francisco San Martin (Dario Hernandez) were all out of jobs. If those changes weren't enough to signal a revolution heading toward Salem, it was definitely made clear with the firing of Co-Executive Producer Gary Tomlin along with the expected returns of Deidre Hall (Marlena Evans), Drake Hogestyn (John Black), and Matthew Ashford (Jack Deveraux) and the rumored returns of several former cast members including Mark Hapka (Nathan Horton) and Bryan Dattilo (Lucas Horton).
Since receiving word from Jeff Gaspin, the now former Chairman of NBC Universal Television Entertainment (now NBCUniversal Media), late last year that the network had decided it would renew "Days of our Lives" for two additional years, on top of its previous contract that was set to expire in September 2011, the daytime drama series has been trending downward in the Nielsen ratings. This is in direct contrast to the upward trend the soap had received prior to its renewal. In our interview with Corday back in May of 2010, he laughed when he said that "the show grew 10% in ratings from the previous year, which NBC can't say about any of their other shows between 2008 and 2009." Unfortunately, between 2010 and 2011, the drama series is experiencing a downward spiral and it's no laughing matter.
In the latest ratings released covering the week of May 30, 2011 through June 3, 2011, it was revealed that "DAYS" is down a whopping 17% in Women 18-49 and another 15% in Households season to date (September 20, 2010 through June 3, 2011). Only ABC's canceled "All My Children" had a bigger loss in Women 18-49 (down 22% season to date) with a much smaller loss in Households (down just 5%). So what can "DAYS" do to turn things around before seasons end? Not much of anything.
Unlike in primetime where scripted television airs mostly in originals from September through May, daytime scripted television airs in originals from September to September, therefore "season to date" would cover from September 20, 2010 through September 16, 2011. Why is this piece of information so important? "Days of our Lives," now celebrating its 45th anniversary year on television, is currently filming at such a rapid speed that there is literally no way that Higley's material will stop airing before the official close of this season, or is there?
Days after news broke that Higley was fired, it was announced via Twitter by Judie Henninger, an NBC employee who handles the networks promos for "DAYS," that 17 episodes scheduled to tape before Higley's ouster were being rewritten by the shows new writing team. While the tweets have since been deleted, Corday confirmed that Co-Head Writers McPherson and Ray Thomas were rewriting a number of episodes. "We didn't have to reshoot anything, but we had to rewrite three weeks of shows yet to air and chart a new course," said Corday in the June 14 issue of Soap Opera Digest when asked if any storylines were being changed. Interestingly enough, in the same response he confirmed that Chandler Massey's Will Horton would indeed be portraying the rumored gay character on "DAYS" despite the show itself still not confirming the news to the press directly. "We are telling a story dealing with the first gay character on the show and that had to have another look and the take on that had to be changed. It will be written much more slowly and carefully. It's a story about one of our characters coming to grips with who he is," Corday stated.
For her part, McPherson has joined Twitter to bring a voice from the new writing team straight to disgruntled fans who were thrilled to learn that changes were finally happening at their favorite daytime soap. In her first tweet on Saturday, June 4, McPherson said "Writing the first week of "our" shows! So exciting! Don't miss 9/23!" This was our first indication as to when we could expect the teams material to begin airing, although it doesn't make it clear if said material was part of the rewritten scripts or if they would be credited for a time prior to this episode as co-heads with Higley (when material is re-written…it remains based on the outline of the original writer leaving credit with said original writer and those that made any changes). While minor details still need to be sorted out, fans should at least expect a big party to kick off a new era for "DAYS." On Saturday, June 11, McPherson tweeted "The excitement is building! Huge party with many surprises the week of 9/26! You are all invited! We promise you won't be disappointed!" What are those surprises? You'll have to tune in to find out of course. Until then, Soap Opera Network has learned exclusively that "Days of our Lives" will outline numerous changes in a press release going out tomorrow that includes the announcement of its new co-executive producer (rumored to be Noel Maxam), the ouster of Gary Tomlin, and the likely announcements of who is returning to the drama series beginning this fall.
Are you ready for better "DAYS?" We sure are!
"Days of our Lives" is a production of Corday Productions Inc., in association with Sony Pictures Television.
(SoapOperaNetwork.com) — Get ready "Days of our Lives" fans, the NBC soap opera is gearing up for the networks coverage of the 2008 Summer Olympic Games and they don't want you to miss out on all the action, intrigue and romance that daytime's sexiest soap has to offer.
Beginning the week of August 11, "DAYS" will change gears and center itself on two simultaneous storylines for two weeks that are expected to be shear fun for the everyday soap fan.
"There will be a very exciting film noir piece. It's Nicole's drunken fantasy, and the hospital stuff will be enticing as well," says a "Days of our Lives" spokeswoman.
From what we know, after witnessing a shocking event in the hospital, a drunken Nicole (Arianne Zucker) goes into a fantasy world where the people in her life are transformed into 1940′s characters. Included in this storyline are Alison Sweeney (Sami), Bryan Dattilo (Lucas), James Scott (EJ), Nadia Bjorlin (Chloe), Jay Kenneth Johnson (Philip) and Kristen Renton (Morgan). Soap Opera Network has also learned that Dattilo's role will be as Lucas Horton, Private Investigator.
In addition to Zucker, the hospital storyline which kicks everything off includes the likes of Mary Beth Evans (Kayla), Stephen Nichols (Patch), Drake Hogestyn (John), Deidre Hall (Marlena), Joseph Mascolo (Stefano), Thaao Penghlis (Tony), and Leann Hunley (Anna).
According to Soap Opera Digest, after all the fun is over "Days of our Lives" will kick off a set of new and bigger ongoing storylines as the soap gets ready for the fall season.
In case anyone misses out on the fun and the excitement, NBC.com will feature daily episode recaps on its website.