(SoapOperaNetwork.com) — Televisions most watched daily serialized drama series, CBS' "The Bold and the Beautiful," will be heading back to Italy next month to film eight to ten future episodes over the course of five days in the southern Italian region of Puglia as well as in and around the Masseria San Domenico and Borgo Egnazia resorts. This marks the soaps fourth trip to Italy after Lake Como in 1997, Venice in 1999 and Portofino in 2002.
"I am excited to feature another gorgeous Italian region on 'The Bold and the Beautiful,'" said Bradley P. Bell, Executive Producer and Head Writer in a statement. "Brooke, Ridge and our other characters will find out that even in the remote location of Puglia, you can't run away from the drama."
Shooting is scheduled to begin on Monday, May 7 and end on Friday, May 11, 2012 with an airdate set for around late spring on the CBS Television Network. International audiences, particularly in Italy, will not be able to see the episodes until a year later (Spring 2013) due to the international distribution setup between foreign networks and Bell-Phillip Television Productions, owner of "The Bold and the Beautiful."
According to Bell, at least five cast members will be heading to Puglia including Ronn Moss (who portrays Ridge Forrester) and Katherine Kelly Lang (who portrays Brooke Logan). The remaining cast members set to join the two will be announced at a later date.
"The Bold and the Beautiful" is one of four daytime soaps still airing on the big three networks and the only one to routinely use the great outdoors to enhance its storytelling. In addition to recent remotes in Sydney, Australia (2007), Aspen, Colorado (2011-12) and Cabo San Lucas, Mexico (2011), the drama series uses its Los Angeles roots as a backdrop, including an upcoming remote at the Bell Family estate that finds the younger generation partying around the pool area. The scenes filmed will air as a compilation of episodes with an airdate set for early April.
(SoapOperaNetwork.com) — On Monday, March 19, "The Talk" will celebrate 25 years of CBS' "The Bold and the Beautiful," with a special commemorative show featuring much of the current cast including John McCook, Texas Battle, Jacob Young, Katherine Kelly Lang, Kimberly Matula and Heather Tom.
"The 'B&B 'cast will join 'The Talk' co-hosts in studio to discuss the legacy of the show and how it has touched and entertained viewers for the last 25 years. They'll also look back on 'The Bold and the Beautiful's' most memorable show moments, both on-camera and behind the scenes," the network said in a press release.
"The Talk," hosted by personalities Julie Chen, Sara Gilbert, Sharon Osbourne, Sheryl Underwood and Aisha Tyler airs Weekdays at 2:00 PM ET/1:00 PM PT/CT and "The Bold and the Beautiful" airs weekdays at 1:30 PM ET/12:30 PM PT/CT on the CBS Television Network. Bradley P. Bell serves as executive producer and head writer of the drama series.
(SoapOperaNetwork.com) — On Thursday, October 20, it was announced that longtime "General Hospital" writer Michele Val Jean would be joining the Emmy Award winning writing team of CBS' "The Bold and the Beautiful." Also on that day Val Jean was given the opportunity of visiting the set of the soap while they were filming so she could get a better feel of the characters and the actors.
"I am pleased to announce that Michele Val Jean will be joining our writing team," said Executive Producer and Head Writer, Bradley P. Bell shortly after showing Val Jean around the set amidst introductions to cast and crew. "With her vast wealth of knowledge, experience, and creativity, Michele is sure to be a significant addition to 'The Bold and the Beautiful.'"
For the past 18 years Val Jean held numerous positions as a writer at "GH" including a brief stint as Co-Head Writer in early 2001 (January 2001 – April 2001) along side "GH" Script Editor Elizabeth Korte. Val Jean was also an Associate Head Writer and Occasional Scipt Writer on the soap from 1996-2000. Val Jean joined the "General Hospital" writing team as a Script Writer in 1993 and departs in 2011 in the same position.
One of the rarest of qualities found in a daytime writer today is a presence that connects fans of daytime serials to the creative minds behind what appears on screen. Unlike many of her peers, Val Jean has been a key fixture in social networking services including Facebook and Twitter. Just a short time ago for instance Val Jean wrote on her Twitter page and said, "Home stretch. One more script and I turn the page on an 18+ year chapter in my life and begin another. #lookingforwardtothefuture." Laura Wright, who portrays the popular Carly Jacks on "GH" responded to Val Jean's tweet shortly afterward by saying, "@MicheleValJean so excited for u and super sad not to say ur words anymore! Enjoy ur next chapter!!!"
In addition to her work on "GH," Val Jean is credited as a writer on both "GH" spinoffs (SOAPnet's "General Hospital: Night Shift" and ABC's "Port Charles), " NBC's "Generations" and "Santa Barbara."
At this time it remains unclear as to when "B&B" scripts written by Val Jean will first appear on screen. Stay tuned to Soap Opera Network as this story develops.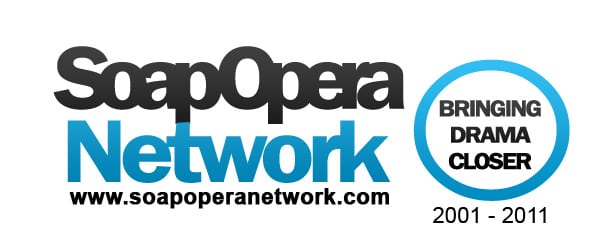 (SoapOperaNetwork.com) — October 8, 2011 marks the tenth anniversary of Soap Opera Network, an online magazine celebrating the world of soaps past, present and future.
Soap Opera Network began as an online message board on the then popular ezBoard (now called Yuki) platform by two individuals that wanted to start a more industry based discussion forum for fans of the soap opera genre with the idea that not only could one discuss the comings, the goings or the general news of the day, but have the opportunity to learn more about the names, the faces and the minds of the people that help make daily dramatic serials happen year in and year out. At launch, soap operas "All My Children, "As The World Turns," "The Bold and the Beautiful," "Days of our Lives," "General Hospital," "Guiding Light," "One Life to Live," "Passions," "Port Charles," and "The Young and the Restless" were on the schedules of television networks ABC, CBS and NBC.
In November 2002, Soap Opera Network left ezBoard and became its own .com service.
Thanks to elaborate databases such as a ratings archive (how soaps rated over the years), episode count archive (who appeared in episodes of a soap opera each and every month and year), its end credit archive (who wrote, directed or produced each episode), including a listing of episode writers and directors along with profile pieces on more than 80% of the writers, producers and directors, Soap Opera Network has cornered the market on information surrounding the inner workings of the soap opera format.
Over the course of its ten years, Soap Opera Network has interviewed a number of daytime's biggest stars and behind the scenes personnel including Susan Lucci, Erika Slezak, Melody Thomas Scott, Maurice Benard, Steve Burton, Sarah Brown, Hillary B. Smith, Robert S. Woods, Ilene Kristen, Ken Corday, Cameron Mathison, Cady McClain, Eden Riegel, Judith Light, Bradley P. Bell, Brian Frons, Maria Arena Bell, Sherri Shepherd, Daniel Goddard, Greg Meng, Marlene McPherson, Darrell Ray Thomas, Nancy Curlee, Melissa Archer, Kristen Alderson, Julie Pinson, Ron Carlivati, Frank Valentini, Linda Dano and many more.
Current Soap Opera Network staff is as follows:
Xavier Toups, Co-Founder
Errol Lewis, Editor in Chief; General Hospital Editor; Days of our Lives Editor
Angela Rosa, Managing Editor; All My Children Editor
Scotty Gore, Managing Editor; One Life to Live Editor
Venus Stone-Cutter, The Young and the Restless Editor
Gehrig Burnett Jr., The Bold and the Beautiful Editor