PHOTO GALLERY 
Filmed in mid-August, episodes airing during the week of November 25 and on Monday, December 2, 2013 of NBC's "Days of our Lives" found Gabi Hernandez (Camila Banus), Kate Roberts (Lauren Koslow) and Sami Brady (Alison Sweeney) seemingly unite for the first time as they worked overtime to hide their role in the apparent death of Nick Fallon (Blake Berris). Just before being hit over the head with a rock, Nick was trying to instigate sexual relations with Ms. Hernandez, who then made it clear that not only wasn't she interested, but it wasn't the time nor the place to get busy. In a recent interview with Soap Opera Network, Koslow gushed over the amount of effort that went into producing the episodes, particularly the river set. "It was kind of amazing what they created on the set," the actress said. "It's like the 90s, because in the 90s we had huge sets. I remember being on a raft, and the raft was on shocks. So we did some crazy stuff back then, and they recreated it for this story. It was actually an adventure."
With director Albert Alarr in charge, here now is a behind the scenes look at the making of a river set on "DAYS."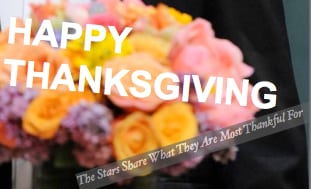 The rest of the country may have been preparing for Thanksgiving by sending out dinner invites, planning menus, buying turkeys, selecting table settings and betting on the day's big game, but Soap Opera Network has been getting ready for the celebratory day in a different way: Reaching out to several of your favorite "Days of our Lives" stars and getting the scoop on what they're most thankful for! Read on for their answers and then join in on the fun by leaving a comment below telling us what you're most grateful for this holiday season!

As we previously reported, rumors are swirling that due to the current "Days or Our Lives" storyline in which Nick (Blake Berris) physically forced himself onto Gabi (Camila Banus) and subsequently found himself clocked with a rock and thrown into a river, Berris will be leaving the "Days" canvas. But is it true? Soap Opera Network caught up with the actor himself to get the scoop on what's ahead for his alter ego, and guess what? Alison Sweeney (Sami), Lauren Koslow (Kate) and Banus also weighed in on the exciting story!
When Berris first saw the scripts in which Nick attacks Gabi and the subsequent scripts detailing the fallout from his alter ego's horrendous actions, he admits he was a bit surprised. But that doesn't mean he wasn't a fan of the challenging material he was asked to play. "As an actor, that's what you hope for," he says of the dark material. "That's one of the perks, as an actor, to be able to explore areas of our psyche that you might regard as taboo or dangerous or dark, so I think I've been really fortunate with the character of Nick, to be able to explore some really strange and dark and interesting material."

In the coming weeks a storyline involving the characters of Nick Fallon and Gabi Hernandez gets physically violent and rumors are now swirling about the possibility that as a result of the storyline, Nick's portrayer, Blake Berris, may be leaving the "Days of our Lives" canvas.
When asked by Soap Opera Network during today's "A Day of DAYS" fan event at Universal CityWalk Hollywood about his status with the show Berris was unable to comment, but on the storyline itself he did say that Nick is just reminding Gabi (Camila Banus) of the passion between them.
The onscreen comings and goings in the soap opera industry are enough to make anyone's head spin, and the behind the scenes business is just as action packed! In fact, three soap stars have recently made bold moves by switching agencies.
In a posting last week on its Facebook page, shortly after word that the Supreme Court of the United States had found the Defense of Marriage Act (DOMA) unconstitutional, the NOH8 campaign displayed a photo compilation of "Days of our Lives" cast members posing in support of the charitable organization whose mission is "to promote marriage, gender and human equality through education, advocacy, social media, and visual protest." The photo included actors Blake Berris, Eileen Davidson, Greg Vaughan, Kristian Alfonso, Bill Hayes, Lauren Koslow, Deidre Hall, Suzanne Rogers, Freddie Smith, Joseph Mascolo, Nathan Owens, Kate Mansi and Galen Gering, among others.
Blake Berris may be best known for his role as Nick Fallon on "Days of our Lives," but the young actor has been busy trying to make a name for himself via other avenues, as well. He's recently made headway in the indie film circuit, and his latest project is Jane Clark's "Meth Head," a story about a man named Kyle, played by Lukas Haas ("Lincoln," "Inception," and "Brick"), who loses control of his life after becoming addicted to methamphetamines.
On its Facebook page today, NBC's "Days of our Lives" uploaded a congratulatory card for Gabi Hernandez (Camila Banus) and William Horton (Chandler Massey), and Nick Fallon (Blake Berris), which revealed the sex of the baby that the town of Salem is currently fighting over.
As expected, NBC has renewed "Days of our Lives" through September 2014. The news comes just days after NBC Entertainment Chairman Robert Greenblatt said, "I think 'DAYS' is going to stick around," during NBC's portion of the Television Critics Association winter press tour.  "I don't know that I'm at liberty to say that officially yet, but it's not going anywhere," Greenblatt added. The "DAYS" renewal was announced today by Jennifer Salke, President, NBC Entertainment.
For the past couple of years NBC's "Days of our Lives" has been holding its "A Day of Days" fan event at Universal Studios CityWalk, where fans of the drama series could meet and great some of their favorite stars and get signed autographs. Unfortunately, this year the network has decided not to continue that event, and instead opted to branch it out a little bit (similar to how ABC canceled Super Soap Weekend, which turned into the Soap Nation Tour). Earlier this year, in a posting on the soaps operas Facebook page, the network said, "Ask and you shall receive! NBC has heard your requests and we are taking our yearly fan event on the road! Instead of holding our event at Universal City in California, members of the 'Days of our Lives' cast will be traveling to a few cities around the country. Dates and cities to be announced soon!" That "soon" is now.