As The World Turns

ALL THINGS RELATED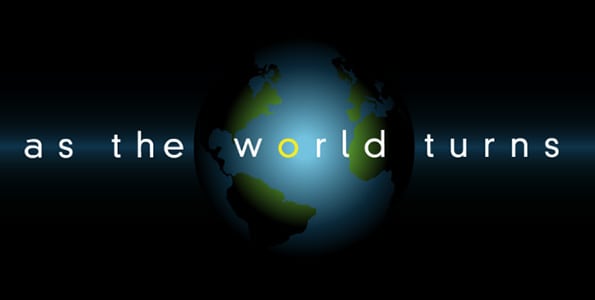 Aired on CBS
Thursday, October 27, 2011 10:06 AM EDT
Even though nearly a dozen "One Life to Live" cast members have already signed on to remain with the show when it moves to online production with Prospect Park in the coming months, at least one actress won't be sticking around to make the transition. Terri Conn (Aubrey/Christine) tells Soap Opera Weekly that "I'm not going to stay."
Sunday, October 23, 2011 4:15 PM EDT
With the cancellations of "All My Children" and "One Life to Live" back in April it was unclear at the time as to where their replacement shows "The Chew" and "The Revolution" would film their daily episodes. Now with "Chew" filming in New York and soon "The Revolution" set to begin filming in New York as well, Soap Opera Network has learned that ABC Daytime is shifting much of its operations to New York City including talent management and media relations.
Saturday, October 8, 2011 3:39 PM EDT
October 8, 2011 marks the tenth anniversary of Soap Opera Network, an online magazine celebrating the world of soaps past, present and future.
Tuesday, October 4, 2011 10:00 PM EDT
Nelson Branco, best known as the writer of the popular Suds Report column for website TV Guide Canada and his contributions to magazine Hello! Canada is back! This time he's Uncensored. With Soap Opera: Uncensored fans of Branco will notice the same writing style from his Suds Report, which includes an interview, translated comments on daytime moves, a breakdown of what's happening on each soap and his uber popular Blind Items.
Thursday, September 29, 2011 7:15 PM EDT
Here is a comparison of the last four cancelled soap operas.
Thursday, September 29, 2011 12:30 AM EDT
Even though viewers have yet to learn the identity of Kim's (Amanda Setton) comatose friend, look for her doctor to make his first appearance at the Kentucky hospital next month as her conditions takes a sudden change. And it is a face that some soap fans may remember.
Sunday, September 25, 2011 8:32 PM EDT
The 25th Annual Broadway Fleamarket sponsored by Broadway Cares/Equity Fights AIDS took place today and several of daytime's biggest stars were on hand as celebrity guests including stars from "One Life to Live" such as Kristen Alderson (Starr Manning), Andrew Trischitta (Jack Manning), Gina Tognoni (ex-Kelly Cramer), Sean Ringgold (Shaun Evans), Ilene Kristen (Roxy Balsom) and even former cast member Judith Light (ex-Karen Wolek). Also in attendance was former "Guiding Light" actor Ron Raines (ex-Alan Spaulding), who is currently appearing in previews for the Broadway production of "Follies." Raines' former "Light" co-star Marj Dusay (ex-Alexandra Spaulding) was scheduled to appear but had to cancel due to illness. Also scheduled was "As The World Turns" actresses Eileen Fulton (ex-Lisa Grimaldi) and Ellen Dolan (Margo Hughes). Soap Opera Network spoke with a few of the stars and learned some interesting tidbits, one of which being that Ringgold received his offer from Prospect Park on Friday and he's since decided to continue with the show when it moves to the web in January along with "All My Children."
Sunday, September 11, 2011 12:13 PM EDT
Tom Casiello Breakdown Writer for "As The World Turns" on September 11, 2001 Tuesday mornings at "As the World Turns" usually meant all the writers, producers, CBS network folks, and P&G executives gathering in a conference room to turn pages from the breakdowns written last week, and sit through hours of notes. It was usually a day of neuroses and worry for any writer as our words were picked apart. I remember being alone in my apartment that morning, standing in my bedroom getting dressed when the first plane hit. My roommate called from her office in Midtown, and we shared a...
Tuesday, August 23, 2011 10:44 PM EDT
TVLine.com is reporting that Tamara Tunie is returning to daytime television after a two year absence. The actress, who portrayed attorney Jessica Griffin on CBS' "As The World Turns" from 2000 through 2007 and again in 2009 is scheduled to appear on NBC's "Days of our Lives" in November as a judge.
Monday, August 22, 2011 4:20 PM EDT
On Thursday, July 21, ABC Soaps in Depth reported that Kelly Sullivan had been hired as a recast Kate Howard after more than a year since we last saw the character (last played by Megan Ward). Now Soap Opera Network has learned when you can catch your first glimpse of the actress.
Friday, August 19, 2011 3:46 AM EDT
"One Life to Live" star Kassie DePaiva (Blair Cramer) had many fans in attendance at last weekends "One Life to Live" Fan Club Weekend Luncheon scratching their heads when she said "I was told by our executive producer [Frank Valentini] yesterday, that on Wednesday [August 10] we tied with 'Y&R.'" Considering "The Young and the Restless" is daytime's #1 soap, we thought she may have made a mistake too, but it turns out she wasn't wrong at all.
Friday, August 12, 2011 2:45 PM EDT
Soap Opera Network is hearing contradicting reports on what Prospect Park is planning to do with "One Life to Live" once it completes production at the ABC Television Center on 66th St. and West End Ave in New York City.
Tuesday, August 9, 2011 10:28 PM EDT
Best known for her portrayal of Carly Corinthos and later Claudia Zacchara on ABC's "General Hospital," Sarah Brown is returning to daytime for another go after being dropped to recurring status earlier this year by CBS' "The Bold and the Beautiful," where she portrayed Agnes 'Aggie' Jones. The three-time Emmy Award winning actress has signed with NBC's "Days of our Lives" to play the contract role of Madison James beginning Tuesday, October 4.