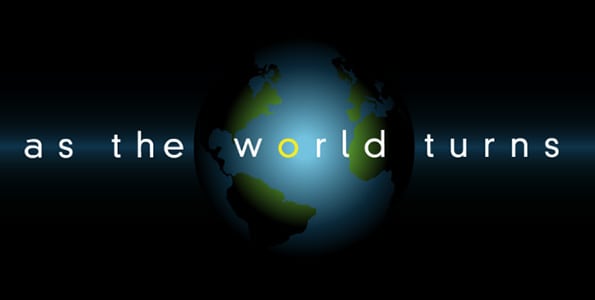 Aired on CBS
Best known for helming CBS' "Love of Life" for nearly three decades, veteran daytime director Larry Auerbach died on Saturday, December 20 in La Jolla, California from complications of glioblastoma. He was 91 years old.
One year ago today actor
Paul Walker
(ex-Brandon Collins, "The Young and the Restless")
died in a fiery car accident
that also took the life of his friend
Roger Rodas
, CEO of Always Evolving, who was driving the red 2005 Porsche Carrera GT vehicle they were in at the time when it crashed into a tree and exploded.
Now that the Thanksgiving holiday has come and gone, Christmas Day will be all the rage this holiday season. If you're not interested in staying home to open your presents and spend time indoors with the family, why not go "Into The Woods" with soap alums Billy Magnussen (ex-Casey Hughes, "As The World Turns") and Mackenzie Mauzy (ex-Phoebe Forrester, "The Bold and the Beautiful")? This holiday season, Disney presents a new whimsical film starring Meryl Streep as The Witch in a modern day twist on the beloved Brothers Grimm fairy tales, while intertwining the plots of a few choice stories and exploring the consequences of the characters' wishes and quests. Featured tales include Cinderella, Little Red Riding Hood, Jack and the Beanstalk, and Rapunzel — all tied together by an original story involving a baker and his wife, their wish to begin a family and their interaction with the witch who has put a curse on them.
Before becoming Thor for millions of fans in the "Thor" film series or "The Avengers" cinematic universe, actor Chris Hemsworth was probably best known for his role on the Australian soap "Home and Away," where he played Kimberly Jonathan "Kim" Hyde. Now a major movie star, Hemsworth has graced the cover of People Magazine as its "Sexiest Man Alive!" He's not the only one though as several of daytime's biggest and brightest stars of today and yesterday have also made the annual list of sexy men, which hits newsstands today.
Michael Caruso, best known as the creator and executive producer of the Daytime Emmy Award nominated, "DeVanity," is back with a new series that will star former "Days of our Lives" actress Martha Madison (ex-Belle Black). The series, titled "Winterthorne," follows the story of Miranda Winterthorne (Madison), a young women looking to take control of the family empire by using her best assets: Power, seduction, vulnerability, love, and ruthlessness. The series will be directed by Daytime Emmy Award winner Sonia Blangiardo ("As The World Turns," "One Life to Live") and is set to begin production in early 2015.
Where there's smoke, there's fire. And things are looking pretty smoky this week for "Days of our Lives'" Hope (Kristian Alfonso) and Aiden (Daniel Cosgrove), who find themselves on the precipice of a new direction after Hope unlocks the single dad's secret past! But what does the shocking information mean for the couple's future? Soap Opera Network spoke with Alfonso and Cosgrove to find out!
Soap Opera Network can finally report that former "As The World Turns" and "Port Charles" actress Marie Wilson has joined the cast of NBC's "Days of our Lives" in the recurring role of Bree. The actress will share scenes with former "ATWT" co-star Daniel Cosgrove (ex-Chris Hughes), who now appears as Aiden Jennings on "DAYS," and Kristian Alfonso (Hope Brady). Bree is an old acquaintance of Hope's who turns out to be someone from Aiden's dark past.
Are you a soap opera fan? Tickets are now available for a VIP Soap Party and Advanced Screening of Weight to be held on...
With his hit primetime series getting
canceled
by A&E in late August, despite bringing in some of the largest audiences for the network overall, that hasn't stopped former "Longmire" and "As The World Turns" actor
Bailey Chase
(ex-Chris Hughes) from moving on with his career. Chase has landed a multi-episode arc on NBC's "Chicago P.D.,"
reports
Deadline Hollywood
.
If you've ever tuned into NBC's "The Biggest Loser" and wondered what life is like for the contestants following their grueling experience, former "As The World Turns" actress Martha Byrne (ex-Lily Snyder) along with writer Daryn Strauss have come together for a new series that hopes to give you the answers you crave. In "Weight: The Series," Byrne portrays the role of Claire Carlson, a mom who loses 100 pounds on a reality show and then has to contend with the absurd and complicated reactions of her friends and family as she attempts to balance the day to day pressures of staying thin and appearing on reality TV. If the description sounds interesting to you, you might be interested in attending a VIP Soap Party and Advanced Screening of the pilot alongside several of daytime's biggest and brightest stars!