As The World Turns

ALL THINGS RELATED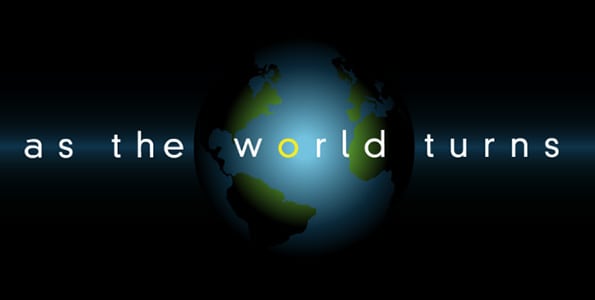 Aired on CBS
Friday, August 21, 2015 3:10 PM EDT
In the newest issue of
Soap Opera Digest
, on newsstands now, it's revealed that Serena Mason will become the first victim of the upcoming serial killer storyline on NBC's "Days of our Lives." The news doesn't come as much of a surprise considering the character was one of the first
reported to be leaving
Salem following the
hiring
of a new head writing regime earlier this year. In an interview with the magazine, portrayer
Melissa Archer
talks about how she found out about her character dying, what's next in her career and how Serena meets her maker!
Thursday, August 20, 2015 10:50 PM EDT
Four individuals connected by blood, friendship, sex, and love are dragged into the classic battle between good versus evil. No that's not the description for an arc on ABC's "General Hospital" or CBS' "The Young and the Restless," but the online drama "Pride: The Series," which features "GH's"
Ilene Kristen
(Delia Ryan) and "As The World Turns'" actress 
Lauren B. Martin
(ex-Camille Bennett) as special guest stars. Recently, the series became an
official selection
of Miami Web Fest, a 10-day festival that showcases the hottest new web series around the world. The festival begins
Friday, September 25
and culminates on
Sunday, October 4
with the Miami Web TV Awards.
Wednesday, March 11, 2015 7:57 PM EDT
With production beginning this month,
Michael Caruso
's "Winterthorne" has added "One Life to Live" alum
John-Paul Lavoisier
to its cast. The soap star will portray the role of Hugh Cambridge, a handsome and mysterious man, who shares a past with Miranda Winterthorne, portrayed by "Days of our Lives" alum,
Martha Madison
. The character is said to be hell bent on becoming a member of the Winterthorne family and will go about any means necessary, including seducing Miranda, to get what he wants.
Wednesday, February 11, 2015 11:04 PM EDT
After several months of disastrous ratings returns that has left many in the industry wondering if "Days of our Lives" would survive its next renewal talks between NBC, Sony Pictures Television and Corday Productions, producers of the soap, the daytime drama series will welcome back veteran writer 
Dena Higley
, and former "One Life to Live" and "The Young and the Restless" head writer 
Josh Griffith
, as its new head writers. The two replace outgoing head writers
Gary Tomlin
and
Christopher Whitesell
.
Sunday, January 11, 2015 11:32 PM EDT
The CW announced today during its portion of the Television Critics Association Press Tour in Pasadena that it has given an early renewal to "Arrow," "Jane the Virgin," "Reign," "Supernatural," "The 100," "The Flash," "The Originals" and "The Vampire Diaries," all of which appeared on the network's fall 2014 schedule, for the 2015-2016 television season.
Tuesday, January 6, 2015 6:01 PM EDT
With word that
Robb Derringer
would be
vacating
the role of Special Agent Kyle Sloane on ABC's "General Hospital," it was anyone's guess as to what the soap planned to do with the character. Enter "As The World Turns" alum
Grayson McCouch
(ex-Dusty Donovan).
Monday, December 22, 2014 11:03 PM EDT
Brandon Stoddard
, the former president of entertainment and director of daytime programming at ABC, who is best known for spearheading the launches of such series, specials and miniseries as "All My Children," "Roseanne," "Roots," "ABC Afterschool Specials," "Moonlighting" and "Thirtysomething," among many others, died today at his home in Bel-Air after a long battle with cancer. He was 77 years old.
Sunday, December 21, 2014 11:51 PM EDT
Best known for helming CBS' "Love of Life" for nearly three decades, veteran daytime director
Larry Auerbach
 died on Saturday, December 20 in La Jolla, California from complications of glioblastoma. He was 91 years old.
Sunday, November 30, 2014 9:12 PM EDT
Paul Walker
(ex-Brandon Collins, "The Young and the Restless")
died in a fiery car accident
that also took the life of his friend
Roger Rodas
, CEO of Always Evolving, who was driving the red 2005 Porsche Carrera GT vehicle they were in at the time when it crashed into a tree and exploded.
Saturday, November 29, 2014 8:20 PM EDT
Billy Magnussen (ex-Casey Hughes, "As The World Turns") and Mackenzie Mauzy (ex-Phoebe Forrester, "The Bold and the Beautiful")? This holiday season, Disney presents a new whimsical film starring Meryl Streep as The Witch in a modern day twist on the beloved Brothers Grimm fairy tales, while intertwining the plots of a few choice stories and exploring the consequences of the characters' wishes and quests. Featured tales include Cinderella, Little Red Riding Hood, Jack and the Beanstalk, and Rapunzel — all tied together by an original story involving a baker and his wife, their wish to begin a family and their interaction with the witch who has put a curse on them.
Friday, November 21, 2014 6:47 PM EDT
Before becoming Thor for millions of fans in the "Thor" film series or "The Avengers" cinematic universe, actor
Chris Hemsworth
was probably best known for his role on the Australian soap "Home and Away," where he played Kimberly Jonathan "Kim" Hyde. Now a major movie star, Hemsworth has graced the cover of
People Magazine
as its "Sexiest Man Alive!" He's not the only one though as several of daytime's biggest and brightest stars of today and yesterday have also made the annual list of sexy men, which hits newsstands today.
Monday, November 17, 2014 2:13 PM EDT
Michael Caruso
, best known as the creator and executive producer of the Daytime Emmy Award nominated, "DeVanity," is back with a new series that will star former "Days of our Lives" actress
Martha Madison
(ex-Belle Black). The series, titled "Winterthorne," follows the story of Miranda Winterthorne (Madison), a young women looking to take control of the family empire by using her best assets: Power, seduction, vulnerability, love, and ruthlessness. The series will be directed by Daytime Emmy Award winner
Sonia Blangiardo
("As The World Turns," "One Life to Live") and is set to begin production in early 2015.
Monday, November 10, 2014 4:45 PM EDT
Where there's smoke, there's fire. And things are looking pretty smoky this week for "Days of our Lives'" Hope (
Kristian Alfonso
) and Aiden (
Daniel Cosgrove
), who find themselves on the precipice of a new direction after Hope unlocks the single dad's secret past! But what does the shocking information mean for the couple's future?
Soap Opera Network
spoke with Alfonso and Cosgrove to find out!