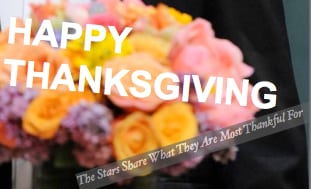 The rest of the country may have been preparing for Thanksgiving by sending out dinner invites, planning menus, buying turkeys, selecting table settings and betting on the day's big game, but Soap Opera Network has been getting ready for the celebratory day in a different way: Reaching out to several of your favorite "Days of our Lives" stars and getting the scoop on what they're most thankful for! Read on for their answers and then join in on the fun by leaving a comment below telling us what you're most grateful for this holiday season!

This week on "Days of our Lives," the heat between Daniel (Shawn Christian) and Nicole (Arianne Zucker) builds to an exciting kiss between the pair! But will the scintillating smooch be a game changer? Soap Opera Network caught up with both actors to find out!
Daniel and Nicole have been on the hunt to try and save Eric's (Greg Vaughan) reputation, and everyone knows that when a male and a female go on a perilous adventure together, sparks are bound to fly! "You've got two very tumultuous, passionate, intense characters, very unpredictable characters, who find themselves in the circumstance of trying to help Eric, and then, as they go on this crazy, wild adventure – we jokingly called it Gun and Needles at one point, because we have guns and needles –they're doing something with so much intensity, and they get caught up in the adrenaline of the moment," Christian shares of the kiss. "Not to mention, the history that they've always shared seems to bubble under the surface no matter what they're doing, whether it's having each other's backs or trying to save Eric or trying to figure out Daniel's life with Jennifer (Melissa Reeves). They've grown so close together as people who sincerely care a lot about one another, and they know the worst about each other, and they know the best about each other. So you mix into that melting pot some adrenaline, and the sky is the limit."
On Thursday, October 17, several LGBT (Lesbian, Gay, Bisexual, Transgender) organizations and individuals celebrated Spirit Day, which asks people to take a stand against bullying and show support for LGBT youth by wearing the color purple. NBC's "Days of our Lives" took a stand and showed its support as cast members donned purple shirts, jackets and even ties.
Those taking part included James Reynolds, Kate Mansi, Casey Moss, Lauren Koslow, Eric Martsolf, Chrishell Stause, Deidre Hall, Meredith Scott Lynn, Galen Gering, Greg Vaughan, Arianne Zucker, Kristian Alfonoso, Camila Banus, Freddie Smith and "DAYS" newcomer, Guy Wilson.
For more on Spirit Day and on how you can take a stand to support LGBT youth, visit glaad.org.
"Days of our Lives" stars Eric Martsolf, Jen Lilley, Kate Mansi, Greg Vaughan, Shawn Christian and Arianne Zucker attended the grand opening celebration of Le Jolie Medi Spa in Studio City, CA on Thursday, July 18.
During the Creative Arts Emmy Awards on Friday, June 14, Arianne Zucker (Nicole Walker, "Days of our Lives") gave Soap Opera Network an exclusive in character interview regarding the storyline involving Nicole and Eric Martsolf's Brady Black.
"The relationship between Brady and Nicole is very…I wouldn't say difficult, I think that we have a very loving relationship as friends…unbelievably attracted to each other, but we can not sustain a relationship. However, I think that at the end of the day…I mean physically we belong together, emotionally we're working on that. You're going to see the relationship kinda do something – more than Brady always being like whiny and there for me, which is kind of exciting I think and I think it's exciting for Eric [Martsolf], for his character to be like 'Finally!'"
"Eighteen nominations later and here we are," said Ken Corday, executive producer, "Days of our Lives," in an exclusive interview with Soap Opera Network shortly after the NBC Daytime drama series nabbed its first Daytime Entertainment Emmy Award in 35 years in the category of Outstanding Drama Series. The last time the show won in the category was in 1978, per the National Academy of Television Arts & Sciences.
The top winners from yesterday's 40th Annual Daytime Entertainment Emmy Awards most likely partied hard in celebration of their wins last night, but that didn't stop them from showing up on today's episode of CBS' "The Talk," to dish about the exciting event! Soap Opera Network attended the taping, and we've brought you some of the highlights from the special Emmy-themed show. Enjoy!
The 40th Annual Daytime Entertainment Emmy Awards are set to be an exciting night filled with appearances from the industry's biggest stars — some of which will also be presenting awards on stage during the big night. Read on to find out if your favorites will be handing the Outstanding Supporting Actor and the Outstanding Supporting Actress winners their coveted awards!
"Days of our Lives'" Arianne Zucker may have received a nomination for Outstanding Supporting Actress in this year's Daytime Entertainment Emmy Awards race, but she's not taking all of the credit. "I'm so proud of all of us," she says of her nomination as well as the show's 17 other Emmy nods. "We're an ensemble cast and crew. There's no "I" in this team. I had Shawn Christian [Daniel Jonas] and Missy [Reeves, Jennifer Horton], almost everybody in my scenes, so I didn't do it alone. So that's what's pretty cool. Everybody helped lift me up."
Say what you will about "Days of our Lives'" Nancy Wesley, but she is definitely a character fans just love to hate. The same can't be said of her portrayer, Patrika Darbo, who is loved, loved, loved all around for her humor, candidness and ability to play one of daytime's baddest bitches!
"It is the best character to play," raves Darbo of Chloe Lane's mom, a role she originated back in 1998. "Every day, I thank goodness [for] the fact that I get to play this role that they created for me, and that they have kept her coming back."