As previously reported, Tristan Rogers will soon be departing ABC's "General Hospital" after his most recent stint as Robert Scorpio comes to an end. With his pending return to CBS' "The Young and the Restless" in the new year, Rogers recently announced on Twitter his final film date at "GH" and his first film date back at "Y&R."
While announcing his plans to vacation in Australia during the Christmas holiday break, Rogers revealed that he films his last scenes at "GH" on Thursday, December 19 and will begin filming scenes as his "Y&R" character, Colin Atkins, beginning Wednesday, January 8. Viewers should expect to see the actor continue airing on "GH" through at least February, as noted by head writer Ron Carlivati. A first airdate on "Y&R" is not yet known. "I am passionate about daytime drama. Where ever I work. I want to do the best I can. So lets be bipartisan and support the genre," said Rogers on moving from one soap to another.
The population of "The Young and the Restless'" Genoa City continues to rise, and the town's latest resident is of definite quality: Former "Guiding Light" star and Emmy winner Cynthia Watros!
Things are about to start looking a bit different in Genoa City, as "The Young and the Restless" has named its new headwriters: Current 'Y&R' scribe Shelly Altman and daytime writer Jean Passanante will share the position, along with 'Y&R' scribe Tracey Thomson, who's been promoted to co-headwriter within the new, all female headwriting team.
They say fast-paced soap operas are good training grounds for primetime gigs, and that must be the case, considering several former soap stars have garnered Primetime Emmy nods this year! In light of the official announcement of the 65th Annual Primetime Emmy Award nominees, Soap Opera Network brings you the who, what and where of stars who've given sudsers a go.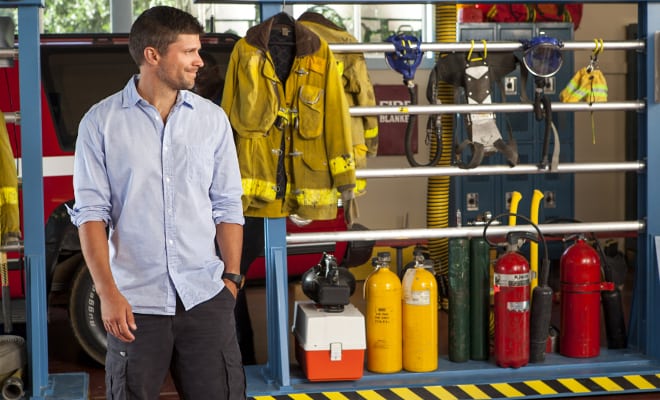 As previously reported, "Days of our Lives" stars Alison Sweeney (Sami Brady) and Greg Vaughan (Eric Brady) are starring in the Hallmark Channel original movie, "Second Chances." The network recently released the first promo for the film, which premieres on Saturday, July 27.
Broadway star and former soap actress Valarie Pettiford (ex-Sheila Price, "One Life to Live;" ex-Courtney Walker, "Another World") is about to take a bite out of something new: She's joined the sixth season of the super popular HBO vampire series "True Blood!"
Photo Credit:
Tracey Morris/Crown Media Holdings, Inc.
They portray twins on NBC's "Days of our Lives," although Alison Sweeney (Sami Brady) and Greg Vaughan (Eric Brady) are anything but that in Hallmark Channel's "Second Chances." Premiering Saturday, July 27, the TV movie tells the story of 911 operator Jenny McLean (Sweeney), who along with her two kids, Luke (Benjamin Stockham) and Elsie (Charlotte Labadie), take in firefighter Jeff Sinclair (Vaughan) after he is injured on the job and the family is in desperate need of extra income as a result of Jenny's work hours having been recently cut. As Jeff and Jenny find themselves drawn together due to circumstances beyond their control, they begin to wonder where their mutual attraction will take them.
According to the Hollywood Reporter, former "General Hospital" star Marisa Ramirez (ex-Gia Campbell; ex-Carmen Mesta, "The Young and the Restless") has been upped to series regular on CBS' "Blue Bloods" beginning with the primetime shows fourth season premiering in the fall. Ramirez, who joined the show as a recurring guest-star starting with the Friday, March 8 episode entitled "Protest Too Much," portrays Detective Maria Baez, the former and now full-time partner of Donnie Wahlberg's Detective Danny Raegan. The actress is replacing Jennifer Esposito, who portrayed Wahlberg's onscreen partner, Jackie Curatola, on the drama series until November of last year.
Soap fans can't help but think of Anne Heche as "Another World's" Vicky Hudson, but the busy actress has carved a successful path in primetime and is about to shine in NBC's "Save Me," a new comedy that will have the Primetime Emmy nominee talking to God!
"Another World" and "Sunset Beach" were canceled in 1999, "Port Charles" in 2003, and "Passions" in 2007 (NBC version) and again in 2008 (DirecTV version). In 2009, "Guiding Light" got turned off and in 2010 "As The World Turns" just stopped. 2011 then brought the double cancellations of "All My Children" and "One Life to Live." As a result of 8 soap operas being cancelled within a 12 year span, one would have expected 2012 to end with another soap saying goodbye. Thankfully, the year came and went without a single soap cancellation for the first time in five years. Now with the 2013 resurrection of "AMC" and "OLTL," soaps are no longer "dying" and the genre is finally thriving once more. But, if you're like us, you never forget your soap opera history. Enter "Soap Life," a documentary that follows the rise and fall of American soap operas before the genres recent re-birth.