Topic: Amy Carlson
Friday, April 5, 2013 @ 12:31 PM
"One Life to Live's" Kamar de los Reyes (Antonio Vega) has done a slew of gigs since leaving Llanview in 2009, including guest stints on "CSI: Miami," "Law and Order: Criminal Intent," and "The Mentalist." And now he's adding one more show to his resume: CBS's procedural drama series, "Blue Bloods"!
Wednesday, April 3, 2013 @ 9:30 PM
As previously reported, the very popular #CBSTweetWeek is back for the forth time since its inception in 2011, and some of the networks biggest stars and creative talent are signing on to Twitter to chat live with fans. This marks the very first time stars from "The Bold and the Beautiful" and "The Young and the Restless" are participating!
Thursday, November 17, 2011 @ 8:13 PM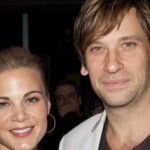 SlideShowPro({ attributes: { id: "album-36", width: 630, height: 600 }, mobile: { auto: false }, params: { bgcolor: "#000000", allowfullscreen: true, wmode: "transparent" }, flashvars: { xmlFilePath: "http://hven.soapoperanetwork.com/images.php?album=36", paramXMLPath: "http://hven.soapoperanetwork.com/m/params/salt.xml",