All My Children

ALL THINGS RELATED
Daytime soap opera airing on Weekdays on ABC. Weeknights on SOAPnet.
Tuesday, April 9, 2013 12:44 AM EDT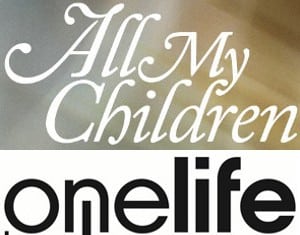 Z100, New York's #1 Hit Music Station, is giving soap fans a chance to see the premiere episodes of "All My Children" and "One Life to Live," but only if you are a ZVIP member (register here, if you haven't already).
Monday, April 8, 2013 9:00 PM EDT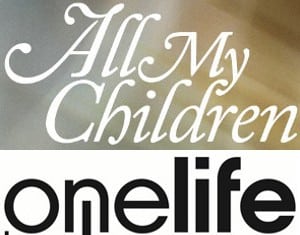 The casts of "All My Children" and "One Life to Live" began their reunions (and for some introductions) on Monday, February 25, when "AMC" began filming scenes for the first time since August 2011, again on Wednesday, February 27 during the Sleepy Hollow Photo Shoot and once more on Monday, March 18 as "OLTL" stepped in front of their cameras for the first time since November 2011. Now The OnLine Network, via Hulu, has released its latest video called "We Are A Family" as the cast and crew discuss the return of the soaps in newly released footage.
Thursday, April 4, 2013 11:26 PM EDT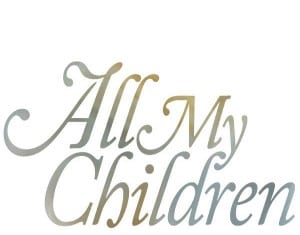 For more than 41 years ABC's "All My Children" entertained millions of viewers each and every weekday, week after week, year after year. Sadly, the network canceled the soap in 2011 and the series aired its then final episode in September of that year. Now, in anticipation of its return on Hulu, Hulu Plus and iTunes on Monday, April 29, The OnLine Network has released a recap of the series as narrated by Debbi Morgan (Angie Hubbard).
Thursday, April 4, 2013 1:16 AM EDT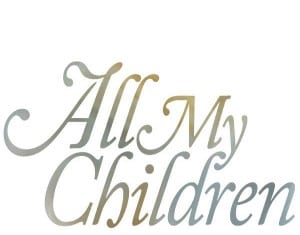 On Wednesday, April 3, the Backstreet Boys gave a shout out to TOLN's "All My Children" when they tweeted a video of the cast of the soap doing the "Harlem Shake."
Wednesday, April 3, 2013 11:26 PM EDT
On the Thursday, April 4 edition of "Dr. Phil," former "All My Children" star J.R. Martinez (Brot Monroe) opens up about the day that changed his life forever - the day the Iraq war hero-turned actor and "Dancing with the Stars" champion suffered smoke inhalation and severe burns to 34 percent of his body after a roadside bomb hit the front tire of his Humvee in the city of Karbala.
Tuesday, April 2, 2013 8:19 PM EDT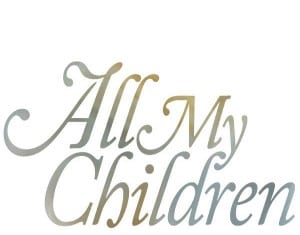 The promotion began with the Hulu teaser trailer, continued with the iTunes teaser and now today, as noted by "All My Children" star Denyse Tontz (Miranda Montgomery), we can now add actual billboards to the promotion of "AMC" on Hulu! The actress shared an image of a billboard advertisement for the soap which says, "You Took My Children I Want Them Back!" The reference of course relates the return of "All My Children," which premieres Monday, April 29 on Hulu, Hulu Plus and iTunes. Per Tontze, she spotted the billboard on the corner of Laurel Canyon and Sunset Blvd in Los Angeles, CA.
Tuesday, April 2, 2013 5:03 PM EDT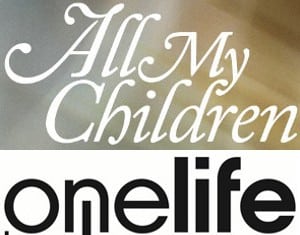 Since it was first announced that Prospect Park's The OnLine Network was looking to once again revive "All My Children" and "One Life to Live," after they were canceled by ABC in 2011, it has been said that the company planned to take the shows into a sexier and edgier environment. In a recent teaser released by iTunes for its launch of the two soaps, Erika Slezak (Victoria Lord, "OLTL") is heard saying, "My agent said, 'What do you want in this contract?' I said, 'No nudity!" Fans shouldn't expect anything too racy on either show as Prospect Park co-founder Rich Frank admitted to Michael Maloney, Contributing Editor at Bauer Publishing for Soaps In Depth, in an interview with Variety. "We are going to be a little hotter and sexier," said Frank. He added, "That doesn't mean we'll be doing anything that's offensive. We're trying to be contemporary and have storylines that are relevant to people's lives."
Tuesday, April 2, 2013 3:17 PM EDT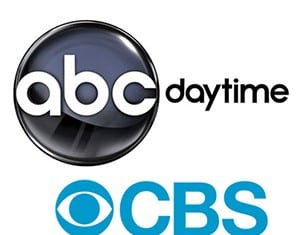 Looking at how daytime television has become the pre-primtime of the entertainment landscape in more ways than one, Variety.com, now part of Penske Business Media, LLC (owners of Deadline.com and TVLine.com), has highlighted several of daytime's biggest stars in front of and behind the scenes who help make the daily drama, the fun & games and the topics of discussion millions of viewers tune into each and every weekday. Those featured in the article include Angelica McDaniel (Senior Vice President, CBS Daytime), Frank Valentini (Executive Producer, "General Hospital") Kelly Ripa (Tak Show Host, "Live with Kelly and Michael"; ex-Hayley Vaughan Santos, "All My Children"), Heather Tom (Katie Spencer, "The Bold and the Beautiful"), Katie Couric (Talk Show Host, "Katie"), Judge Judy Sheindlin (Judge, "Judge Judy"), Carla Hall and Clinton Kelly (Co-Hosts, "The Chew") and many more.
Monday, April 1, 2013 8:38 PM EDT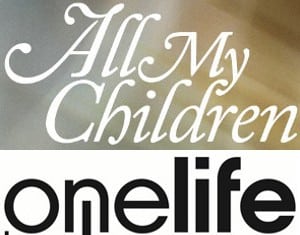 With just 28 days left before the launch of "All My Children" and "One Life to Live" on Hulu and Hulu Plus, fans can now get themselves prepared for the iTunes launch of their favorite TOLN soaps. Just a short time ago iTunes released its first teaser of the soaps as the cast responds to their super glamorous photo shoot. Per the description, "the full casts of 'All My Children' and 'One Life to Live' come together for their first photo shoot. Watch interviews with your favorite actors, and meet the electrifying new stars."
Monday, April 1, 2013 6:50 PM EDT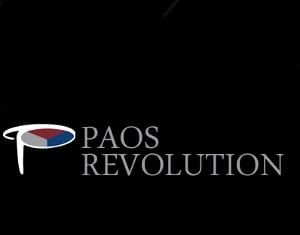 Paos Revolution, whose tagline is flipping the script on soaps, announced today plans for its pilot episode of "Perfect Day." Described as a reality series which will profile various daytime soap stars along with one of their fans and an important charity the actor supports is scheduled for release in the coming months.