Gabi (Camila Banus) sure can't help herself when it comes to discussing her part, along with Sami (Alison Sweeney) and Kate (Lauren Koslow), in the murder of Nick (Blake Berris). This week, Sonny (Freddie Smith) overhears more than he expected when Gabi reveals all on NBC's "Days of our Lives." Will he turn Will's (Chandler Massey) baby mama in? You"ll have to tune in to find out!

 PHOTO GALLERY 
Filmed in mid-August, episodes airing during the week of November 25 and on Monday, December 2, 2013 of NBC's "Days of our Lives" found Gabi Hernandez (Camila Banus), Kate Roberts (Lauren Koslow) and Sami Brady (Alison Sweeney) seemingly unite for the first time as they worked overtime to hide their role in the apparent death of Nick Fallon (Blake Berris). Just before being hit over the head with a rock, Nick was trying to instigate sexual relations with Ms. Hernandez, who then made it clear that not only wasn't she interested, but it wasn't the time nor the place to get busy. In a recent interview with Soap Opera Network, Koslow gushed over the amount of effort that went into producing the episodes, particularly the river set. "It was kind of amazing what they created on the set," the actress said. "It's like the 90s, because in the 90s we had huge sets. I remember being on a raft, and the raft was on shocks. So we did some crazy stuff back then, and they recreated it for this story. It was actually an adventure."
With director Albert Alarr in charge, here now is a behind the scenes look at the making of a river set on "DAYS."

As we previously reported, rumors are swirling that due to the current "Days or Our Lives" storyline in which Nick (Blake Berris) physically forced himself onto Gabi (Camila Banus) and subsequently found himself clocked with a rock and thrown into a river, Berris will be leaving the "Days" canvas. But is it true? Soap Opera Network caught up with the actor himself to get the scoop on what's ahead for his alter ego, and guess what? Alison Sweeney (Sami), Lauren Koslow (Kate) and Banus also weighed in on the exciting story!
When Berris first saw the scripts in which Nick attacks Gabi and the subsequent scripts detailing the fallout from his alter ego's horrendous actions, he admits he was a bit surprised. But that doesn't mean he wasn't a fan of the challenging material he was asked to play. "As an actor, that's what you hope for," he says of the dark material. "That's one of the perks, as an actor, to be able to explore areas of our psyche that you might regard as taboo or dangerous or dark, so I think I've been really fortunate with the character of Nick, to be able to explore some really strange and dark and interesting material."
For all intents and purposes, "Days of our Lives'" Galen Gering (Rafe Hernandez) has had one of the best gigs in Los Angeles as of late. Not only was he getting paid to hang out in a bed all day while his alter ego was in a coma, he's had the recent fortune of playing the recovery part of the story, which is a physical challenge that rarely falls into an actor's lap. The result: Some standout scenes of Rafe re-learning to walk that prove Gering has some acting legs to stand on!
It's incontrovertible that "Days of our Lives" James Scott (EJ DiMera) is drop dead gorgeous. He has an impressive 6-foot-something stature, model good looks, a smooth British accent, perfectly polished style and… scrapes all over his hands. (Record scratch.) Yes, when the English native recently sat down with Soap Opera Network for an exclusive interview, he had numerous red scratches marring his otherwise perfect digits. And suddenly, he was all the sexier. Especially when he quipped of the wounds: "Oh, I did a love scene with Alison [Sweeney, Sami] yesterday."
If you've loved seeing "All My Children's" Rebecca Budig (ex-Greenlee Smythe) serve as the co-host of "The Better Show," a syndicated talk show that just begun its seventh season, you're in for a treat: Her debut was just the start of a very exciting week ahead that will feature not only one but two popular daytime stars!
It seems everyone is hopping aboard the healthy living train these days, and the cast of "Days of our Lives" isn't excluded: Several of the sudser's stars have opened up and shared their secrets on how to live a healthier and more balanced life for the show's newest book, 'Days of our Lives' Better Living: Cast Secrets for a Healthier Balanced Life, which hits newsstands on Tuesday, September 24! And with just 19 more days to go until the big day, several of the stars featured are gearing up for a national tour to promote the book that they're hoping will change your lives forever!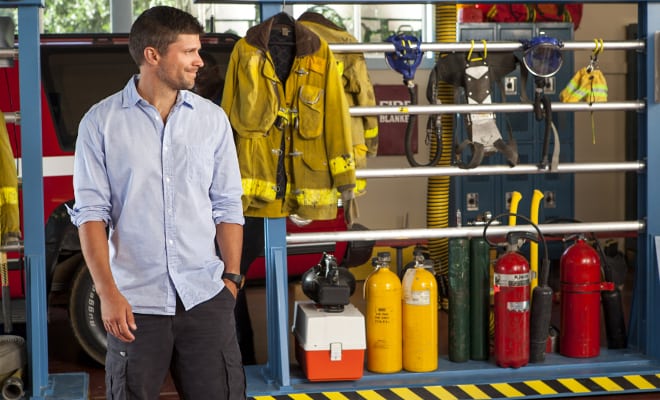 As previously reported, "Days of our Lives" stars Alison Sweeney (Sami Brady) and Greg Vaughan (Eric Brady) are starring in the Hallmark Channel original movie, "Second Chances." The network recently released the first promo for the film, which premieres on Saturday, July 27.
Photo Credit:
Tracey Morris/Crown Media Holdings, Inc.
They portray twins on NBC's "Days of our Lives," although Alison Sweeney (Sami Brady) and Greg Vaughan (Eric Brady) are anything but that in Hallmark Channel's "Second Chances." Premiering Saturday, July 27, the TV movie tells the story of 911 operator Jenny McLean (Sweeney), who along with her two kids, Luke (Benjamin Stockham) and Elsie (Charlotte Labadie), take in firefighter Jeff Sinclair (Vaughan) after he is injured on the job and the family is in desperate need of extra income as a result of Jenny's work hours having been recently cut. As Jeff and Jenny find themselves drawn together due to circumstances beyond their control, they begin to wonder where their mutual attraction will take them.
She's been with some of Salem's most prominent men, but is "Days of our Lives'" Samantha (Alison Sweeney) tough enough to handle late night talk show host Jay Leno? That was the question when the "The Tonight Show" host ran over to the "DAYS" set to profess his love for Sami!