Topic:
ABC Entertainment Group
via Press Release
"BAD25" DOCUMENTARY FROM ACCLAIMED DIRECTOR SPIKE LEE TO AIR ON ABC
Thanksgiving Special Celebrating the 25th Anniversary of 
Michael Jackson's Landmark "BAD" Album and Tour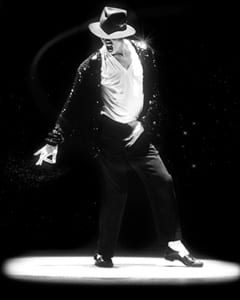 ABC has acquired the television rights to "BAD25," a documentary film by the award-winning director Spike Lee. Airing at Thanksgiving (details to be announced at a later date), "BAD25" shares fresh insights into the King of Pop's creative vision that resulted in his landmark "BAD" album, this year marking its 25th anniversary.
"This will be a very special Thanksgiving for all families to enjoy the genius of Michael Jackson," said Spike Lee. "Big thanks to ABC for allowing people to witness the making of Michael Jackson's 'BAD' album. Shamon."
Academy Award® nominated filmmaker Spike Lee teamed with The Estate of Michael Jackson and Legacy/Epic Records, carefully culling The Estate's archives for rare and never-before-seen footage for the film which focuses on the creative forces that pushed Jackson to make the "BAD" album and launch the BAD Worldwide Tour. "BAD25" marks the first ever in-depth, behind-the-scenes film project to chronicle a Michael Jackson album and tour, and was filmed in advance of the 25th anniversary celebration of the iconic album, the record-breaking world tour and the groundbreaking short films that changed music history. The album's 25th Anniversary will be celebrated on September 18, 2012 with the Legacy/Epic Records release of deluxe 25th Anniversary editions of the album.
The documentary features numerous interviews conducted personally by Spike Lee, including Jackson's confidants, choreographers, musicians and collaborators, such as Oscar-winning film director Martin Scorsese, Joe Pytka and others who worked on many of the iconic "BAD" videos, bringing Jackson's songs to life on the screen through short films that remain some of the most vivid and creative storytelling by a musical artist.
ABC will air a version of "BAD25," offering Michel Jackson fans across the country a rare look at the man who changed the music world forever (time to be announced at a later date.) Spike Lee documentaries include the Peabody and Emmy Award®-winning "When the Levees Broke: A Requiem in Four Acts" and its follow up, "If God Is Willing and Da Creek Don't Rise," "Kobe Doin' Work" and the Oscar-nominated "4 Little Girls." Lee directed both short films for Michael Jackson's "They Don't Care About Us" in 1996.
The third and final album collaboration for Jackson and Quincy Jones, "BAD" marked a pivotal coming of age for the King of Pop as a performer, composer and producer. The album was No. 1 around the world, made history with five consecutive No. 1 singles on the Billboard chart, produced nine chart-topping singles, nine groundbreaking short films, and to date has generated over 45 million units in sales. "BAD" was nominated for six Grammys and won two; the album also earned Jackson the Video Vanguard Award at the MTV VMA Awards. Songs on the original album are "Bad," "The Way You Make Me Feel," "Speed Demon," "Liberian Girl," "Just Good Friends" featuring Stevie Wonder, "Another Part of Me," "Man in the Mirror," "I Just Can't Stop Loving You," "Dirty Diana," "Smooth Criminal," with "Leave Me Alone" added to the CD version of the album once released.
via Press Release
ANDREW T. KUBITZ NAMED EXECUTIVE VICE PRESIDENT, 
PROGRAM PLANNING & SCHEDULING, ABC ENTERTAINMENT GROUP
Andrew Kubitz, an esteemed entertainment executive with 17 years of scheduling experience, has been named executive vice president, Program Planning & Scheduling, ABC Entertainment Group, it was announced today by Paul Lee, president, ABC Entertainment Group, to whom he will report. In his new role, Kubitz will have oversight of daytime, primetime and late-night program planning and scheduling, as well as film acquisition and theatrical inventory. Kubitz will also facilitate and coordinate windowing strategies for ABC Entertainment Group programming across all platforms.
"Andy's appointment brings a fresh perspective and a strategic sensibility to our planning and scheduling efforts, joining a team that is second to none in our industry," said Lee. "Together, I'm confident they will help us take ABC to a whole new level."
Kubitz added: "I'm looking forward to joining the ABC Entertainment team. The network's amazing programming and innovative approach to storytelling is exciting for viewers, myself included. It's a thrill to participate in the creative process in an effort to better position the signature programming that so many hold near and dear to their hearts."
Kubitz was most recently senior vice president of Program Planning & Scheduling for CBS Television, since 2010. In this position he was responsible for developing long term programming and scheduling strategies for CBS and the CW's primetime, daytime and late night lineups. This included determining program schedules, episode orders, show repeat and original episode schedules, budget reviews and length of show runs. He also managed theatrical film acquisitions and theatrical inventory delivery requirements. Prior to this, Kubitz held a series of positions within CBS, having joined that company in December 1994 as a page in Los Angeles, CA.
Kubitz began his career with a diverse array of experience behind the camera, including associate producer & editor, L & L Pictures; videographer for Newline Cinema; film best boy/grip/first assistant camera operator at Visual Anthropology Productions; and videographer for ABC WAOW-TV.
Kubitz earned a Bachelor of Science from the University of Wisconsin Stevens Point and a Master of Business Administration from Pepperdine University.