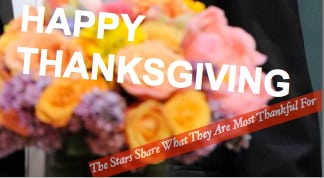 Thanksgiving is fast approaching, meaning many people throughout the country are reflecting on what they're most thankful for. And guess what? Several of your favorite "The Bold and the Beautiful" and "The Young and the Restless" stars have been doing the same, and they've shared the details with Soap Opera Network! Read on for the scoop and then join in on the fun by leaving a comment below telling us what you're most thankful for this holiday season!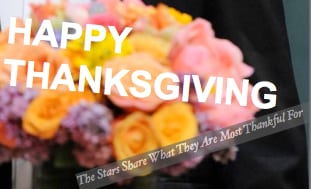 The rest of the country may have been preparing for Thanksgiving by sending out dinner invites, planning menus, buying turkeys, selecting table settings and betting on the day's big game, but Soap Opera Network has been getting ready for the celebratory day in a different way: Reaching out to several of your favorite "Days of our Lives" stars and getting the scoop on what they're most thankful for! Read on for their answers and then join in on the fun by leaving a comment below telling us what you're most grateful for this holiday season!
via Press Release
ROBIN ROBERTS CELEBRATES THE GREATEST TWOSOMES IN TELEVISION HISTORY
ON "TV'S MOST DYNAMIC DUOS: PRESENTED BY THE PALEY CENTER FOR MEDIA,"
SUNDAY, SEPTEMBER 2 ON ABC

"Good Morning America" anchor Robin Roberts hosts a two-hour countdown of couples who have graced television with their amazing chemistry, hilarity, friendship and, in many cases, sexual tension. Whether it's Johnny Carson and Ed McMahon, Laverne and Shirley, Tony and Carmela Soprano, Homer and Bart Simpson, Mulder and Scully or Lucy and Ethel, there is no shortage of indelible duos on television. Who will be No. 1? Find out on "TV's Most Dynamic Duos: Presented by The Paley Center for Media," airing SUNDAY, SEPTEMBER 2 (9:00-11:00 p.m., ET) on the ABC Television Network.

This couples cavalcade includes all-new reminiscences by some of television's most beloved actors and personalities including Megan Mullally, Edie Falco, George Wendt, John Ratzenberger, Cindy Williams, Penny Marshall, Garry Marshall (creator of "Happy Days," "Laverne & Shirley"), Nancy Cartwright (voice of Bart Simpson), Ed Asner, Vanna White, Penn & Teller, Chris Hardwick, Tom Smothers, Adam Carolla, Tom Bergeron and Brooke Burke-Charvet.

The 30 duos were selected by a poll conducted by Nielsen Media Research. They are (in alphabetical order):
Tom King
Breakdown Writer for "One Life to Live" on September 11, 2001
9/11 fell on a Tuesday, the day when normally we "One Life to Live" writers met to start planning the new week of outlines. Monday we met to get notes on the previous week, and Wednesday was the day when we finished laying out. By 2001, I was commuting to NYC from Connecticut, staying over Monday and Tuesday nights at the Harvard Club and taking the train back to Old Saybrook on Wednesday night. On Tuesday morning I had breakfast in the club and went up for a quick work-out in the gym, where the attendant in the reception area told me that a plane had just flown into one of the World Trade Center towers. I pictured a Piper Cub or the like smashing into a tiny portion of the building's facade and continued on my way.
I chose a running machine and began to jog. The TV hanging before me was tuned to CNN. They were showing footage of the first plane hitting a tower. My God, this was no Piper Cub but a huge passenger plane. I slowed the speed on the machine and watched the screen in rapt horror. They went to a live shot of the towers, as a second plane flew into frame and exploded into the other tower. The CNN announcers reacted as you might expect, except that they launched at once into naive speculation that this was some sort of coincidental double mechanical or guidance failure of the two planes. Within a minute, an aviation expert was on audio, saying, "No way this was an accident. Visibility today is two miles. Those planes were flown into the towers on purpose."
Adrenaline hit me hard. Some primitive part of my brain must have taken over, because I wasn't thinking, just acting. I raced back to my room, packed my laptop, threw stuff in my bag and ran the three blocks to Grand Central. The next train to New Haven was the 9:49. I bought a ticket and boarded along with hundreds of other stunned-looking souls, and the train was quickly filling. I moved to the first car which was less crowded. The woman conductor came over the PA, her voice tight with panic. "We're leaving now," she said. I checked my watch. It was well shy of 9:49. "Clear the doors," she said. "Clear the doors! There's another train after this one."  She never collected my ticket. I still have it.
En route to New Haven, cell phones still worked, and I connected with my partner Tim. He was crying because I was alive. He told me the towers had just collapsed, and I felt a wave of nausea come over me.
There was no writers' meeting that day, or that week or the next. The studio went dark. When I returned to work, it was with a great sense of trepidation. Things that used to seem routine, like passing through Grand Central, now felt fraught with danger. As I left the studio Wednesday night, that first week back at work, our writers' assistant looked up at me, forlornly, and said, "You're so lucky. You get to leave."
(SoapOperaNetwork.com) — On September 11, 2001, the world witnessed the worst terrorist act in American history.  It is a day none of us will ever forget.  For the 10th Anniversary of 9/11, I asked those who were working within the soap opera industry if they would like to share their thoughts and memories about that horrific day.  Here are the stories from former soap writers Tom Casiello, Tom King, and former soap writer/producer Lisa Connor.
Tom Casiello: "I remember being alone in my apartment that morning, standing in my bedroom getting dressed when the first plane hit."

Tom King: "9/11 fell on a Tuesday, the day when normally we "One Life to Live" writers met to start planning the new week of outlines."
Lisa Connor:  "I was producing at "AMC" at the time. The morning was perfect. I remember walking down West End Avenue and thinking 'this is the most perfect day'."
Lastly, here is my 9/11 story along with Soap Opera Network's Editor-in-Chief Errol Lewis, and Co-Administrator/Reporter Scotty Gore:  SON Staff Remembers 9/11
Soap Opera Network was launched on October 8, 2001, nearly one month to the day after the September 11, 2001 attacks in the United States. The staff of Soap Opera Network have compiled their personal stories and reflections 10 years after that horrific day.
Xavier Toups
Co-Founder
It was my first year at University and I was in class that Tuesday morning.  By the time my class ended, the planes had already hit the two towers, but I still had no idea what had happened.  It was now after noon and I was making my way to a local television station where I was volunteering. On the bus ride there, I remember someone saying, "All of Silicon Valley is down too."  I thought there was some big power outage or something.  As I entered the waiting room at the station, I looked up at the TV monitors and that's when I saw all the devastation, a city covered in ash.  I asked a guy, another volunteer, what in the world happened and that's when he told me, "Two airplanes, commercial airplanes…jumbo jets, crashed into the World Trade Center."  I stood there in disbelief.  I could not process what was happening, what I was seeing……until I the saw footage of the two towers coming down.  Chills everywhere.
When I got home a couple hours later, I immediately turned on my computer and checked the soap opera message board where I was a moderator, because another moderator, Alyssa Davis (who later co-founded Soap Opera Network with me), lived in New York City.  For the rest of day, I was glued to the TV.  When I did turn the TV off to go to bed, I still wanted to listen to people's reactions, so I turned on my radio.  As I was laying in bed listening to the radio, they had an update that there was now footage of one of the planes hitting one of the towers.  I jumped off my bed and ran to the TV – I had to see this!  Chills everywhere once again.
Errol Lewis
Editor in Chief
It was a dark and gloomy looking early evening on Monday, September 10, 2001, which is where my story begins. I had recently begun my junior year of high school just days before at a transfer high school that catered to night and day students. The day population was mostly for foreign born individuals whereas the night was for native English speakers or transfer students from other high schools in New York City or out of state. I attended the night school.
I was sitting in my math class on the fourth floor, which hadn't started yet, when I found myself looking out the window. The first thing I noticed was it was still wet outside as a result of the light rain throughout the day. The second thing I noticed was the tall twin towers staring at me, like they were calling to me. I couldn't take my eyes off of them. Looking up in the sky with the clouds covering the top half of them both while still leaving a shadowy view of what you couldn't see clearly if you looked close enough, the two tallest buildings in New York City just stood there.
It was nearly 11:00 PM when my night at school came to an end. Normally, I would walk to the Union Square station and take the 4 or 5 train to Brooklyn Bridge-City Hall in order to transfer to the Brooklyn bound J train to head home, but that particular night I decided to walk with some of my fellow classmates through Alphabet city, which is what everyone calls Avenue's A-D in the East Village area. After the last Manhattenite got home safely, I headed on my own towards the Delancy/Essex Street station to catch my aforementioned J train. Before I walked down the stairs to catch my train, something caught my eye. I looked up before walking down and staring at me once more were the two towers. By this time it was 12 midnight – it was September 11, 2001. Once again those two buildings called to me and I watched them for just a few minutes. But in that short time it felt like hours. If I only knew then that what I felt in those moments just standing there that it would be the last moments I'd ever see the two buildings standing strong or I had known what would in fact happen nearly 9 hours later, maybe I could have done something, said something. I tore my eyes away, went down the stairs, got on my train and arrived home safely. I went to bed and had no dreams. Nothing.
I was awoken by mother who informed me that a plane had hit one of the towers. Instantly, she concluded it was terrorist act. I couldn't believe it. Just a few minutes later a second plane hit. If I had doubted her when she said it, I sure didn't when the next plane tore through the next tower. Tears had already fallen when I saw the first building burning, but they just dropped and dropped when the next building caught fire. That's when I realized our world would never be same and any normality we had was thrown out with the broken glass and the instant loss millions bared witness to as it happened.
Scotty Gore
Editor, One Life to Live
I had the day off from work and was sleeping in that morning when I received a call from my mom just before 8 am (Central Time) telling that a plane had hit the World Trade Center and that I should turn on the TV to see what was happening. At first, I thought that I was either dreaming or that it was just an accident of some sort, but then I turned on the television and after seeing the second plane hit, I knew it had to be something more. I was glued to the TV for the rest of the day in shock and horror, not knowing what was coming next. Even though I live in Kentucky, I was concerned because I live only about 40 miles from Fort Knox, and just a couple of hours away from a rather large Air Force base at Fort Campbell, KY. It was just horrifying. No American will ever forget where they were and what they were doing that day. I know I won't.
Angela Rosa
Editor, All My Children/General Hospital
On 9/11/2001, I was walking to an early college class in Queens. The path I walked and the place I live in Queens is just minutes away from mid-town Manhattan, great view of the Empire State Building, and a very good view of the World Trade Towers if you turned your head a little to the left. I saw that the top of one of the buildings looked completely charred black. I had no idea why, I thought maybe there was a fire and my initial thought was that's going to take a long time to fix. So, I went to class and noticed there was a bit of a frenzy in the building. The professor hadn't shown up as well. Somebody mentioned a plane flying into one of the Towers. I put on my AM/FM radio and heard it was a passenger plane and we all discussed the possibility of that being as accident. Then I heard that a second passenger plane flew into the second tower and related it to everybody. We were shocked and all discussed that it really could not be an accident at this point and all decided to go home. As I was walking home, I stared at the buildings in shock. There was a growing nervous silence in the air. Public transportation and the bridges had shut down immediately and it added to the silence from the shock and fear on all our faces. On my way home, I heard the Pentagon had been hit and a forth plane was missing and I thought some country was ending civilization as we knew it in the United States. I was scared. Then the buildings fell and it was shocking and heart-breaking. Later in the day, I did a grocery stop for myself and my mother incase this was the end. All you could hear now was fighter jets patrolling and it was a little nerve-wrecking at first because it was a speeding aircraft. It eventually became comforting. A day or two later a smell started and lasted for a few days, and this was all the way in Queens. It smelled like burning metal mixed with something else. That was just heart-breaking and I cried more than a few times. It was hard watching people searching for their loved ones desperately. I had never seen the City I lived in all my life so sad, shocked and silent as it was in those first two weeks.
Lisa Connor
Supervising Producer for "All My Children" on September 11, 2001
I was producing at "AMC" at the time. The morning was perfect. I remember walking down West End Avenue and thinking 'this is the most perfect day'. The sky was the most beautiful blue and the temperature perfect for New York in September. I was in my office with the ABC feed on when the first plane hit. I remember thinking it was a horrible accident when one of our PA's came in and said "that was no accident." I went up to the control room to start taping and was sitting there, talking with the Technical Director about the plane that went into the first tower when the second one hit. That's when everything went haywire. People refused to keep working — they had loved ones down there and couldn't focus. My Executive Producer was away on a rare vacation and because I was in the booth that day, I was in charge of the day. I called everyone to the floor and saw fear — felt it myself — and I suggested we join hands in prayer. I don't remember what was said in that vein. I know there were tears and people were shaking. But we were together. I told everyone not to leave the building as we didn't know what was waiting for any of us outside.
So we hunkered down and by around 5-6pm, we decided it was safe for everyone to start heading home — everyone from the city, that is — as the roads out of Manhattan were all closed. I seem to remember having a few people stay at my apartment and everyone who lived in the city offered their sofas/floors/rooms to those not living in the city as well. But since we'd all been through such a trying day, I thought it would be a good idea not to hide in our apartments but to be, as many put it during that time, New Yorkers — meaning that we wouldn't shrink from this but instead would join together and find comfort in being out among our neighbors. A group of us did just that by having dinner at Isabella's up on Columbus Avenue — and the place was packed. Eating and talking and laughing and being together — all of us — not just from "All My Children" — but New Yorkers, refusing to let this horrible tragedy keep us down. It was a day and night I will never forget.
Tom Casiello
Breakdown Writer for "As The World Turns" on September 11, 2001
Tuesday mornings at "As the World Turns" usually meant all the writers, producers, CBS network folks, and P&G executives gathering in a conference room to turn pages from the breakdowns written last week, and sit through hours of notes. It was usually a day of neuroses and worry for any writer as our words were picked apart.
I remember being alone in my apartment that morning, standing in my bedroom getting dressed when the first plane hit. My roommate called from her office in Midtown, and we shared a far-more-nervous-than-either-of-us-wanted-to-admit chuckle about some moron who didn't know how to fly before we hung up. Curiosity got the better of me, and I headed up the fire escape to the roof of my building. I live right over the Manhattan Bridge in Brooklyn, so the Towers were right there in front of me when the second plane hit. At that point, over the undercurrent of worst-case scenarios flowing through my head, I had only one screaming thought pounding away – You. Have. To. Get. To. The. Studio.
JC Studios is much farther out in Brooklyn, closer to Coney Island than Manhattan. My friends… my family… the people I'd spend most days and nights with working and playing and laughing and producing and practically LIVING with were all out there. I needed to get away from downtown Manhattan and get to THEM. I called the car service we used, and at that point, the city was still about twelve minutes away from complete and total panic, so I was still able to get a car sent to my apartment. I packed up what I believed were the most important things in my life: my keys, my MetroCard, my Palm Pilot, three DVDs, a laptop… and an 88-key Casio keyboard. (Why the keyboard? I have absolutely no idea – all I know is that it made sense at the time.)  The car picked me up – and by then, the march of people coming over the bridge had begun.
I got to the Brooklyn studio before the first tower fell. A few writers had made it in, our executive producer, and a few of the network executives.  I remember being completely shell-shocked watching the Towers fall on the TV, while the executives decided that we should have the notes meeting anyway. I remember frantically scribbling notes in the margin about whether or not to tag a scene on Barbara almost catching Carly designing clothes for her fashion house, or to save that moment for the next act, as New York City fell into chaos on the television above, all the while thinking to myself "Does any of this matter right now??" (In the executive's defense, I also lugged a full electric piano with me all over Brooklyn that day – people do strange things in those circumstances. There's no explaining it.) I spent the rest of the day and night at that studio, sitting in offices with my co-workers and best friends, watching TV and wondering "When is it safe to go home? And do I even want to go home?" When I finally did, there was an inch of ash on my fire escape – the wind had taken it right over the water onto my apartment. I didn't sleep that night – I was up until sunrise contacting everybody I knew to tell them I loved them. And I cried. A lot.
Ten years later, I choose to remember September 11th not by the acts of terrorism, or by the fear and anger, or by the ridiculous notion that how we tagged a scene with Barbara and Carly mattered at all in that moment. Instead, I remember the bonds of friendship with the other writers and production staff I felt that day. I remember that day by embraces. By a hand holding mine. By a shared look. By finding ways to even get a smile out of the person crying next to me.  By holding on to the Oakdalians stuck at the studio for dear life and not letting go – and the way they did the same for me. (Even as they were saying "A keyboard, Tom? Seriously?" and I'd respond with "Dude, I just sat through the network meeting!" – yeah, those are the smiles I was talking about before.) There was so much dread that day, but I don't focus on that now. Rather, I focus on the bonds that were cemented that day between myself and the cast/crew of "As the World Turns."  Their friendship, their warmth, and their unrelenting compassion got me through that day… and later that week when we had to keep writing, even as I was walking back over the bridge to help in any way I could, I remember the phone calls and e-mails and the way we all just pulled together, even as we had to face working. (My favorite network note from the following week's breakdowns was "Why is every character in these outlines crying or angry or both?" )
But the show… and the city… must go on. Even now, to this day, those of us stuck in the Brooklyn studio that day remember the horror and the tragedy and the almost-insurmountable sadness… but above all of that, there's a shared sense of connection. Of odds overcome. Of friendship and family. A bond that can never be broken.
That's the only way I want to remember that day.