(SoapOperaNetwork.com) — "General Hospital" Episode Recap – Tuesday, October 25, 2011.
IT HAPPENED TODAY…
Robin and Lisa fight. Maxie gets through to Matt, but he says it is too late Elizabeth lays near lifeless, and we see a ghostly illumination. Someone finds her. Johnny has different plans from his father Anthony.
Carly and Shawn draw away.
Sam posits to Jason that a baby may change their lives entirely. Later, Jason gets a call that Franco is in Canada. Are they safe?
On the Next General Hospital…
Carly reveals a secret to Jason.
Kate has unfinished business to complete.
Sonny makes plans.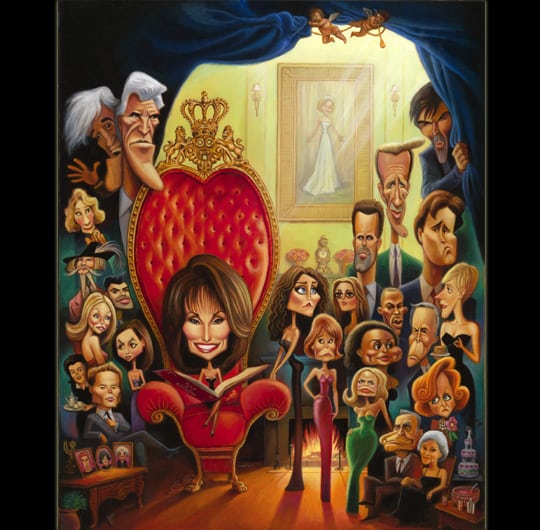 Photo: David O'Keefe Studios
(SoapOperaNetwork.com) — "All My Children" ended its television run on Friday, September 23, 2011, but pop-culture artist David O'Keefe has captured the essence of what made the soap opera special to millions of viewers for more than 41-years courtesy of his new painting "A Tribute to 'All My Children' – Pine Valley," which took two months from concept to fruition.
"'All My Children' has been a part of my family's life for so many years, I feel a real connection to all these people. I want to capture those precious memories by creating this tribute piece to honor the impact the show has had on our culture," said O'Keefe of the painting.
"This is a very historical and personal piece for David," said Wayne Curtiss, Managing Director of O'Keefe Studios. "We look forward to viewer feedback on the painting."
"David is one of the best kept secrets in the art world," said Craig A. Fleming CEO/President of Tired Walls Inc., based in Orlando Florida. "His transformative style not only brings new life to the images he paints but also reminds you of the pure genius in his work."
Ranging in price from $30 (plus $15 shipping) to $599 ($38 for shipping), "A Tribute to 'All My Children' – Pine Valley" details 41 elements for each of the soaps 41-years on television. Of course highlighted in the center of the painting is series star Susan Lucci, who portrayed icon Erica Kane for all 41-years of the ABC soap opera. Soap Opera Network has your exclusive breakdown of who's in it and what each point means.
41 ELEMENTS FOR 41 YEARS
1 Erica Kane
2 Agnes Nixon – the show's creator
3 Adam Chandler
4 Stuart Chandler
5 Marian Colby Chandler
6 Billy Clyde Tuggle
7 Mateo Santos
8 Hayley Chandler Santos
9 Bianca Montgomery
10 Naomi the maid (cameo by Rosie O'Donnell)
11 JR Chandler (reaching for the bottle)
12 Susan Lucci's illusive Daytime Emmy
13 Myrtle Fargate
14 Phoebe Tyler Wallingford
15 Mona Kane
16 gun (murders and shootings)
17 rope – symbolizing kidnapping
18 knife (stabbings)
19 AMC Photo Album
20 Kendall Hart
21 Brooke English
22 Liza Colby
23 Dr. Joe Martin
24 Ruth Martin
25 punch bowl and flask
26 wedding cake
27 Opal Gardner Cortlandt
28 Angie Baxter Hubbard
29 Greenlee Smythe
30 Jessie Hubbard
31 Palmer Cortland
32 poison pancakes that did Dixie in
33 Dixie Cooney Cortlandt Martin
34 1:00pm – Make sure the VCR is set
35 Ryan Lavery
36 Tad Martin
37Jack Montgomery
38 Dr. David Hayward
39 Cherubs- a staple of O'Keefe's paintings (inspired by Peter Paul Rubens)
40 "Janice" -O'Keefe has been hiding his wife's name in his works for 27 years. She also happens to be a longtime fan of AMC.
41 Queen's Throne – for Susan Lucci as Queen of the daytime soaps
Facts: Bianca Montgomery as portrayed in element #9 is Eden Riegel's version of the character. More element facts to come.
To purchase your very own copy of the painting, head on over to O'Keefe's website. If you have any questions or concerns about your order, you can call (813) 254-5056 Monday through Friday.
David O'Keffe Retrospect and Inspiration
David O'Keefe discusses his Tribute to Pine Valley and what it means to him.
A Tribute to Pine Valley: A Step by Step Detailing
David O'Keefe's creation, A Tribute to Pine Valley. This video not only takes you through David's inspiration, but also lets see the behind the scenes looks at the creation of this masterpiece. A must see for any fan of All My Children.
About David O'Keefe and David O'Keefe Studios
David O'Keefe was raised on Hollywood, sports and rock and roll music. David has an acute awareness for the images and personalities that have colored the lives of his generation. He just sees things differently – more intensely, edgier, somewhat more perspicuous than the average spectator. The pop culture icons that we idolize, glamorize and glorify, O'Keefe visualizes for us in all their humanness as well as their stardom.
His sardonic caricatures and humorous illustrations have appeared on the covers of Sports Illustrated, Sports Illustrated for Kids, Mad Magazine, The Village Voice and within the pages of TIME. His advertising clients include Coca-Cola, Waffle House, Fuji and SunCom Communications.
O'Keefe has won numerous awards from such organizations as The Society of Illustrators (NY and LA), American Illustration, Communication Arts, National Headliner Awards, Dimensional Illustrators and the Society of News Design.
Recent image releases include tribute to: Godfather I & II, Caddyshack, Animal House, Seinfeld, I Love Lucy and the Beatles.
(SoapOperaNetwork.com) — As previously reported, ABC soap opera "General Hospital" will lose its coveted 3:00 PM ET/2:00 PM CT/PT timeslot beginning in September 2012 when the network hands the hour back to its local affiliates. The move will leave ABC's daytime lineup with just three hours left to program with "The View" already secured in the 11:00 AM ET/10:00 AM CT/PT slot. New talk shows "The Chew" and "The Revolution" will go head-to-head with "General Hospital" when it comes to the almighty dollar (ie. which show brings in enough income relative to cost) in a battle for the remaining two hours (1:00 PM ET/12:00 PM CT/PT; 2:00 PM ET/1:00 PM CT/PT). In place of "GH" beginning in September 2012 will be the new Disney/ABC Domestic Television syndicated series "Katie," hosted by journalist Katie Couric, which was just cleared in over 60% of the country just six weeks after the sales period began.
Janice Marinelli, President, Disney/ABC Domestic Television announced via press release that "Katie" has been sold to a number of station broadcast groups including Allbritton Communications, Belo Corporation, Cox Media Group, Gannett Broadcasting, Hearst Television, LIN Broadcasting, McGraw-Hill, Scripps Howard Broadcasting and Young Broadcasting. The talk show was most recently picked up by ABC affiliates WFAA Dallas, WCVB Boston, WSB Atlanta, WJLA Washington DC, WXYZ Detroit, KNXV Phoenix, and WFTS Tampa along with NBC affiliate KING Seattle, among others.
"To have garnered such exceptional clearances in this short period of time is attributable to the enduring strength of the Katie Couric brand and her wide-ranging appeal as one of the brightest, most talented and most dynamic personalities in the business," commented Marinelli. "We are enormously pleased to partner with such a stellar group of stations across the country."
Upon announcing the shows development back in June, Disney/ABC Domestic Television also announced that ABC's Owned & Operated Stations Group encompassing New York's WABC, Los Angeles' KABC, Chicago's WLS, Philadelphia's WPVI, San Francisco/Oakland/San Jose"s KGO, Houston's KTRK, Durham/Raleigh/Fayetteville's WTVD and Fresno's KFSN would immediately begin carrying the show at launch.
(SoapOperaNetwork.com) — Yesterday afternoon, Soap Opera Digest reported that "General Hospital" has named breakdown writer Shelly Altman as its Co-Head Writer working alongside Head Writer Garin Wolf. Per the magazine's website Altman's new role is effective immediately.
In July, Soap Opera Network first reported on Altman's move to "General Hospital" after 11 years at ABC's "One Life to Live." At the time Altman was joined by Tracey Thomson on the breakdown team replacing Meg Bennett and David Goldschmid, who were both fired following the termination of Bennett's husband Robert Guza, Jr., who Wolf replaced back in May.
Before joining "One Life to Live" in 1999 as an Associate Head Writer, Altman worked at NBC's "Another World" from 1995-1999 in the same position. She received five Daytime Emmy Award nominations in the category of Outstanding Writing Team. Her last four nominations being at "OLTL" (2002, 2006, 2008 and 2009) and her first at "AW" (1996). Altman won the award in 2008 while at "OLTL" under the writing team headed up by Ron Carlivati and Dena Higley.
In July 2010, Altman wrote a blog for The Writers Guild of America East which can be viewed here.
As Soap Opera Network went to press, a "GH" representative was unavailable for comment.
(SoapOperaNetwork.com) — "One Life to Live" Episode Recap – Monday, October 24, 2011.
IT HAPPENED TODAY…
Rex is hopeful when Cutter proposes his deal. But then Cutter spells out his terms which ultimately leads to Rex beating Cutter to a pulp. Kim's friend searches for answers and makes a very shocking discovery about herself.
Just as Tomas is being sentenced, Todd makes a confession. The judge gives Todd a chance to explain himself. The A.D.A. calls Nora who arrives. The judge asks if Nora wants to bring charges against Todd. Nora sees that she has no choice but to let Todd go. But she issues a chilling warning to Téa.
Meanwhile, after Tomas is freed, Blair is still upset with him. He asks her if she's upset because he was willing to leave her and go to prison for a crime he didn't commit? Or is it because she still has feelings for Todd?
Clint and Viki discuss Clint's major move in letting Rex and Shane have his house. Clint reveals that he's been holding a grudge against Rex because he associates him with Mitch Laurence. He also resented Bo and Rex's relationship. But he's starting to see the error of his ways. Viki applauds the change in him, noting that she's starting to see the man she fell in love with and married. They share a close moment which is broken when freed Todd enters. Viki is thrilled that this is all behind Todd, telling him that he can regain everything that was his now that this sorry mess is over.
On the Next One Life to Live…
Rama and Vimal share secrets.
Kim's friend turns up at Llanfair.
Marcie and Michael pay John a visit.
(SoapOperaNetwork.com) — "General Hospital" Episode Recap – Monday, October 24, 2011.
IT HAPPENED TODAY…
Matt goes in search of Elizabeth. Elizabeth is saved by a mystery man.
Lisa has insane plans for Robin and Patrick.
Steve keeps Olivia company. But she gets dizzy.
Shawn catches Jason up to speed with the drug plant at the coffee warehouse as Carly and Sam find middle ground. Sam and Jason discuss having a baby. Carly and Shawn get close over his PTSD.
On the Next General Hospital…
Maxie gets through to Matt.
Jason gets an important phone call.
Spinelli finds someone.
(SoapOperaNetwork.com) — "General Hospital" Teasers for the Week of October 24, 2011.
GENERAL HOSPITAL: TEASERS
Monday (Episode #12418): Lisa plots to settle the score with Patrick and Robin. Carly and Sam compromise. Elizabeth encounters a strange man. (Rated: TVPG D, L)
Tuesday (Episode #12419): Maxie reasons with Matt. Jason receives an important phone call. Spinelli locates someone. (Rated: TVPG L)
Wednesday (Episode #12420): Carly tells Jason a secret. Kate attends to some unfinished business. Sonny makes some plans. (Rated: TVPG L)
Thursday (Episode #12421): Johnny and Anthony's chat turns heated. Carly and Shawn talk over drinks. Someone is lurking around Wyndermere. (Rated: TVPG L)
Friday (Episode #12422): Dante quizzes Michael. Luke takes Tracy by surprise. Jason and Sam talk about Carly. (Rated: TVPG L)
(SoapOperaNetwork.com) — "One Life to Live" Teasers for the Week of October 24, 2011.
ONE LIFE TO LIVE: TEASERS
Monday (Episode #10988): Cutter gives Rex the terms of his deal. Todd makes a surprise admission in court. Clint confides in Viki. (Rated: TVPG L, V)
Tuesday (Episode #10989): Kim's friend arrives at Llanfair. Michael and Marcie return to Llanview. Rama and Vimal tell each other's secrets. (Rated: TVPG)
Wednesday (Episode #10990): Tomas wants to know if Blair still loves Todd. Viki tries to keep the peace between Tina and Todd. Shane discusses his Halloween plans with Rex and Aubrey. (Rated: TVPG)
Thursday (Episode #10991): Marcie reminds John just how violent Brody can get. Roxy comes close to telling Natalie how John feels about her. Rick puts the screws to Starr. (Rated: TVPG)
Friday (Episode #10992): Tina's discovery could alter someone's life. Rex is confronted by the past. Michael urges John to confess his feelings to Natalie. (Rated: TVP)
(SoapOperaNetwork.com) – - A look at what's happening on "The Bold and the Beautiful" during the week of October 24, 2011.
THIS WEEK ON: THE BOLD AND THE BEAUTIFUL
Thorne gets frustrated when his ideas for change at Forrester are ignored. Ridge appoints Marcus as the publicity person for the "Hope for the Future" campaign. Katie and Bill's marriage faces more challenges. Amber and Rick meet up at a Halloween party at the beach bar and remember old times. Steffy denies everything when Liam confronts her about keeping him apart from Hope in Aspen. Ridge and Taylor don't believe Brooke's suspicions that Steffy and Bill conspired together. After arguing with Ridge, Brooke goes out to dinner with Nick. Taylor decides whose side she wants to be on – Ridge or Thorne's?
Monday, October 24 -  Liam and Hope have a heart to heart; Brooke gets angry with Ridge when he compares her to his mother.
Tuesday, October 25 - Brooke and Ridge fight about their daughters; Steffy defends herself against Liam and Hope.
Wednesday, October 26 - Nick and Brooke spend some time together; Thorne executes his plan for Forrester.
Thursday, October 27 - Amber and Rick reflect on their past relationship; Thorne loses his temper with Ridge.
Friday, October 28 - Ridge and Brooke see Eric and Jackie together; Thorne thinks about all of his previous fights with Ridge.
(SoapOperaNetwork.com) — On Thursday, October 20, it was announced that longtime "General Hospital" writer Michele Val Jean would be joining the Emmy Award winning writing team of CBS' "The Bold and the Beautiful." Also on that day Val Jean was given the opportunity of visiting the set of the soap while they were filming so she could get a better feel of the characters and the actors.
"I am pleased to announce that Michele Val Jean will be joining our writing team," said Executive Producer and Head Writer, Bradley P. Bell shortly after showing Val Jean around the set amidst introductions to cast and crew. "With her vast wealth of knowledge, experience, and creativity, Michele is sure to be a significant addition to 'The Bold and the Beautiful.'"
For the past 18 years Val Jean held numerous positions as a writer at "GH" including a brief stint as Co-Head Writer in early 2001 (January 2001 – April 2001) along side "GH" Script Editor Elizabeth Korte. Val Jean was also an Associate Head Writer and Occasional Scipt Writer on the soap from 1996-2000. Val Jean joined the "General Hospital" writing team as a Script Writer in 1993 and departs in 2011 in the same position.
One of the rarest of qualities found in a daytime writer today is a presence that connects fans of daytime serials to the creative minds behind what appears on screen. Unlike many of her peers, Val Jean has been a key fixture in social networking services including Facebook and Twitter. Just a short time ago for instance Val Jean wrote on her Twitter page and said, "Home stretch. One more script and I turn the page on an 18+ year chapter in my life and begin another. #lookingforwardtothefuture." Laura Wright, who portrays the popular Carly Jacks on "GH" responded to Val Jean's tweet shortly afterward by saying, "@MicheleValJean so excited for u and super sad not to say ur words anymore! Enjoy ur next chapter!!!"
In addition to her work on "GH," Val Jean is credited as a writer on both "GH" spinoffs (SOAPnet's "General Hospital: Night Shift" and ABC's "Port Charles), " NBC's "Generations" and "Santa Barbara."
At this time it remains unclear as to when "B&B" scripts written by Val Jean will first appear on screen. Stay tuned to Soap Opera Network as this story develops.