Just a little over a week after word broke that Kevin Schmidt (Noah Newman) was being let go from CBS' "The Young and the Restless," comes word that the drama series has hit an impasse with actress Christel Khalil (Lily Winters Ashby).
According to Khalil's official website, "Rumors can be such an ugly thing so here is the answer floating about the internet. Christel Khalil is indeed leaving 'The Young and the Restless.' It is not her decision to leave. An agreement could not be reached during contract negotiations. I have confirmed this information with the source."
As for that casting report we posted yesterday for an African American female, Khalil's website says it is "indeed a casting call for a new 'Lily Winters Ashby.'" The drama series is also casting the role of an African American male, which is rumored to be a recast of Devon Hamilton (currently portrayed by Bryton James).
Representative's for Khalil stated, "we have no comment at this time," when contacted by Soap Opera Network. A representative for the soap was unavailable at press time, but has previously stated that the show "does not comment on contracts, rumors or storyline information."
UPDATE, 11:42 PM ET: E! Online has posted Marcil's divorce papers, which were filed on Friday, August 17 in L.A. County. According to the documents, Marcil married Giovinazzo on July 11, 2010, and now the actress wishes to dissolve their marriage as of Saturday, August 4, citing irreconcilable differences. The actress also wishes to remove the last name Giovinazzo from her legal name.
PREVIOUS, 12:58 PM ET: After famously denying any marriage following word of her legally changing her name from Vanessa Marcil to Vanessa Marcil Giovinazzo, just before officially returning to ABC's "General Hospital" back in 2010, Marcil Giovinazzo (ex-Brenda Barrett) is now divorcing her husband Carmine Giovinazzo ("CSI: NY"), according to a report by TMZ.
According to TMZ, Marcil is asking for Giovinazzo to pay her attorney's fees and the court to award her spousal support.
For more on the matter, visit TMZ's website.
Eileen Davidson is returning to NBC's "Days of our Lives" after Sony Pictures Television opted to transition her off of their soap "The Young and the Restless" and onto "DAYS" to re-create the magic of her character Kristen DiMera. Sony Pictures Television distributes "DAYS," which is owned by Corday Productions, Inc.
According to a tweet by the actress posted yesterday, Davidson's first airdate as Kristen is set for Thursday, October 11. "I start airing on Oct. 11. AND I CAN'T WAIT!!!!!" the actress said.
Davidson, who originated the role of Ashley Abbott on "Y&R" in 1982 and left in 1988, joined "DAYS" in 1993 and portrayed five characters (sometimes simultaneously) over the course of her five year Emmy nominated run. In addition to Kristen DiMera, Davidson portrayed famously Susan Banks, Sister Mary Moira Banks, Thomas Banks, and Penelope Kent. She returned to "Y&R" in 1999 only to find herself let go from the show in 2007 with her character moving to Los Angeles, which is where we found her for a brief time on CBS' "The Bold and the Beautiful." Davidson returned to "Y&R" in 2008 until her departure this year.
via Press Release
THE NATIONAL ACADEMY OF TELEVISION ARTS & SCIENCES
ANNOUNCES
DAVID MICHAELS
APPOINTED SENIOR EXECUTIVE DIRECTOR OF
THE 40th ANNUAL DAYTIME EMMY® AWARDS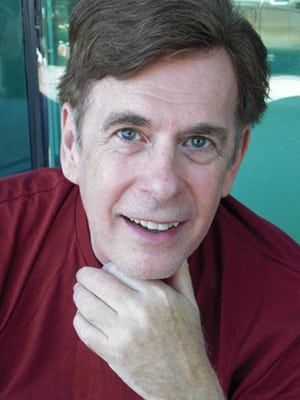 New York – August 21, 2012 – The National Academy of Television Arts & Sciences (NATAS) today announced that David Michaels, Actor, Producer and Founder of TV Cares has been appointed Senior Executive Director of the Daytime Entertainment Emmy® Awards.
"David's experiences in all genres of daytime television make him the perfect candidate to head up our Daytime Emmy® Awards operations," said Malachy Wienges, Chairman NATAS. "His long time association with The Academy of Television Arts and Sciences (ATAS) will be a valuable asset as the two Academies work closer together sharing the same goal of awarding excellence in television."
"The Daytime Emmy® Awards remains the favorite annual event for so very many fans throughout the country," said Mr. Michaels. "In a world where the face of television and especially Daytime is constantly transitioning and changing, we strive to keep the Daytime Emmy® Awards a vital and exciting event. I am very excited and honored to be working with NATAS as Senior Executive Director and about the upcoming awards year."
David began working as an actor and a model at age 17, appearing in New York, around the USA, Canada and in Europe in productions including Godspell, Jesus Christ Superstar, Purlie and Deathtrap. He worked steadily as an actor until he competed on a game show when an immediate fascination with the "behind the scenes" world of Daytime Television led to his first production job with Bob Stewart Productions. He rose quickly from production assistant to producer, doing over 25 pilots and air shows eventually producing shows such as The $25,000 and $100,000 Pyramids, starring Dick Clark, and garnering multiple nominations and two Emmy Awards. He also produced Pictionary for Dan Enright. Transitioning into the talk show world, David produced such shows as Vicki! (2 nominations), Leeza (2 nominations) and Caryl and Marilyn. He also produced and wrote the primetime special, Lie Detector.
At the Academy of Television Arts and Sciences, David served as Co-Chairman of the Daytime Emmy Awards serving on the Board of Governors for 14 years as well as on numerous other committees. He founded TV Cares, ATAS' AIDS awareness committee, chairing the committee with honorary co-chair, Angela Lansbury for 15 years. He also conceived and produced the annual Ribbon of Hope Celebration honoring programs and individuals for responsible programming in the area of AIDS awareness and education. Along with Tom Viola of Broadway Cares/Equity Fight AIDS, he helped to make the Red Ribbon an international symbol of AIDS Awareness. For two years, he produced and wrote The Ribbon of Hope live event as a Television Special for here! Networks, receiving another Daytime Emmy nomination. In addition, David spent ten years as the Director of Special Events for the Western Region of The Actors' Fund of America.
David has produced countless star-studded live charity events, including, Tap Your Troubles Away: The Words & Music of Jerry Herman, Something Wonderful: the Richard Rodgers Centennial, Kurt Weill: The Centennial, Sing Happy: the Music and Words of Kander & Ebb, The Best is Yet to Come: The Music of Cy Coleman, Hooray For Love: The Harold Arlen Centennial; and Everything's Coming Up Roses: The Jule Styne Centennial and Falsettos at the Wilshire Theatre.
About The National Academy of Television Arts & Sciences
The National Academy of Television Arts & Sciences (NATAS) is a professional service organization dedicated to the advancement of the arts and sciences of television and the promotion of creative leadership for artistic, educational and technical achievements within the television industry. It recognizes excellence in television with the coveted Emmy® Award for News & Documentary, Sports, Daytime Entertainment, Daytime Creative Arts & Entertainment, Public & Community Service, and Technology & Engineering. Regional Emmy® Awards are given in 19 regions across the United States. Beyond awards, NATAS has extensive educational programs including the Regional Student Television Awards for outstanding journalistic work by high school students, as well as scholarships, publications, and major activities for both industry professionals and the viewing public. For more information, please visit the website at www.emmyonline.tv
Alicia Minshew (ex-Kendall Hart Slater, "All My Children") is currently off filming her new movie, "Desires of the Heart" in Savannah, GA and now Soap Opera Network is happy to report the film has unveiled its Facebook page for fans to take a look at the journey to making the film.
In "Heart," Minshew portrays Madeline, a young artist who catches the attention of a psychiatrist (Val Lauren) visiting from India. While their romance blossoms, her new love is forced to return to India in order to marry the woman chosen as his bride by his parents.
"Happy Back to Work Day!!!! YAY!!" said Kirsten Storms (Maxie Jones) in a tweet earlier today as she prepared for her first day back on the set of ABC's "General Hospital." The actress also tweeted a photo of her script that was tucked away in her purse, saying "Bag packed. Off to work. #excitement."
Storms re-tweeted a tweet by co-star Jason Thompson (Patrick Drake), who said, "I'm excited about getting back to work today. A healthy chunk is because @teenystweeting is back!! (but shh, we know how her head can swell)." Read More >>
Daytime's most watched soap is also daytime's most heavily viewed series for African American audiences, but you wouldn't know it based on the storyline's written for its African American characters of late. With a new writing team in place, that will soon change. According to Soap Opera Digest, the series has put out another casting call for an African American character. Unlike the previous casting call, this one is for a female and it definitely sounds like a possible recast of a current character, but we could be wrong.
"Sally Tate" is described as a woman in her mid-20s who is "vivacious, energetic, ambitious. She's a mom balancing work and family. She's had her share of tough times, but always bounces back from even the most trying situations. Sexy, romantic, fun-loving, with a delightful sense of humor and an eternal twinkle in her eyes." The role comes with a contract attached.
This marks the second role being cast under new executive producer Jill Farren Phelps and head writer Josh Griffith. No word on when the show expects to cast the role nor when viewers can expect to see her on screen.
After her character was shamed out of Salem last year prior to the major "Days of our Lives" reboot, Nadia Bjorlin is returning to the NBC Daytime drama series in the coming months as a "stronger and more confident Chloe [Lane] who can really stand up for herself and not be bullied," so says the actress in an interview with TV Guide Magazine's Michael Logan.
According to TV Guide, Bjorlin begins filming at "DAYS" in late September, but she won't make it to air until January 4, 2013, which is an unusual length of time from film to air, unless you work at "DAYS," which for the past several years has been filming months ahead of airdate in order to save on production costs.
Soap Opera Digest held off on reporting any news of Susan Flannery's reported decision to leave CBS' "The Bold and the Beautiful" yesterday, but today there seems to be a reason why. According to the magazine's website, Flannery is staying on as Stephanie Forrester.
In CBS Soaps In Depth's report yesterday, they indicated that Flannery had signed a short-term contract with "B&B" that will allow the series to write her character off the show, but according to Bradley Bell, Head Writer and Executive Producer of the soap, "Susan, for quite some time, was thinking she needed a break or just have some personal time." He further states, "She's been through a lot personally; we know that she had her own battle with cancer and she's had such an amazing career that she will continue to have as Stephanie Forrester, but I think it's not so much as a disagreement between her and the show, but more Susan figuring out where she is right now and what she needs. Now, Susan is going to have an incredible time with a new storyline that we've never seen before; something completely unique and interesting."
While Bell's statement doesn't necessarily add much contradiction to In Depth's reporting, Digest states it will have the full story in its next issue (due out Friday).
"It will never be the same now without Ronn and Susan. Sad!" said Katherine Kelly Lang (Brooke Forrester) yesterday, in response to a twitter follower who had just learned of Flannery's departure.
Just days after announcing that she had signed a new two-year contract with CBS' "The Bold and the Beautiful," Katherine Kelly Lang (Brooke Forrester) finds herself in an unusual position for the first time in over 25 years.
Lang, like co-stars Ronn Moss (Ridge Forrester) and Susan Flannery (Stephanie Forrester), has been on the daytime drama series since its debut in 1987. With word that both Moss and Flannery have opted to leave the series, Lang finds herself as part of what's left of the "core four," along with John McCook (Eric Forrester), whose fate on the series has yet to be determined.
"It will never be the same now without Ronn and Susan. Sad!" said Lang, in response to a twitter follower who had just learned of Flannery's departure.
A rep for "B&B" has not responded to a request for comment on Flannery's reported exit to Soap Opera Network.