As we previously reported, Jack Wagner (ex-Frisco Jones, "General Hospital;" ex-Dominick Marone, "The Bold and the Beautiful") and "Good Morning America's" Cameron Mathison (ex-Ryan Lavery, "All My Children") have teamed up for a Hallmark Channel project, and the network has released new details. "My Gal Sunday," which was once rumored to be a pilot for a possible primetime series, has now been confirmed as a Hallmark Movie Channel Original World Premiere movie!
The romantic drama (based of the book of short stories of the same name by author Mary Higgins Clark) follows a husband and wife duo (Mathison and "Clueless" star Rachel Blanchard) whose private eye backgrounds and political ties place them smack dab in the middle of intrigue and scandal.
"Days of our Lives" fans are getting a bit of an early holiday gift: Fan favorite Patrick Muldoon (Austin Reed) is starring in the ION TV film, "Holiday Road Trip," along with George Hamilton and Shelley Long!
Set for a Sunday, December 1 premiere, the film follows Pat (Muldoon) and Maya (Ashley Scott), co-workers at a Washington D.C. pet supply store who are ordered to travel across the country in an RV with the company's most prized possession, dog Scoots (Uggie from "The Artist"), right before Christmas.
Casting for Hallmark's upcoming backdoor pilot, "My Gal Sunday" has been in full swing, and three of the series' major players have finally been confirmed: Cameron Mathison (ex-Ryan Lavery, "All My Children"), Jack Wagner (Frisco Jones, "General Hospital;" ex-Dominick Marone, "The Bold and the Beautiful") and Rachel Blanchard ("Clueless;" "7th Heaven").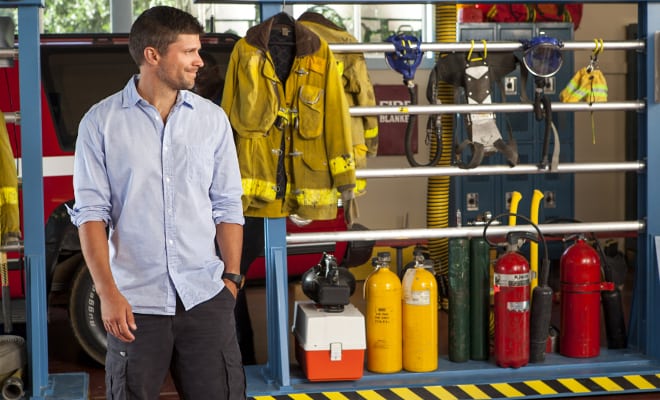 As previously reported, "Days of our Lives" stars Alison Sweeney (Sami Brady) and Greg Vaughan (Eric Brady) are starring in the Hallmark Channel original movie, "Second Chances." The network recently released the first promo for the film, which premieres on Saturday, July 27.
Tonight OnTV, former soap stars Jason Brooks ("Days of our Lives") and Aiden Turner ("All My Children") star in the Lifetime Movie Network (LMN) original movie, "The Perfect Boyfriend."
The turbulent life and times of Anna Nicole Smith are set to play out onscreen yet again in an upcoming Lifetime telefilm called "Anna Nicole," but this time, "The Bold and the Beautiful's" Agnes Bruckner (ex-Bridget Forrester) will be in the (super high-heeled) shoes of the controversial public figure.
The 27-year-old actress, who's also know for her roles on "Private Practice" and "24," admits that taking on the role of the vivacious vixen was probably one of the more challenging things she's ever done. "I was terrified; I had anxiety attacks before we started," she recalls. "I had about two weeks to do research… and it was such a challenging role for me. I've never really played a character like this before, so I really just had to step back and tell myself, 'It's going to be okay.'"
Photo Credit:
Tracey Morris/Crown Media Holdings, Inc.
They portray twins on NBC's "Days of our Lives," although Alison Sweeney (Sami Brady) and Greg Vaughan (Eric Brady) are anything but that in Hallmark Channel's "Second Chances." Premiering Saturday, July 27, the TV movie tells the story of 911 operator Jenny McLean (Sweeney), who along with her two kids, Luke (Benjamin Stockham) and Elsie (Charlotte Labadie), take in firefighter Jeff Sinclair (Vaughan) after he is injured on the job and the family is in desperate need of extra income as a result of Jenny's work hours having been recently cut. As Jeff and Jenny find themselves drawn together due to circumstances beyond their control, they begin to wonder where their mutual attraction will take them.
Memorial Day weekend is the perfect time for barbeques, catching up with friends and working on that (long overdue) tan, but being soap fans and all, it's only natural to squeeze in a little soap-worthy entertainment, as well. Luckily, Lifetime Movie Network knows this and chose tonight to premiere 'The Perfect Boss,' an original movie staring "Melrose Place" alums Jamie Luner (ex-Liza Colby, "All My Children") and Linden Ashby (ex-Paul Hollingsworth, "Days of our Lives," ex- Cameron Kirsten, "The Young and the Restless")!
The harrowing real-life case of Jodi Arias has gripped the nation for months, and hot off the heels of the 28-year-old woman's conviction last week for murdering her former lover, Travis Alexander, comes a Lifetime original movie detailing Arias' life and the details behind the killing that shocked America.
"Jodi Aria: Dirty Little Secret" stars Tania Raymonde ("Texas Chainsaw 3D," "Switched at Birth," "Lost") as Arias, an aspiring photographer found guilty of murdering Alexander (Jesse Lee Soffer; Will Munson, "As The World Turns"), who was found nude in his shower with a slit throat, 27 additional stab wounds and a bullet to the head. Look for the horrifying movie, which also stars David Zayas ("Dexter") and Tony Plana ("Ugly Betty"), to air on Lifetime on Saturday, June 22 at 8pm ET/PT.
Soap fans certainly know Eddie Cibrian as "Sunset Beach's" Cole Deschanel, but the hunky star is widely known for a slew of other roles in films and TV shows like "Third Watch," "Vanished," "Ugly Betty," "CSI: Miami," "The Playboy Club," and "For Better or Worse." And now the actor is adding yet another gig onto his resume, this time in a new Hallmark Channel original movie called "Notes From Dad."