Halloween 2014 is looking super spooky already: Soap stars Brandon Beemer (ex-Owen Knight, "The Bold and the Beautiful") and Felisha Terrell (ex-Arianna Hernandez, "Days of our Lives") have joined the cast of "Fear Clinic," a horror film based on the successful FearNet.com web series "The Fear Chamber."
The film version follows Robert Englund (Freddy Kruger in the "Nightmare Before Elm Street" franchise) as Dr. Andover, a physician who treats patients afflicted with crippling phobias via hallucinations he creates using his homemade exposure therapy invention, The Fear Chamber. A tragic event sends five people to the good doctor who, while trying to help them overcome their trauma, discovers something very sinister may be at work.
According to Deadline, actor Dylan Neal ("The Bold and the Beautiful," "Dawson's Creek") is scheduled to begin filming this week in Vancouver for "Fifty Shades of Grey," the film adaptation of E.L. James' bestselling novel of the same name. Neal will portray Bob, Anastasia Steele's (Dakota Johnson) stepfather and the husband of Carla Adams (Jennifer Ehle). Scheduled to hit theaters on Friday, February 13, 2015 as both a rated R film and rated NC-17 in theaters willing to offer it, "Fifty Shades" and its followup novels centers on the erotic relationship between Anastasia and Christian Grey (Jamie Dornan).
Marvel's "Thor: The Dark World" hits theaters nationwide on Friday, November 8, and the franchise's ABC drama, "Marvel's Agents of S.H.E.I.L.D.," is set to feel the film's repercussions in an all new episode, "The Well," slated for Tuesday, November 19!
According to an official press release touting the "Agents" episode, Phil Coulson (Clark Gregg) and the rest of the Agents of S.H.E.I.L.D. pick up the pieces left behind in "The Dark World" — one of which threatens to destroy a member of the team.
Since the passing of "The Young and the Restless'" Jeanne Cooper (Katherine Chancellor) this past May, her son, Corbin Bernsen, has done everything possible to properly honor his mother's life. Not only did he personally take part in memorial episodes the sudser broadcast — and brought some of her real life ashes to be included in Kay's funeral scenes — he kept fans apprised of his mother's declining health before her death and the family's status afterward. Now, he's doing yet one more touching act in his mother's honor: Dedicating his latest film to her.
"Beyond the Heavens" tells the story of Oliver, a 12-year-old boy who scientifically investigates the existence of God after his brother disappears. "My hope is that 'Beyond the Heavens' will encourage people to explore faith, open their mind and go beyond what they think they know," says Bernson, who wrote, directed and co-stars in the film. "This is what my mother encouraged me to do. I hope to encourage others to do the same through this story."
Look for the release of the film, which received praise from The Dove Foundation as a "terrific inspirational film" and includes a very special dedication to Cooper, on DVD and VOD on Friday, October 25.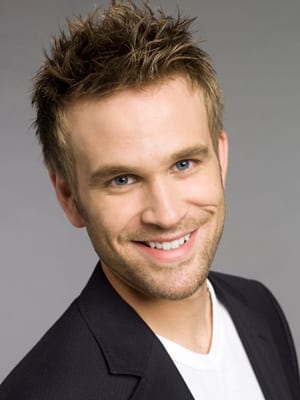 The casting for 'Fast & Furious 7' is in high gear, and the latest name announced to join Vin Diesel and Paul Walker in the next installment of the popular film franchise is none other than "One Life to Live's" John Brotherton (ex-Jared Banks)!
Deadline Hollywood reports that the actor has signed on to play Sheppard, the right-hand man to an as-yet-unidentified character played by Hollywood star Kurt Russell.
Congratulations, Brotherton!
Not much can top seeing "All My Children's" Cady McClain (Dixie Cooney) receive an onscreen proposal by a guy in a chicken suit, but her latest venture just might come close. The actress, who has spent more than 30 years in front of the camera, has flipped to the other side of the camera to direct a short film called "Flip Fantasia." And lucky for you, she's made the entire film available for online viewing — for free!
"All My Children's" Finn Wittrock (ex-Damon Miller) is no stranger to working with powerful, older women; his onscreen affair with Jamie Luner's Liza Colby was a controversial cougar storyline that had soap fans' tongues wagging for months during the soaps ABC run. So working with Angelia Jolie shouldn't be a problem for the Massachusetts native, who's been cast in "Unbroken," a World War II film being directed by Brad Pitt's super sultry wife.
Soap Opera Network has learned that "General Hospital" and "General Hospital: Night Shift" alum, Minae Noji, has landed a top secret role in the new "Teenage Mutant Ninja Turtles" film set for release in 2014. Starring Megan Fox as April O'Neil, Alan Ritchson as Raphael, Noel Fisher as Michelangelo, Jeremy Howard as Donatello and Pete Ploszek as Leonardo, rumor has it that Noji will be portraying the role of Karai, a character first introduced in the 1992 comic book series, "Teenage Mutant Ninja Turtles."
According to sources, Noji was on the New York City set of "Turtles" filming for three months alongside the main cast and her role required a stunt double, which puts some weight into her portraying a character such as Karai, who is of Japanese descent (as is Noji) and one of the leading members of the Foot Clan, a ninjutsu clan best known to be controlled by The Shredder (William Fichtner). Recent iterations of the character find her related in some form to The Shredder.
Although it had been rumored, Deadline Hollywood has confirmed that Mackenzie Mauzy (ex-Phoebe Forrester, "The Bold and the Beautiful"; ex-Lizzie Spaulding, "Guiding Light") has joined the cast of Disney's "Into the Woods" playing Rapunzel opposite Billy Magnussen (ex-Casey Hughes, "As The World Turns"), who will play her prince, in the studios Rob Marshall directed film. "Woods" is an adaptation of the 1987 Broadway musical and will be produced by Marc Platt.
Considered the Oscars for the young, The CW Television Network announced in early May that it'll broadcast "The 15th Annual Young Hollywood Awards," which marks the first time the awards show will be broadcast on television. Earlier today it was announced Michael Levitt ("The Billboard Music Awards", "TV Land Awards", "Scream Awards", "Producers Guild Awards", "World Music Awards", "A-List Awards" and "ALMA Awards") would be the executive producer of the telecast. The awards celebrates the best emerging talent in film, music and television.