Posts By:
Soap Opera Network Staff
As we previously reported, Eileen Davidson is making a return to "The Young and the Restless" as Ashley Abbott, but don't expect the sunshine and lollipops that surrounded her last return to Genoa City (for Victor's wedding); the tragic death of Chloe (Elizabeth Hendrickson) and Billy's (Billy Miller) daughter, Delia, is what brings the makeup maven back for three episodes.
"It was pretty depressing," she reveals about the overall mood on set and the emotional funeral scenes in which she'll be taking part beginning Monday, October 28. "Especially when you're dealing with the death of a child. It's a horrible thing to play. I remember I had to play it when I just had my baby (Faith), and they didn't even tell me, because they didn't want to freak me out. Really hard to do."
Since the passing of "The Young and the Restless'" Jeanne Cooper (Katherine Chancellor) this past May, her son, Corbin Bernsen, has done everything possible to properly honor his mother's life. Not only did he personally take part in memorial episodes the sudser broadcast — and brought some of her real life ashes to be included in Kay's funeral scenes — he kept fans apprised of his mother's declining health before her death and the family's status afterward. Now, he's doing yet one more touching act in his mother's honor: Dedicating his latest film to her.
"Beyond the Heavens" tells the story of Oliver, a 12-year-old boy who scientifically investigates the existence of God after his brother disappears. "My hope is that 'Beyond the Heavens' will encourage people to explore faith, open their mind and go beyond what they think they know," says Bernson, who wrote, directed and co-stars in the film. "This is what my mother encouraged me to do. I hope to encourage others to do the same through this story."
Look for the release of the film, which received praise from The Dove Foundation as a "terrific inspirational film" and includes a very special dedication to Cooper, on DVD and VOD on Friday, October 25.
Anyone who's watched the past few days of "The Young and the Restless" knows that it has been heart wrenching, to say the least. The hit-and-run accident that caused the death of Billy and Chloe's young daughter, Delia, has been center stage, and the performances that have gone along with the emotional storyline are what Emmy dreams are made of. We caught up with Melissa Claire Egan (Chelsea Newman), who not only had plenty of kudos for her onscreen best friend, Elizabeth Hendrickson, but also had a few details as to how the tragic story will affect Chelsea… and beyond.
Watch out world, because SORAS has struck again! Actress/model Ashlyn Pearce is taking over the role of Alexandria Forrester, daughter of "The Bold and the Beautiful's" Thorne (Winsor Harmon) — and the character is a little older than you might remember!
Born in 2004 to Thorne and Darla (Schae Harrison), little Alexandria (or Aly, for short) has mostly been seen solely during the holidays and for special events, but Pearce will soon be changing that.
Something wicked this way comes, and it's all thanks to "The Young and the Restless'" Christian LeBlanc (Michael Baldwin), producer of "Deadtime Stories," a creepy yet charming children's series premiering on Nickelodeon this week! As we promised in our teaser article about the series, Soap Opera Network caught up with the North Carolina native to get all of the behind-the-scenes scoop on producing the scary show in which he and "The Bold and the Beautiful's" Ashley Jones (Bridget Forrester; ex-Megan Dennison, "Y&R") appear. Read on for the devilish details… if you dare!
If you think the current story that "The Young and the Restless'" Christian LeBlanc (Michael Baldwin) is involved in is horrifying, you haven't seen anything yet! The actor has been busy producing "Deadtime Stories," a scary series for Nickelodeon starring himself and "The Bold and the Beautiful's" Ashley Jones (Bridget Forrester; ex-Megan Dennison, "Y&R")!
With no word yet on whether or not "One Life to Live" will resume production any time soon, Josh Kelly (Cutter Wentworth) has decided to hit the ground in search of new projects — and lucky enough, he found one: A new Lifetime pilot titled "Unreal."
Guest starring on CBS' sitcom, "Two and a Half Men" has paid off for former "General Hospital" beauty Amber Tamblyn (ex-Emily Quartermaine): She's now been upped to series regular on the comedy that also stars Ashton Kutcher and Jon Cryer!
The population of "The Young and the Restless'" Genoa City continues to rise, and the town's latest resident is of definite quality: Former "Guiding Light" star and Emmy winner Cynthia Watros!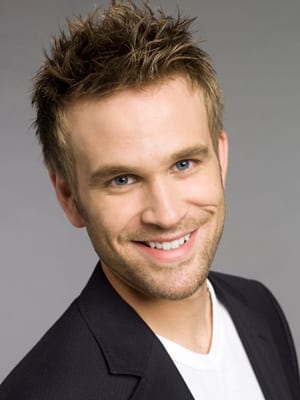 The casting for 'Fast & Furious 7' is in high gear, and the latest name announced to join Vin Diesel and Paul Walker in the next installment of the popular film franchise is none other than "One Life to Live's" John Brotherton (ex-Jared Banks)!
Deadline Hollywood reports that the actor has signed on to play Sheppard, the right-hand man to an as-yet-unidentified character played by Hollywood star Kurt Russell.
Congratulations, Brotherton!