Tuesday, March 31, 2015 3:15 PM EDT
CBS's hit daytime drama THE BOLD AND THE BEAUTIFUL received 19 nominations for the 42nd Annual Daytime Entertainment Emmy® Awards, it was announced today.
Tuesday, March 31, 2015 3:14 PM EDT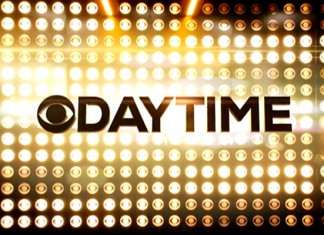 Just a short time ago, CBS' "The Talk" announced the nominees for the "42nd Annual Daytime Emmy Awards," which will air live on Sunday, April 26 on Pop. In total, CBS received 62 nominations in a variety of categories including Outstanding Drama Series for "The Bold and the Beautiful" and "The Young and the Restless," Outstanding Lead, Supporting and Younger Actor for several of daytime biggest talents, along with nominations for Outstanding Entertainment Talk Show and Outstanding Entertainment Talk Show Hosts for "The Talk," Outstanding Game Show for Let's Make a Deal," among a plethora of others.
Tuesday, March 31, 2015 1:37 PM EDT
In life you set goals for yourself, or at least you try to. You even have expectations for yourself that you hope will eventually get fulfilled. In my case, over the years I had set a specific list of goals that included certain expectations as they related to one another. Earlier this year, I officially crossed one of the major things off that list. It wasn't easy as it had plagued me for nearly a decade. A stepping stone you might call it. I took up something many years ago that eventually became impossible to maintain on a full-time basis. I decided to do it part-time. I went from part-time to being very part-time. Later you could say I dropped it completely in order to concentrate on the things that either gave me personal joy and fulfillment (this site) or put several well earned dollars in my pocket. I imagine I'm not the only one out there who's ever had pull some sort of double duty in their lifetime. Right?
Thursday, March 19, 2015 5:25 PM EDT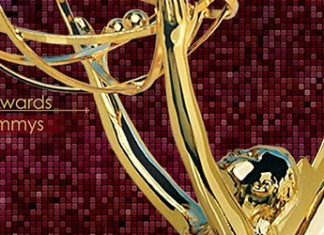 Earlier today a
tweet
went out over claims that the National Academy of Television Arts & Sciences and Pop, which will broadcast the 42nd Annual Daytime Emmy Awards next month, were looking to have soap fans on hand to sit in bleachers that would be made available to the public on the red carpet. There were alleged claims, however, that the two parties was only seeking to include fans under the age of 45 to sit in said bleacher seats. NATAS and Pop have now issued statements that put clarification on the situation.
Thursday, March 12, 2015 1:30 PM EDT
Lindsay Hartley ("All My Children," "Days of Our Lives," "Passions"), Crystal Hunt ("Guiding Light," "One Life to Live"), Vanessa Marcil ("Las Vegas," "General Hospital"), Chrystee Pharris ("PSNS," "GH") and Hunter Tylo ("The Bold and The Beautiful") are joined with special appearances by Donna Mills ("Knots Landing," "Melrose Place" and "GH") in their new reality series debuting Sunday, April 26 at 10:00 PM, ET/7:00 PM, PT, immediately following the network's exclusive live broadcast of "The 42nd Annual Daytime Emmy Awards."
Thursday, March 12, 2015 12:40 PM EDT
"Twenty-eight years on television is a tremendous achievement," said "The Bold and the Beautiful" Executive Producer and Head Writer,
Bradley P. Bell
, in a statement released today as the daytime drama series gets ready to celebrate its anniversary on
Monday, March 23
. The soap, which aired its 7,000th episode in January, was created by the late
William J. Bell
and
Lee Phillip Bell
. It's first episode aired on March 23, 1987.
Wednesday, March 11, 2015 7:57 PM EDT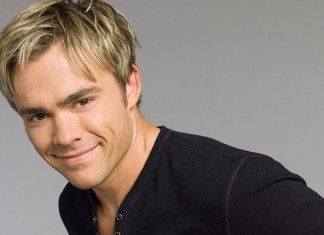 With production beginning this month,
Michael Caruso
's "Winterthorne" has added "One Life to Live" alum
John-Paul Lavoisier
to its cast. The soap star will portray the role of Hugh Cambridge, a handsome and mysterious man, who shares a past with Miranda Winterthorne, portrayed by "Days of our Lives" alum,
Martha Madison
. The character is said to be hell bent on becoming a member of the Winterthorne family and will go about any means necessary, including seducing Miranda, to get what he wants.
Wednesday, March 11, 2015 7:28 PM EDT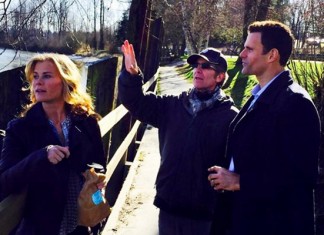 On
Saturday, May 2
at 9:00 PM, ET/PT, get ready for
Alison Sweeney
("Days of our Lives") and
Cameron Mathison
("All My Children") to take America by storm when their Hallmark Movies & Mysteries original movie, "Murder She Baked: A Chocolate Chip Cookie Murder Mystery," premieres on the cable network. The movie, also starring "One Life to Live" alum
Barbara Niven
("Debbie Macomber's Cedar Cove"), is based on the bestselling series of books by
Joanne Fluke
and follows the story of Hannah Swensen (Sweeney), owner of the Cookie Jar shop where patrons frequently gossip about the latest happenings in town.
Wednesday, March 11, 2015 3:40 PM EDT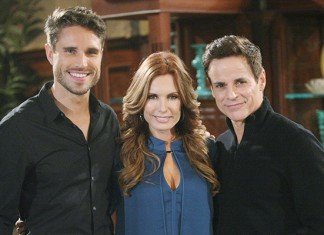 On the
Thursday, March 12
episode of CBS' "The Young and the Restless," fans of the daytime drama series will be introduced to "The Price is Right" male model search winner
James O'Halloran
, who will guest star as a waiter in scenes with actors
Tracey E. Bregman
(Lauren Fenmore) and
Christian Le Blanc
(Michael Baldwin). In an interview with
Soap Opera Network
, O'Halloran reveals that his appearance on "Y&R" marks the first time he has ever been on the set of an American soap opera, his thoughts on winning the "The Price is Right" male model gig and what's next for the 6'1 Australian native.
Friday, March 6, 2015 3:14 PM EDT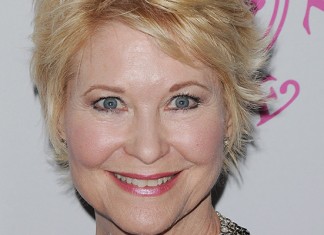 Actress and author 
Dee Wallace
has joined the cast of ABC's "General Hospital" as Patricia Spencer, the long-lost older sister of Luke and Bobbie Spencer (
Anthony Geary
and
Jacklyn Zeman
),
Soap Opera Network
has confirmed. 
Thursday, March 5, 2015 4:40 PM EDT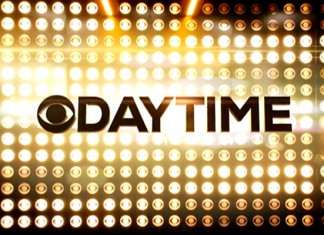 CBS' "The Talk" and "Let's Make a Deal" continue showing ratings growth based on the just completed 2015 February Sweeps period. According to Nielsen Media Research data, both programs delivered their largest audiences ever during a February Sweep. The period also happened to be a good one for the network's "The Bold and the Beautiful," which attracted its largest February Sweeps audience since 2008. The daytime drama series averaged 3.97 million viewers, up 2% compared to last year's February Sweep.
Monday, March 2, 2015 11:05 PM EDT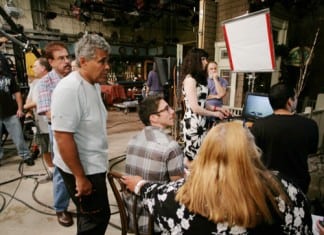 Hot on the heels of news that NBC's "Days of our Lives" has put out a
casting call
for the contract role of Finn, a new doctor set to work alongside Dr. Daniel Jonas (
Shawn Christian
) when he hits Salem later this year, comes word that the daytime drama series has made a shift in ranks behind the scenes.
Lisa de Cazotte
is out as co-executive producer, a role she took on in October 2011, with veteran "DAYS" director/producer
Albert Alarr
set to replace her.
Monday, March 2, 2015 12:00 PM EDT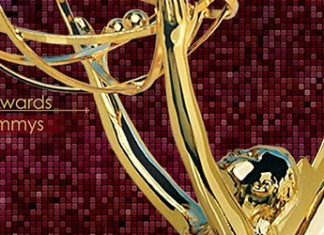 It's official: "The 42nd Annual Daytime Emmy Awards" will be broadcast live on Pop on
Sunday, April 26
from 8:00 PM, ET/5:00 PM, PT from the historic Warner Bros. Studios lot on Stage 16, it was announced today by the National Academy of Television Arts & Sciences (NATAS). The awards show, which will share space previously utilized by such iconic films as "Casablanca," "Jurassic Park" and "Ghostbusters," will be executive produced by
Michael Levitt
and his Michael Levitt Productions banner. Credited for creating the "TV Land Awards," Levitt has previously produced "The Billboard Music Awards," "The Producers Guild Awards" and the "Young Hollywood Awards," along with several other award shows, music specials, reality shows, live events, non-fiction informational series and reunion specials.