Posts By:
Kambra Clifford, West Coast Editor
A few days ago a comment was posted on our website regarding why SOAPnet was still on the air, particularly on the posters cable system, despite the network widely expected to have left the airwaves in 2012. As we reported in April 2011, SOAPnet will transition into Disney Jr. at some point, but not until new deals are forged with cable operators.
April 25, 2011

Your first thought would be that a new network taking over from another will result in the old networks subscribers immediately becoming the new channels subscribers, but that is not the case for Disney Jr. and SOAPnet. Cable and Satellite operators signed long-term contracts with the Walt Disney Company to carry SOAPnet along with its plethora of cable channels. With the launch of Disney Jr. in place of SOAPnet, operators and Disney are now required to sign a new deal that would allow Disney to launch Disney Jr. The only problem is any new deal would put discussions of carriage on the table for powerhouses ESPN, Disney Channel, Disney XD, ABC Family and even the ABC Television Network now that it too receives re-transmission fees from cable and satellite operators (courtesy of its Owned & Operated stations). Since new deals have not been signed with providers, SOAPnet will remain on air until agreements have been met.
Now that it is 2013, we wondered if there was any progress being made in the transition. At last count (summer 2012), SOAPnet was still available to more than 60 million cable homes. Therefore, we recently reached out to representatives from The Walt Disney Company Read More >>
From "Cold Spring" to "Prosecuting Casey Anthony," former soap stars Marisa Ramirez ("General Hospital"), Sam Page ("All My Children"), Patrick Muldoon ("Days of our Lives," "Melrose Place"), Aiden Turner ("All My Children"), Elizabeth Rohm ("One Life to Live"), Sean Patrick Flannery  ("The Young and the Restless") and Scott Evans ("One Life to Live") will grace the Lifetime movie screens this month as the group of actors help tell the networks tradition of stories involving stalkings, affairs and murder.
Although we didn't get a chance to do one for 2011, I'm pleased to announce that with the assistance of those who've been following your favorite daytime soaps and their episode counts through out 2012, Soap Opera Network will resume its annual Airhog Awards in which daytime soap stars are ranked in order of who hogged the most airtime in daytime during each calendar year.
While the term hog infers pig, which is perceived by the term "pigging out," our usage is a term of endearment to those who've appeared the most on your favorite daytime shows.
To review the "winners" of years past, click here.
Beginning in February 2013, fans of NBC's "Days of our Lives" will have to get used to seeing a new set of faces portraying the role of Sydney DiMera, Sami (Alison Sweeney) and EJ's (James Scott) daughter. According to website Jason47.com, twins Nadia and Talia Hartounian will assume the role from twins Isabelle and Sahara Roberts at that time.
Barring any unexpected preemptions, NBC's "Days of our Lives" will celebrate episode 12,000 with a bang on Friday, January 11, 2013 as friends and family in the town of Salem gather together for a wedding that will end all weddings. While we can't reveal what exactly will happen in the episode, we can tell you a huge secret will be revealed by an unexpected individual and that relationships (both familial and intimately) will be torn apart! Fans will be in for a treat as Cliffhanger Friday marks its return to "Days of our Lives."
The big news of December 2012 was word that Prospect Park was taking another stab at moving ABC's "All My Children" and "One Life to Live" to the web in 2013. The news was first reported by Deadline.com's Nellie Andreeva. In her initial reporting, Andreeva revealed that Prospect Park had made agreements with the unions SAG-AFTRA (Screen Actors Guild-American Federation of Television and Radio Artists)  and the DGA (Directors Guild of America). Previously, while the company had planned on debuting the shows on the web in early 2012, no deals had been signed with either union or the WGA (Writers Guild of America). This hindered the company's plan to move forward with the shows and resulted in a postponement that was announced in November 2011. In a statement at the time, AFTRA (prior to its merger with SAG) said that they were "deeply disappointed to read that the executives at Prospect Park have decided to suspend their efforts to produce the long-running and popular daytime serials." Additionally, the union had said that they "remain hopeful that an opportunity to revive these two popular series will emerge in the future, and remain ready to resume discussions should that opportunity arise." The future took more than a year, but it appears to have finally emerged. However, although a representative from SAG-AFTRA confirmed that an agreement with Prospect Park had been made when pressed for comment from Soap Opera Network early last week, it remains unclear if said agreement had actually been signed. "Not absolutely certain it had been signed but can check that for you," said the rep. Due to the holidays, we don't expect a response on that little detail until at least tomorrow, January 2.
Kamar de los Reyes left ABC's "One Life to Live" in 2009 after portraying the uber popular role of Antonio Vega off and on for nearly 14 years. When he joined the soap in 1995, the character was introduced as a former gang member recently released from prison after serving time for killing a man. As the eldest son of Carlotta Vega, Antonio was able to prove the crime was in fact an act of self defense with help from Nora Buchanan. In "Call of Duty: Black Ops II," which was released in November 2012, de los Reyes portrays Raul Menendez the terrorist behind a new world at war that is set in the year 2025. The game, also starring some of Hollywood's biggest stars including Sam Worthington, Michelle Rodriguez and Michael Keaton with appearances by former soap stars Eden Riegel ("All My Children") and Brianna Brown ("General Hospital"), grossed over $500 million on its first day of release. The team at Treyarch Invention made the game so real-life like that de los Reyes is now immortalized as a very recognizable video game character, despite the evil things the character induces.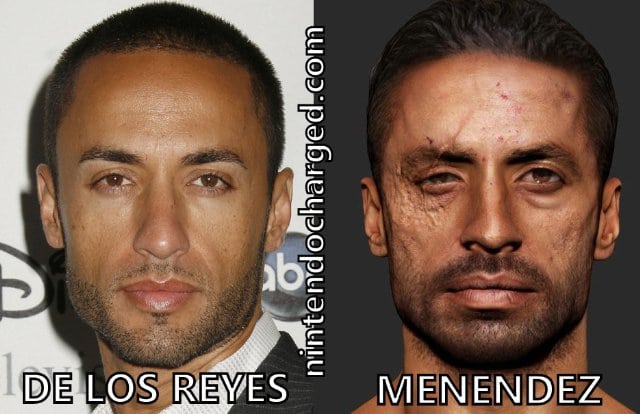 CBS' "The Bold and the Beautiful" has cast former "Guiding Light" stars Karla Mosley and Lawrence Saint-Victor in the contract roles of Maya Avant and Carter Walton, respectively. Their casting was announced by "B&B" executive producer and head writer Bradley P. Bell.
Although on "GL" the two portrayed a married couple, it is understood that their characters will be of no relation to one another on the soap.
Maria Arena Bell, who was let go as Executive Producer and Head Writer of CBS' "The Young and the Restless" earlier this year, was honored on Wednesday, December 12 with a Humanitarian Award for her dedication to arts advocacy during the 14th Annual Women's Image Network (WIN) Awards, which recognizes and honors exemplary men and women in the entertainment industry including those from the television, film and advertising worlds.