Friday, February 22, 2008 10:48 PM EDT
By Errol Lewis(SoapOperaNetwork.com) -- After the reveal, the story nears its climax as multiple lives hang in the balance.THIS WEEK ON: GENERAL HOSPITALRobin can barely contain herself when she's around Patrick. Angie arrives at General Hospital seeking medical help. Patrick arranges for Angie to be treated at the hospital, despite her lacking medical insurance. Patrick reveals that he posted Joe's bail. Ian informs Robin and Patrick that their patient has been taking counterfeit prescription drugs and they race to save a life, but they are too late. Patrick asks Robin if he's the father of her baby. Will Robin...
Friday, February 22, 2008 3:20 PM EDT
ABC Daytime Loses Three Million Viewers in One YearBy Errol Lewis(SoapOperaNetwork.com) -- With the Daytime Soap Opera almost extinct due to falling ratings week-after-week, it's anyone's guess as to how ABC Daytime, once considered the premiere network for soaps, has lost three million viewers in one year for their dramas with no changes expected in sight.For the week of February 11, 2008, ABC Daytime's "General Hospital" held down a 2.3/7 household rating for the third week in a row. The soap averaged 2.9 million viewers, but lost 150,000 total viewers from the week prior (Week of February 4 ,...
Friday, February 22, 2008 5:05 AM EDT
By Errol Lewis(SoapOperaNetwork.com) -- On Thursday, February 21, 2008, The 35th Annual Daytime Entertainment Emmy Awards "In-Studio" Drama Series Performer Results were posted on the Official Emmy Award Website.The Performer Results are what is called the "pre-nomination" process for the Emmy Awards. Each drama series is given an opportunity to present their best actors to the academy of voters who will determine which individuals will receive an official nomination when the list is revealed in April. Each show is allowed to pre-nominate up to three actors in each category. In the case of a tie, the show is...
Friday, February 22, 2008 4:15 AM EDT
The Return of 'Passions' Coverage Friday, February 22, 2008 4:30 AM | By Errol Lewis(SoapOperaNetwork.com) -- A scorned child could put his parents' life in danger.THIS WEEK ON: PASSIONSGwen defends herself from Pilar, and spouts out threats of her own. Marty refuses to acknowledge Fancy. Juanita threatens Marty, or did she? Noah requests help from Tabitha and Kay. Kay accidentally sets Tabitha's kitchen on fire. Tabitha senses that all is not what it seems and it could have devastating results for the citizens of Harmony.Vincent continues his path of destruction as he plots the deaths of mommy and daddy, Eve...
Friday, February 22, 2008 3:17 AM EDT
Brings Ashley Abbott Along for the Ride Friday, February 22, 2008 4:00 AM | By Errol Lewis(SoapOperaNetwork.com) -- "The Bold and the Beautiful's" John McCook (Eric Forrester) and Eileen Davidson (Ashley Abbott) are crossing over to mother soap "The Young and the Restless" for a meeting with Jack (Peter Bergman) and Sharon Abbott (Sharon Case).On the February 27 and February 28 episodes of "Y&R," Jack and Sharon find themselves going to Los Angeles to speak with Forrester Boss, Eric Forrester, over the launch of a new magazine, Restless Style. Jack is hoping to get Forrester Creations to take part as...
Friday, February 22, 2008 2:40 AM EDT
What's Happening Next Week Friday, February 22, 2008 3:00 AM | By Errol Lewis(SoapOperaNetwork.com) -- The custody of a child pits family against family.THIS WEEK ON: THE BOLD & THE BEAUTIFULStephanie shocks the Logan and Forrester clans with a surprising turn of events - she doesn't reveal that Storm is the one that shot her.Brooke and Nick share a passionate kiss. Taylor lets Nick know that she will never give up her son and abruptly takes Jack home with her in front of a stunned Nick and Brooke. Nick serves Taylor with custody papers. Rick comforts Taylor in her time...
Friday, February 22, 2008 2:00 AM EDT
Who Knows What Can Happen? Friday, February 22, 2008 2:15 AM | By Errol Lewis(SoapOperaNetwork.com) -- Casting News for the Week of February 25.The custody trial for Baby Jack between Taylor Forrester (Hunter Tylo, pictured) and Nick Marone (Jack Wagner) is in full force as "The Bold and the Beautiful" brings in multiple characters to add to the drama.Rob Brownstein portrays Judge Friedman on February 29 and March 3.MacKenzie Mauzy returns beginning Thursday, February 28 as "Phoebe" shows her support for Taylor. Joining her will be Meeghan Holaway as Taylor's attorney Gloria Schiller . Holaway has appeared on "B&B" off-and-on...
Friday, February 22, 2008 12:23 AM EDT
By Errol Lewis(SoapOperaNetwork.com) -- "As The World Turns" finds new Mike Kasnoff, albeit a younger one.Jon Prescott, 26, is joining the cast of the CBS drama series in March as Mike Kasnoff #3. He takes over the role from Mark Collier, 37, who exited the soap in 2007. The character is returning to Oakdale with a new business venture on his mind and thoughts of ex-wife Katie (Terri Colombino), who is involved in some baby drama with co-host Brad Snyder (Austin Peck).Also joining the cast of "World Turns" is Tala Ashe who will play the role of Ameera, a...
Wednesday, February 20, 2008 2:34 PM EDT
By Errol Lewis(SoapOperaNetwork.com) -- "General Hospital" to honor the memory of actress Shell Kepler (ex-Nurse Amy Vining), who passed away on February 1, 2008.The soap will honor the memory of Kepler with an "In Loving Memory of Shell Kepler" graphic, which will appear at the end of the Tuesday, February 26 episode.The actress played Nurse Vining for 23 years (1979 to 2002) on the ABC soap.General HospitalShell Kepler
Tuesday, February 19, 2008 1:55 PM EDT
By Errol Lewis(SoapOperaNetwork.com) -- Over the weekend mystery photos appeared on ABC's press site that showed multiple "One Life to Live" actors appearing in scenes on the ABC Daytime drama series. At least that's what people thought.In preparation for their Fantasy Baseball season, ESPN has joined forces with ABC Daytime for their "Endless Drama" marketing campaign - "Endless Drama" is a series of commercials centered around the drama brought to fantasy baseball. The network came to ABC Daytime seeking soap actors to "bring added drama" to their promotional spots for the campaign."All My Children" actors Cameron Mathison (Ryan...
Monday, February 18, 2008 8:48 PM EDT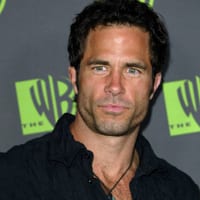 Former "As The World Turns" bad boy Shawn Christian joins the cast of "Days of our Lives" as Salem University Hospital's newest hot doctor.
Monday, February 18, 2008 8:02 PM EDT
By Errol Lewis(SoapOperaNetwork.com) -- Elmarie Wendel joins the cast of "General Hospital" in the recurring role of Peg.While Jax (Ingo Rademacher) puts private investigators on the search for Michael (Dylan Cash) in order to ease Carly's (Laura Wright) pain over the disappearance of her son, Michael finds himself taking refuge in a cabin, where he encounters a craggy old woman beginning Thursday, February 28.Peg meets Michael as a result of his shooting Kate Howard (Megan Ward) with an illegal weapon on the February 18 episode of the ABC drama series. The soap aired a public service announcement...
Saturday, February 16, 2008 2:41 PM EDT
By Errol Lewis(SoapOperaNetwork.com) -- David Rasche is returning to daytime television later this month as Pine Valley's newest devil in disguise.Last seen in daytime as Wes Leonard in the 1980's on ABC's "Ryan's Hope," Rasche will play Tad Martin's uncle, Rob Gardner, beginning Friday, February 29. Rob is the brother of Tad's biological father, Ray Garder (last seen in 2001 as played by Gil Rogers). The character is said to be intimately connected to the story of Jesse's (Darnell Williams) death twenty years ago.The actor started taping last week.Rasche is best known for his infamous roles...