Monday, February 21, 2011 8:11 PM EDT
(SoapOperaNetwork.com) -- A Look at What's Happening on the Monday, February 21 Episode of The CW's "Gossip Girl." Episode Title: While You Weren't Sleeping Episode #: Season 4 / Episode 16 Directed By: Norman Buckley Written By: Sara Goodman TONIGHT ON: GOSSIP GIRL Chuck and Lily's relationship remains icy in the aftermath of Lily's betrayal. Blair decides to speed up the time table on her career path to becoming a powerful woman, but ultimately stretches herself too thin. The Inside Story: Happy Birthday Eric It's Eric's 18th birthday and things are going to go from bad to worse. As seen in last weeks episode, Damien Dalgaard is...
Monday, February 21, 2011 5:50 PM EDT
(SoapOperaNetwork.com) -- Earlier this month rumors began circulating that CBS' "The Young and the Restless" would be bringing Wilson Bethel back as Ryder Callahan, now Soap Opera Network can confirm that the actor is indeed returning beginning next month. Bethel, last seen in July 2010, is back beginning with the Thursday, March 3 episode of the drama series as Ryder shocks Jana (Emily O'Brien) when he reveals himself during one frightfully cold night in Genoa City. Since leaving "Y&R" last summer, Bethel has tested out for the title role in "Captain America" (which eventually went to "Fantastic Four's" Chris Evans) and...
Monday, February 21, 2011 4:38 AM EDT
(SoapOperaNetwork.com) -- A look at what's happening on "The Bold and the Beautiful" during the week of February 21, 2011. THIS WEEK ON: THE BOLD & THE BEAUTIFUL Now that Steffy is back in town, she's ready to stand her ground with Stephanie as on Wednesday, February 23, Steffy doesn't see eye-to-eye with Stephanie's new way of life. Someone receives an unexpected gift on Friday, February 25. The Inside Story: Watching Amber Amber finds herself in deep trouble with the law and even more so with Bill, but someone has it out for the villainess so she better watch her back. Stephanie has...
Sunday, February 20, 2011 12:02 AM EDT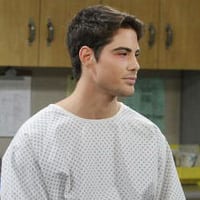 As previously reported, "Days of our Lives" has cast daytime newcomer Francisco San Martin in the role of Dario Hernandez, Rafe (Galen Gering) and Gabi's (Camila Banus) brother. Interestingly, the actor previously appeared on "DAYS" in mid-November in the role of Javier Rodriguez, a sick patient that died as he was causing a deadly outbreak at Salem University Hospital while in the presence of Melanie (Molly Burnett) and Nathan (Mark Hapka).
Saturday, February 19, 2011 10:14 PM EDT
(SoapOperaNetwork.com) -- "One Life to Live's" Kim Zimmer (Echo DiSavoy) began appearing in the Off-Broadway play "Love, Loss and What I Wore" on February 16. In an exclusive interview, Soap Opera Network spoke with the star about her role in the play, her character on "One Life to Live" and what she'll be doing after her run with "Loss" comes to an end. You went from 'Guiding Light' to 'One Life to Live' and now you're starring in an Off-Broadway show. What attracted you to 'Love, Loss and What I Wore?' The opportunity to work on stage again. I love "One...
Saturday, February 19, 2011 9:27 AM EDT
(SoapOperaNetwork.com) -- Deadline.com is reporting that ABC Family has given a series order to "The Lying Game," a drama based on the same name as the upcoming novel by "Pretty Little Liars" author Sara Shepard. The series is being written and executive produced by former "All My Children" and "General Hospital" Head Writer Charles Pratt, Jr. and will star "General Hospital's" Tyler Christopher (Nikolas Cassadine) and former "As The World Turns" starlet Alexandra Chando (ex-Maddie Coleman). The series is about a girl named Emma (Chando), who finds out that she has an identical twin sister named Sutton Mercer (Chando in...
Friday, February 18, 2011 11:56 PM EDT
(SoapOperaNetwork.com) -- While the drama began on today's episode, the real fireworks will be set off next week on ABC's "General Hospital" as Sonny Corinthos (Maurice Benard) and Brenda Barrett (Vanessa Marcil Giovinazzo) prepare to say "I do!" The question is not if they wed, but what happens next? Thanks to ABC, Soap Opera Network is able to provide you with a closer look at next weeks action and adventure. For those that remember the good old Guza ("GH's" head wirter) days, you should look at this clip as "clink boom: part II." PROMO DETAILS: After years of trying to fight their...
Friday, February 18, 2011 10:23 PM EDT
(SoapOperaNetwork.com) -- In early January, TVLine.com reported that "General Hospital's" Sebastian Roché would be appearing as a recurring character on "Criminal Minds," now Soap Opera Network has your scoop on who Roché will be playing and when you can get your first look at him on the CBS drama series. According to sources Roché will make his "Minds" debut beginning with the Wednesday, February 23 episode of the hit series in the role of Clyde Easter. In the episode entitled "Coda," Roché's character joins the BAU team after Emily Prentiss (Paget Brewster) enlists the help of two of her former...
Friday, February 18, 2011 6:21 PM EDT
(SoapOperaNetwork.com) -- Today friend to the site Michael Fairman posted his interview with "General Hospital's" Maurice Benard (Sonny Corinthos) and Vanessa Marcil Giovinazzo (Brenda Barrett), which was conducted in anticipation of the duos on screen wedding that began airing today on ABC. General Hospital's Vanessa Marcil Giovinazzo (Brenda) and Maurice Benard (Sonny) chat with Michael Fairman to discuss the wedding day of Sonny and Brenda and the fallout. Plus, Vanessa reveals if she had a clause in her contract that the fictional couple had to actually make it past the "I do's". Then, the actors discuss their mutual admiration for working...
Friday, February 18, 2011 5:32 PM EDT
(SoapOperaNetwork.com) -- Weeks after it was revealed that "The Bold and the Beautiful" had placed Kyle Lowder (Rick Forrester) on recurring status, news broke today that the show has done the same to Sarah Joy Brown who portrays Agnes 'Aggie' Jones on the drama series. Ironically, Brown is celebrating her 36th birthday today. According to Nelson Branco in his latest Suds Report at TVGuide.ca, the actress has been placed on recurring status after being on the show for little over a year. This would explain why the actress wasn't in the soaps newest opening sequence, which premieres during the Monday,...
Friday, February 18, 2011 4:54 PM EDT
(SoapOperaNetwork.com) -- If you watched today's episode of "The Bold and the Beautiful," you may not have known that you were getting your final look at the soaps current opening sequence, which was released in 2004, because on Monday, February 21 daytime's youngest soap opera will debut its third opening sequence since the show premiered on March 23, 1987. In an interview with TV Guide Magazine, Executive Producer/Head Writer, Bradley Bell, revealed that the new sequence was created with the use of CGI. "This is pretty monumental for us," said Bell. "We've always taken the if-it-ain't-broke-don't-fix-it approach to our opening credits....
Friday, February 18, 2011 2:48 PM EDT
(SoapOperaNetwork.com) -- As previously reported, "General Hospital" star Rebecca Herbst (Elizabeth Webber) was fired by the ABC soap in late January due to what was said to be "storyline dictated" reasons, but now Soaps In Depth is reporting that the actress is actually staying. So what's the deal? After tweeting to their followers earlier today that the actress was staying, In Depth instilled hope into the hearts of Herbst fans who were boycotting the show after they originally learned their favorite actress had been fired. "They've been incredibly organized," said Richard M. Simms, executive editor of the mag in an...
Wednesday, February 16, 2011 5:56 PM EDT
(SoapOperaNetwork.com) -- While Cane Ashby appeared to have been murdered in the Wednesday, February 2 episode of CBS' "The Young and the Restless," no information has been released by either the show, his portrayer Daniel Goddard or any of the actors people indicating that we've seen the last of Goddard on "Y&R," so what the heck is going on? Entertainment Weekly's Lynette Rice has some answers. According to Rice, "a source close to the sudser said that Goddard remains a paid employee of 'Y&R' until further notice." Meaning, he hasn't left the building. "He's not only set to reprise his role...