Search Results For:
tutera

As we previously reported, celebrity wedding and event planner David Tutera is headed to "The Young and the Restless," where he'll help Neil (Kristoff St. John) and Leslie (Angell Conwell) plan their upcoming wedding. And guess what? Soap Opera Network managed to snag an interview with the busy "My Fair Wedding" star to get the scoop on his visit to Genoa City!
With previous clients like Jennifer Lopez, Matthew McConaughey, Elton John and Susan Lucci (ex-Erica Kane, "All My Children"), Tutera certainly knows a thing or two about throwing jaw-dropping, impressive parties. But acting? Not so much! "They called on me obviously to play the role as myself, and I'm not an actor, so I was wondering, 'How can I do this?'" he says with a laugh. "But… it was incredibly fun. It's unlike anything I've ever done before."

With many casting changes in place and new faces set to arrive in Genoa City, the next few weeks on "The Young and the Restless" may be a bit of a flurry. But no worries, because Soap Opera Network has got all the upcoming casting deets right here in one handy-dandy reference place!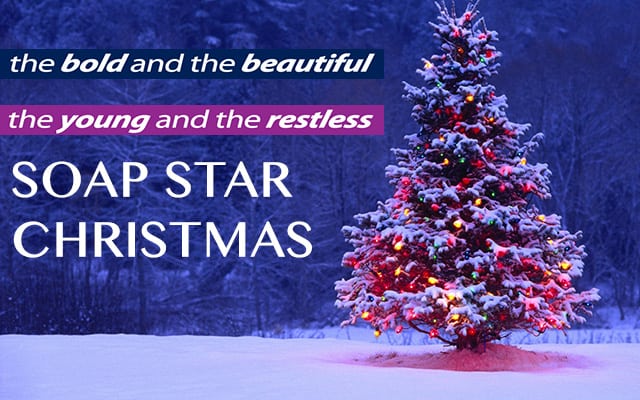 'Twas the week of Christmas, when all through the house, not a creature was stirring… except for all us! Soap Opera Network contacted soap actors with care, in hopes that responses soon would be there. Whether traveling, visiting family or just snuggling in bed, these "The Bold and the Beautiful" and "The Young and the Restless" actors' plans will dance in your head!

Event planner David Tutera is known for his extraordinary, jaw-dropping parties and weddings for the likes of Jennifer Lopez, Matthew McConaughey, Elton John and "All My Children" star Susan Lucci (ex-Erica Kane), and now he's headed to bring one lucky couple from "The Young and the Restless'" Genoa City his help in creating a magical, dream wedding!
A 'Y&R' spokesperson confirms that the host of WE's "My Fair Wedding with David Tutera" will be appearing on two episodes of the famed sudser, where he'll lend a helping hand to two mystery characters after they experience a very special Christmas Eve engagement!
Look for the first of Tutera's episodes to air on Wednesday, January 22. And to get a peek at some of the planner's fabulous weddings and parties, check out his official website.