Monthly Archives: March 2014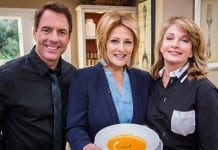 Hot on the heels of the news that Melissa Claire Egan (Chelsea Newman, "The Young and the Restless") will be appearing on Hallmark's "Home & Family" on Tuesday, April 1 comes news that two additional soap stars will be dropping by the talk show this week: "Days of our Lives'" Deidre Hall (Marlena Evans) and "All My Children's" J.R. Martinez (ex-Brot Monroe)!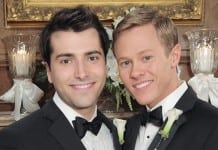 Beginning Tuesday, April 1 and continuing through Thursday, April 3, NBC's "Days of our Lives" will present daytime's first gay male wedding as Will Horton (Guy Wilson) and Sonny Kiriakis (Freddie Smith) exchange wedding vows in front of friends and family. In honor of the special event, the soap has released a video preview of the wedding, which shows both grooms being walked down the aisle by their loving mothers - Will is walked down the aisle by Sami (Alison Sweeney) and Sonny is walked down by Adrienne (Judi Evans) - while their father's proudly look on. The wedding will be presided over by Will's grandmother, Dr. Marlena Evans (Deidre Hall).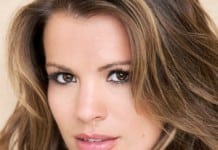 You might want to buckle up, because it looks as if "The Young and the Restless'" Chelsea Newman won't soon be getting off this roller coaster she's been calling life — and her portrayer, Melissa Claire Egan, is spilling some of the dirty details!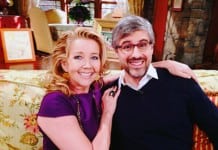 On Friday, March 28, "CBS Sunday Morning" correspondent Mo Rocca was on hand to film scenes alongside "The Young and the Restless" actresses Melody Thomas Scott (Nikki Newman) and Amelia Heinle (Victor Newman) for an upcoming appearance on daytime TV's top rated drama series. News of Rocca's appearance came to light when the correspondent tweeted a picture of himself with the ladies while noting he'll be portraying the role of Milton the accountant in scenes scheduled to air on Wednesday, April 30, per a tweet by Scott.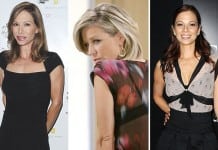 Tuesday, April 1 marks the 51st anniversary of ABC's "General Hospital." To honor its special day, the series is promising viewers plenty of love, life and nostalgia, which includes the re-appearance of two of its most popular and celebrated actresses per a report by Daytime Confidential.
"The Bold and the Beautiful's" Katherine Kelly Lang (Brooke Logan) is on fire! Not only did the athletic actress ace the Abu Dhabi International Triathalon that took place on March 15 in the United Arab Emirates, she followed up the tough challenge by also acing the difficult Ironman triathalon that took place this past Saturday in Oceanside, California!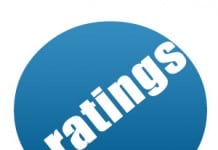 Ratings Report for the Week of March 17-21, 2014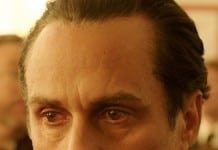 Sonny Corinthos may have his hands full on "General Hospital" lately, but his portrayer, Maurice Benard, managed to find the time to film a movie last year! It's called "The Ghost and The Whale" and it features Benard as a bipolar man who is shrouded in mystery surrounding the death of his wife at sea.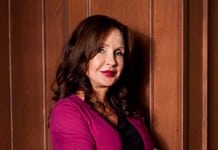 As we previously reported, the online sudser "The Bay" is returning with an all-new Season 12, and the popular "Confessions of Bay City" has returned to lead up to the exciting debut event!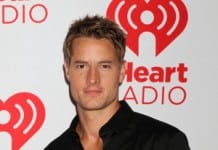 Former "Passions" star Justin Hartley (ex-Nicholas Foxworth Crane) is like a can of Pringles: Once he pops, he can't be stopped! Hot on the heels of gigs on shows like "Revenge" and "Smallville" comes news that the star has added a new series to his resume: ABC's "Mistresses!"