Monthly Archives: February 2014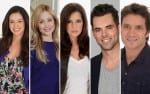 As part of the "General Hospital" Fan Club Weekend, fans of the daytime soap will be able to enjoy several events hosted by the official General Hospital Fan Club. The events include "Cookies & Cream" with Teresa Castillo (Sabrina) and Emme Rylan (Lulu), Boys || Men with Jason Thompson and Dominic Zamprogna, and Friday Night with Monaco (Kelly Monaco, that is).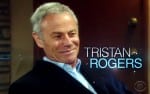 This week on "The Young and the Restless" marks the first full week following the dramatic exits of popular actors Billy Miller and Michael Muhney as their characters, Billy Abbott and Adam Newman, respectively, seemingly perished after the vehicle they were in flipped over and exploded. This immediately followed Billy's battle to get Adam to reveal the truth of his supposed involvement in the tragic death of Billy's daughter, Delia. While Adam appears to have disappeared following the accident, Billy eventually survives and is now being portrayed once again by David Tom beginning with today's episode.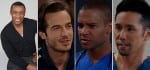 As part of the "General Hospital" Fan Club Weekend, fans of the daytime soap will be able to enjoy "Music of the Night," a Karaoke event as hosted by Sean Blakemore (Shawn), Ryan Carnes (Lucas), Marc Anthony Samuel (Felix) and Parry Shen (Brad).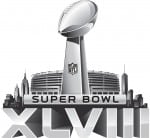 Today the Denver Broncos take on the Seattle Seahawks in Super Bowl XLVIII. Which of your favorite daytime stars picked the Broncos to win - and who has the Seahawks? Which soap actors are more concerned with Super Bowl food than football? And who may be making an appearance on your television tonight? Check it out in this week's Tweet This, Tweet That!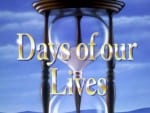 The Writers Guild of America, West (WGAW) and the Writers Guild of America, East (WGAE) held its "66th Annual Writers Guild Awards" in simultaneous ceremonies in Los Angeles and New York tonight, which honors Outstanding Achievement in Film, Television, New Media, News, Radio, Promotional Writing, and Graphic Animation during the 2013 season. In the category of Daytime Drama, NBC's "Days of our Lives" beat out ABC's "General Hospital" and CBS' "The Young and the Restless." "The Bold and the Beautiful" opted to not submit itself for a nomination this year.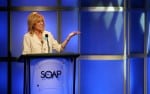 Deborah Blackwell, the former general manager of Disney/ABC Cable Network Group's SOAPnet from 2001-2007, has died at the age of 63, reports Deadline Hollywood. She died yesterday, January 31, after a seven-year battle with Pick's disease, a rare neurodegenerative disorder. Blackwell was surrounded by family in Virginia at the time of her passing.