Monthly Archives: January 2014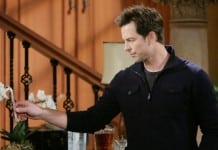 As previously reported, allegations that "The Young and the Restless'" Michael Muhney groped a female co-star's breasts, which is reportedly what led to his firing last month, made headlines over the weekend when TMZ got wind of the rumors spreading throughout social media and soap opera message boards several weeks back. In announcing his firing on Tuesday, December 17, Muhney used Twitter as his outlet of choice. Since then, he's been virtually silent, at least until now.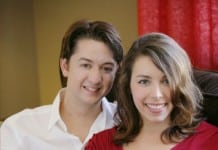 There must be something in the water over at "General Hospital," because not only are Kirsten Storms (Maxie Jones) and Teresa Castillo (Sabrina Santiago) pregnant, Bradford Anderson (ex-Spinelli) took to Twitter to announce that he and his wife are expecting a baby, as well!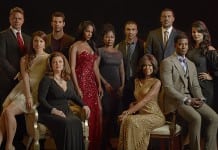 As we previously reported, season two of "Tyler Perry's The Haves and the Have Nots" starring former "One Life to Live" actress Tika Sumpter (ex-Layla Williamson) premieres tonight — and it looks like it's going to be hot, hot, hot!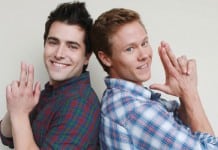 Fans of "Days on our Lives'" Will Horton have been waiting for months to hear from the character's new portrayer, Guy Wilson, and the wait is finally over!
If you want to dress like a true soap opera star, now's your chance! Eileen Davidson (Ashley Abbott, "The Young and the Restless;" Kristen Blake DiMera, "Days of our Lives") has put a collection of her stunning clothing items up for sale!
Ratings Report for the Week of December 16-20, 2013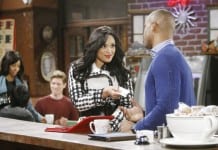 Soap Opera Network has learned exclusively that Candice Stewart, best known for her stint on last season's "Big Brother," will appear on the Monday, January 13 episode of CBS' "The Young and the Restless." The former beauty queen will share scenes with Redaric Williams and his character, Tyler Michaelson.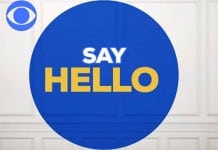 With its lineup consisting of soaps "The Young and the Restless" and "The Bold and the Beautiful," game shows "The Price is Right" and "Let's Make a Deal," and talker "The Talk," CBS Daytime posted double-digit growth during the fourth quarter in viewers compared to the year-ago period, while each series was up or even in Women 25-54 and Women 18-49. In fact, "Y&R" was first in both key women demos.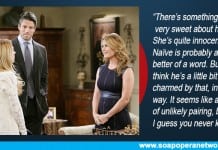 The New Year is bringing a fresh start to many, but it looks like it'll be the same ol' same ol' dysfunction for "Days of our Lives'" Sami (Alison Sweeney) and EJ (James Scott) — and that's exactly how their portrayers and their fans seem to want it! Soap Opera Network sat down with the popular pair to get their take on their alter ego's dysfunctional relationship, what goes into their incredibly passionate and controversial fight scenes, how Abigail (Kate Mansi) could be a threat to their future, and more!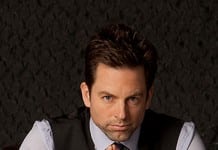 As fans of "The Young and the Restless" did in March 2011 to protest the supposed firing of cast member Daniel Goddard (Cane Ashby), fans of Michael Muhney (Adam Newman) have purchased a flyover of the CBS Television City studio, where the soap is taped, to get their message across to executives of their displeasure in the actor's firing. Only this time they have taken things a step further - they've alerted mainstream media!