Monthly Archives: December 2013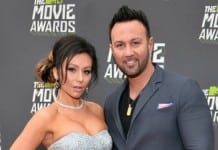 On Christmas Day, Jenni "JWoww" Farley announced on her website that she is pregnant with her first child with husband Roger Matthews. "Roger and I couldn't have asked for a better Christmas gift this year! We wanted to share this exciting news with you all first because you have been a part of our lives these past few years and seen the love between Roger and I develop and blossom," wrote Farley, who portrayed Nikki the bartender on Prospect Park's online reboot of "One Life to Live" and stars alongside Nicole "Snooki" Polizzi in MTV's reality hit, "Snooki & JWoww."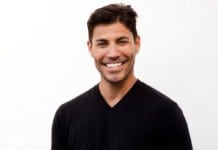 Wonder whatever happened to "Guiding Light's" Justin Klosky (ex-Joey Lupo)? Well the actor is now a professional celebrity organizer and author of the new book, "Organize & Create Discipline: An A-to-Z Guide to an Organized Existence," which was released yesterday.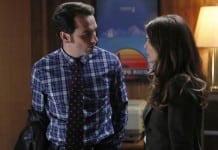 Fans of FX's "The Americans," starring Keri Russell and Matthew Rhys, won't have to wait too much longer before the spy drama series returns for its second season. FX announced yesterday that the show will debut a new batch of episodes beginning Wednesday, February 26 at 10:00 PM ET/PT.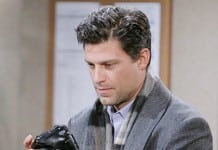 The last few weeks have been anything but easy for "Days of our Lives" Eric, who lost his position as a priest after an explosive sex tape scandal stunned the town of Salem. And according to his portrayer, Greg Vaughan, the character is in for an uphill battle with no end in sight. But it is a soap opera, after all, so you can bet there's going to be a love twist within the darkness that currently encapsulates the former priest's life! Read on to get Vaughan's take on the weeks ahead and whether or not he thinks a romantic relationship between Eric and Nicole (Arianne Zucker) is in the cards for next year!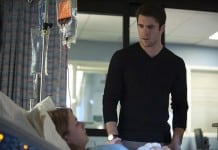 In the episode entitled, "Homecoming," allies and enemies scramble to learn what happened the night of Emily Thorne's (Emily VanCamp) wedding, while the Graysons close ranks to protect their own. But when everyone's a suspect, it's only a matter of time before they tear each other apart. In honor of the primetime guilty pleasures return, TVLine has your exclusive first look at Emily, who is recovering in a hospital after being shot by her husband, Daniel Grayson (Josh Bowman), after he learned that she lied to him and she was not in fact pregnant. In the sneak peek released to the site by ABC, Daniel visits a sleeping Emily, who grabs his arm and frantically asks, "Where am I?" and "Who am I?" Yes, the amnesia storyline staple of daytime television is still powerful enough for primetime.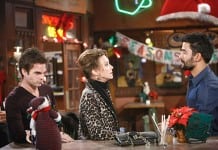 On today's episode of "The Young and the Restless," Courtney Sloan's (Kelli Goss) previously unseen text buddy revealed himself for the first time in Genoa City, or did he?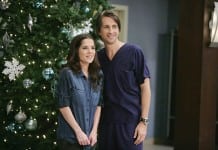 As a result of the Friday, December 20 preemption, ABC's "General Hospital's" is currently behind in its airing schedule. What that means is that the previously scheduled "Home for the Holidays" themed episode set to air today, will instead air on Friday, December 27. Also shifted is the debut of "GH" newcomer Ryan Paevey in the contract role of Nathan West. The character, who was originally set to debut on tomorrow's episode, will instead debut on the Monday, December 30 episode in scenes alongside Kirsten Storms' Maxie Jones, who seeks to get out of town just as Port Charles gets ready to celebrate the New Year as a result of the recent baby drama and the need to clear her head. In real-life, Storms is headed for maternity leave as she's due to give birth in January to a little girl by husband and former "GH" co-star, Brandon Barash (ex-Johnny Zacchara).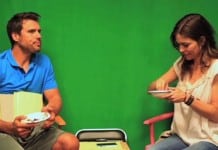 Wanna see something guaranteed to make you giggle? Then you won't want to miss the "The Young and the Restless'" Joshua Morrow (Nicholas Newman) in his new gig as a talk show host! The actor has teamed up with "Y&R" production staffer Greg Edwards to create a humorous show titled "Soaps and Other Stuff," which features "Y&R" stars answering ridiculous questions, playing silly games and being subjected to a multitude of other antics all dreamed up and acted out by Morrow himself as "host."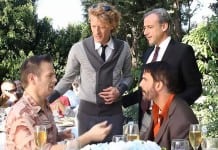 Earlier this year, Soap Opera Network covered the antics of the webseries, "Old Dogs & New Tricks." In light of its recent release on DVD and availability on Hulu, we thought you'd like to catch up with all the fun that features soap stars Thom Bierdz (ex-Phillip Chancellor, "The Young and the Restless") and Ian Buchanan (Duke Lavery, "General Hospital").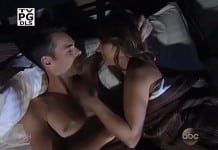 In 2014, the stakes will be raised on ABC's "General Hospital," or at least that's what a newly released promo from the network tells you to expect in regards to the ongoing drama surrounding the return of Robin Scorpio Drake (Kimberly McCullough), the rivalry between Carly Corinthos Jacks (Laura Wright) and Ava Jerome (Maura West), and the Mob War that now involves Sonny (Maurice Benard) and Carly's son, Morgan (Bryan Craig).