Monthly Archives: October 2013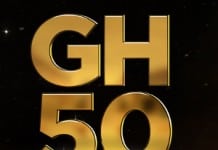 On Wednesday, October 23, "General Hospital's" Jason Thompson (Patrick Drake) will be giving ABC's "The View" a male perspective on the day's hot topics as the daytime star is scheduled to co-host the chatfest alongside Sherri Shepherd, Jenny McCarthy and Whoopi Goldberg. The Canadian born actor will also be chatting it up with the stars of ABC's "The Middle" as the cast celebrates the show's 100th episode airing that night.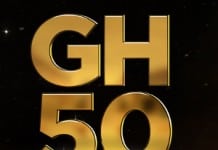 On Thursday, November 28 from 7:00 PM ET/PT through 1:00 AM ET/PT, SOAPnet will present a six hour "General Hospital" Nurses Ball marathon comprising all six episodes dedicated to the 50th anniversary of the ABC Daytime drama series, which aired earlier this year on both ABC and SOAPnet. The episodes include the return of Ingo Rademacher as Jasper "Jax" Jacks, Vanessa Marcil as Brenda Barrett, Richard Simmons as a caricature of himself, Rick Springfield's Noah Drake singing "Jessie's Girl," Magic Milo (Drew Cheetwood) and the gang, which includes "Dancing with the Stars'" Maksim Chmerkovskiy, doing a strip tease. Sabrina Santago (Teresa Castillo) and Patrick Drake (Jason Thompson) closed out the ball as they sang "You're Not Alone" to Emma Scorpio-Drake (Brooklyn Rae Silzer) as Port Charles' finest gathered around the stage.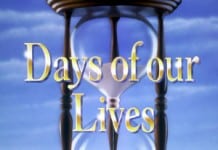 According to Soap Opera Digest, NBC's "Days of our Lives" is welcoming back veteran actor Drake Hogestyn (John Black) to its canvas after nearly a 7-month absence. Hogestyn last appeared on screen in mid-July based on scenes filmed in mid-March.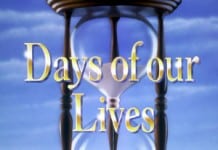 On Thursday, October 17, several LGBT (Lesbian, Gay, Bisexual, Transgender) organizations and individuals celebrated Spirit Day, which asks people to take a stand against bullying and show support for LGBT youth by wearing the color purple. NBC's "Days of our Lives" took a stand and showed its support as cast members donned purple shirts, jackets and even ties.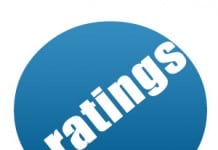 Ratings Report for the Week of October 7-11, 2013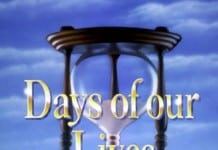 It's incontrovertible that "Days of our Lives" James Scott (EJ DiMera) is drop dead gorgeous. He has an impressive 6-foot-something stature, model good looks, a smooth British accent, perfectly polished style and... scrapes all over his hands. (Record scratch.) Yes, when the English native recently sat down with Soap Opera Network for an exclusive interview, he had numerous red scratches marring his otherwise perfect digits. And suddenly, he was all the sexier. Especially when he quipped of the wounds: "Oh, I did a love scene with Alison [Sweeney, Sami] yesterday."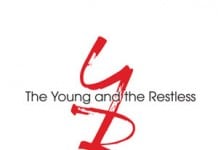 As we previously reported, a few stars from "The Young and the Restless" are slated to make appearances on CBS's popular game show, "The Price Is Right," and next week's schedule featuring two of the soap's stars has been released!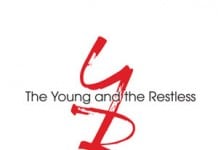 It's been a whopping 24 years since Elizabeth Dennehy graced the daytime stage as "Guiding Light's" Christina 'Blake' Thorpe Marler, and she's finally ready to get back into soap operas. But this time, she's headed to "The Young and the Restless'" Genoa City!
It's not hard to laugh, but across the board, daytime stars agree that it's not easy to be funny! That being said, some of the industry's most popular talent — "The Price Is Right's" Drew Carey, "Let's Make a Deal's" Wayne Brady, and "The Talk's" Aisha Tyler and Sheryl Underwood — certainly make it look easy to be hilarious day in and day out. Noticing the top-notch humor present in their daytime lineup, CBS decided to gather those said stars together at Hollywood's legendary venue, The Comedy Store, to perform an evening of standup comedy benefitting a cancer charity. The result: CBS Daytime After Dark, Stand Up to Cancer — a fun event definitely worth smiling about!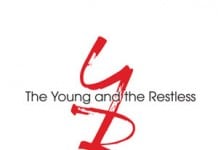 This past August, "The Young and the Restless" fans saw one of those rare circumstances when behind-the-scenes drama rivals that of the intense drama seen onscreen: actress Christel Khalil (Lily Winters) filed a lawsuit against her talent agency for reportedly being so sloppy and remiss, they sent her on an audition for the very sudser she was already working on!